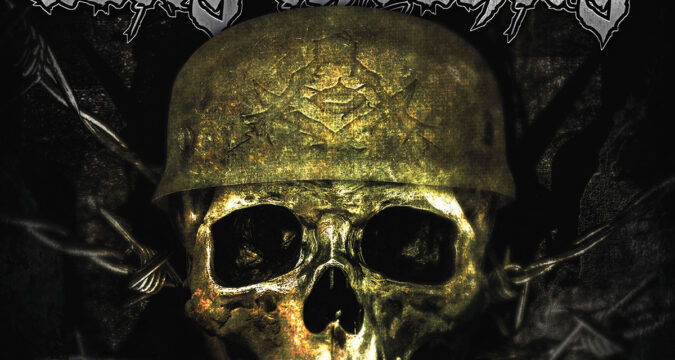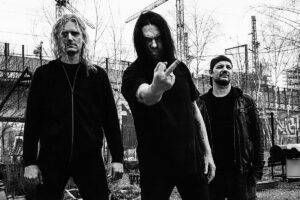 DAILY INSANITY melden sich mit der Ankündigung ihres neuen Albums zurück und präsentieren die zweite Single "I Am The Mission". Die Veröffentlichung wird von einem neuen Musikvideo begleitet, das von dem deutschen Regisseur Ronald Matthes, der zuvor mit Acts wie Slipknot, Volbeat, Machine Head, Kreator oder Sodom zusammengearbeitet hat, realisiert wurde.
DAILY INSANITY Mainman Gene über die Video Veröffentlichung und das neue Album: "Nach der Verschiebung der Veröffentlichung durch Covid-19 freuen wir uns, dass wir den Fans endlich das Video für I Am The Mission präsentieren können. Wir haben uns mit Ronald Matthes zusammengetan, um eine außergewöhnliche Video-Trilogie zu schaffen, die auf unserem Albumkonzept basiert. Und ich denke, dass sich das Ergebnis sehen lassen kann! Außerdem freuen wir uns sehr, endlich alle Details des neuen Albums wie die Tracklist und das atemberaubende Cover-Artwork enthüllen zu können. Ich bin sehr stolz auf Chronicles Of War und wir können es kaum erwarten, dass unsere Fans es hören und wir damit auf Tour gehen dürfen!"
Schaut das offizielle Musik Video zu "I Am The Mission" HIER!
Bestellt "Chronicles Of War" HIER!
Seit der Veröffentlichung ihrer von der Presse gefeierten Debüt-EP "Conspiracy" hat sich die Band mit mehreren Shows in ganz Europa einen Namen gemacht – sie teilten sich die Bühnen mit Acts wie Tankard, Vader, Asphyx und vielen anderen. Die Veröffentlichung von DAILY INSANITY's Debütalbum Chronicles Of War ist für den 10. September 2021 bestätigt. Das Album Cover wurde von Felix Pirk erschaffen. Die vollständige Tracklist liest sich wie folgt:
01 Agony Of Valkyries
02 Chronicles Of War
03 It Doesn't Matter
04 Stolen Valor
05 Warchild
06 Marching Drummer
07 I Am The Mission
08 A Lonely Soldier
09 Sleepless
10 Doomsday
11 The Reckoning
Das Album wird digital, über alle wichtigen Streaming-Plattformen und physisch als streng limitiertes CD-Digipak mit einem exklusiven Bonustrack namens "Desert Storm" erhältlich sein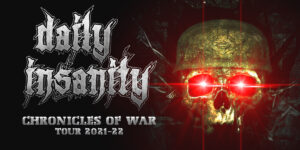 In diesem Jahr werden DAILY INSANITY auch wieder auf europäischen Bühnen stehen. Werdet Teil einer großartigen Old-School-Thrash-Metal-Nacht und erlebt die Band auf ihrer bislang umfangreichsten Tour!
CHRONICLES OF WAR TOUR
12.06.2021 PL – Warsaw, Metal Cave Klub
10.09.2021 DE – Bautzen, Club Lamporphyr
11.09.2021 DE – Berlin, Slaughterhouse
24.09.2021 DE – Jena, Rosenkeller
25.09.2021 CZ – Mlada Boleslav, Fararova Sluj
08.10.2021 DE – Hamburg, Astra Stube
12.02.2022 PL – Slupsk, Motor Rock Pub
18.02.2022 PL – Zagan, Klub Elektrownia
19.02.2022 CZ – Prague, Black Pes
Weitere Tourdaten werden zu gegebener Zeit bekannt gegeben. Besucht die offizielle Band-Website für Tickets und weitere Album Updates.