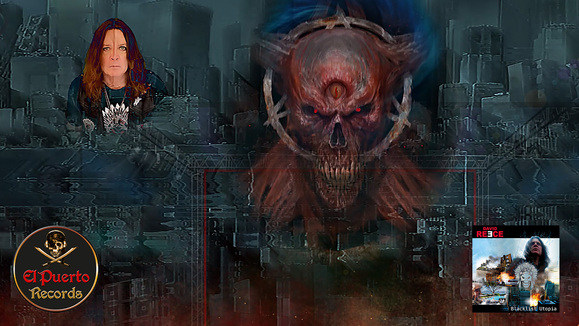 Obwohl das letzte Album "Blacklist Utopia" bereits im Oktober 2021 erschien, ist das mediale Interesse an diesem Album weiterhin hoch, nicht zuletzt durch die Best-Of-2021 Posts der Redaktionen. Kein Wunder, wurde das Album doch durchweg von allen großen und kleinen Magazinen mit tollen Kritiken überhäuft.
Grund genug für David Reece, sich nochmal via Pressemitteilung bei allen zu bedanken:
"Ich grüße alle und wünsche Euch allen ein gesundes und glückliches neues Jahr. Außerdem möchte ich jedem einzelnen von euch, Fans wie Redakteuren für die unglaubliche Unterstützung meines neuesten Albums Blacklist Utopia danken. Vielen Dank an El Puerto Records und alle bei El Puerto Records, die so hart gearbeitet haben, um meine Platte zu promoten. Auch mein Bruder Bob Reece von Redwoods hat  durch seine Professionalität und seinen Eifer  Video- und Fotokreationen für die Visuals von I can't Breathe und meinem neuen Video Down To The Core , das nun veröffentlicht wird, geschaffen. Alles Gute für euch alle!"
OFFICIAL VIDEO: "Down To The Core"
(Premiere auf Youtube: Dienstag 11.01.2022, 12:00 Uhr)
Zu David Reece muss man sicherlich nicht mehr viel sagen, er ist ein großer Name im Heavy Metal. So drückte er bereits Bands wie Accept, BangaloreChoir, Bonfire und zuletzt den Sainted Sinners seinen Stempel auf und veredelte die Alben mit seinem Charisma und seiner einzigartigen Stimme.
Sein neuestes Werk "BlacklistUtopia" gehört schon längst zu den Fan-Favoriten.
Die erfolgreiche Kollaboration mit Andy Susemihl (u.a.Ex-U.D.O.) als Gitarrist, Songwriting- und Recording-Partner und Malte Frederik Burkert (mittlerweile auch bei Victory),  die schon das Vorgängeralbum "Cacophony Of SOuls" zu einem absoluten Hörgenuss machte, geht auch auf "Blacklist Utopia" in eine weitere Runde.
Das Album erschien als JewelCase CD oder als (weitestgehend vergriffene) Sammleredition
oder digital:
Bei Fragen steht die Band selbstverständlich auch weiterhin für Interviews zur Verfügung!
Bitte einfach eine Mail an matt@epr.rocks senden.
Tracklist DAVID REECE – "Blacklist Utopia"
01 – Utopia
02 – Red Blooded Hell Raiser
03 – Down To The Core
04 – Civil War
05 – I Can't Breathe
06 – Most Of The Time
07 – American Dream
08 – Before We Fade Away
09 – Hindsight is 2020
10 – Devil At My Doorstep
11 – Save Me
12 – Highway Child
13 – Book Of Lies
Line-Up:
David Reece – Vocals
(Ex-Accept, Ex-Sainted Sinners, Ex-Bonfire, Ex-Bangalore Choir,solo)
Andy Susemihl – Guitars
(Ex-U.D.O., Ex-Sinner, Ex-Bangalore Choir, solo)
Malte Frederik Burkert – Bass
(Victory, Ian Paice, Ex- Sainted Sinners)
Francesco Jovino – Drums
(Ex-U.D.O., Ex-Primal Fear, Ex-Voodoo Circle, Ex-Jorn)