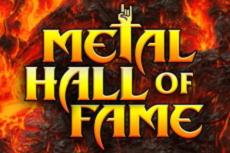 Die Metal Hall of Fame ist stolz darauf, die Einführung wichtiger Mitglieder der Iron Maiden-Familie und des geschichtsträchtigen Iron Maiden-Sängers Paul Di'Anno, Blaze Bayley und des legendären Maskottchenschöpfers "Eddie" Derek Riggs bekannt zu geben. Paul Di'Anno schrieb und sang auf Maidens ersten beiden legendären Alben. Sie werden immer noch von vielen Iron Maiden-Fans als ihre Favoriten angesehen.
Blaze Bayley wurde nach dem Abgang des Sängers Bruce Dickinson in den 1990er Jahren eingestellt. Bayley schrieb und sang fünf Jahre lang für Iron Maiden und nahm zwei Alben mit der Band auf. Songs aus der Blaze-Ära sind bis heute ein fester Bestandteil der Set-Liste der Band. Derek Riggs ist das Genie hinter der visuellen Seite von Iron Maiden. Er schuf die Ikone "Eddie", eines der beliebtesten Maskottchen der Geschichte. Viele können argumentieren, dass ein großer Teil des kontinuierlichen globalen Erfolgs der Band auf den finsteren, grausamen, formverändernden Eddie zurückzuführen ist. "Wir freuen uns sehr, diese drei Künstler vorzustellen, die das Erbe von Iron Maiden mitgeprägt haben", sagt Pat Gesualdo, President / CEO der Metal Hall of Fame. Gesualdo ging auch auf die überwältigende Forderung des Fans ein, alle ehemaligen und gegenwärtigen Mitglieder von Iron Maiden aufzunehmen. "Zusammen mit der großen Fangemeinde der Band wollten wir seit Jahren alle Mitglieder der Band einbeziehen.
Wir haben jedoch auf grünes Licht vom Management gewartet. Hoffentlich können wir mit der anhaltenden Unterstützung und Ermutigung von Fans auf der ganzen Welt alle Mitglieder von Iron Maiden bald in die Metal Hall of Fame aufnehmen. " Weitere wichtige Updates und Überraschungseinführungen werden in Kürze bekannt gegeben. Aufgrund der aktuellen Gesundheitsempfehlung wird die Einführungszeremonie der Metal Hall of Fame 2021 zu einem noch bekanntzugebenden Zeitpunkt online stattfinden. Über die Metal Hall of Fame: In der Metal Hall of Fame (Die wichtigste Nacht im Metal !!) findet die jährliche Wohltätigkeitsgala der Metal Hall of Fame statt. Es widmet sich der ewigen Verankerung der legendären Musiker und Führungskräfte der Musikindustrie, die dafür verantwortlich sind, Hardrock- und Heavy-Metal-Musik zu dem zu machen, was sie heute ist. Ihr Beitrag zum Genre ist von unschätzbarem Wert und sie begeistern weiterhin Fans auf der ganzen Welt, von Generation zu Generation. Die Metal Hall of Fame ist Teil der gemeinnützigen Organisation D.A.D. (Schlagzeug und Behinderung). PAPA. bietet kostenlose Therapie- und Beratungsdienste für Kinder mit besonderen Bedürfnissen und verwundete Veteranen in Gesundheitseinrichtungen, Schulen und Gemeindezentren in über 15 Ländern.