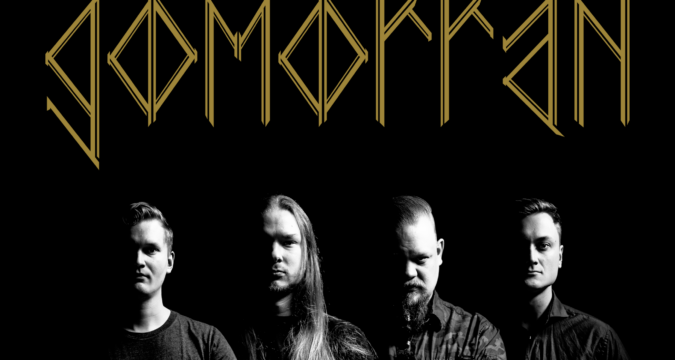 Die in Helsinki ansässige finnische Blackened-Death-Metal-Band Gomorran bringt ihre Debüt-Platte "Excerpts From the Dark Age" am 3. Dezember 2021 bei Inverse Records heraus. Die erste Single "Sermon" ist heute mit dem Musikvideo präsentiert worden.
Link zum Musikvideo "Sermon" https://youtu.be/V2-lkFf7GBE
Sänger/Gitarrist Perttu Laamanen:
"Sermon ist ein heidnisches Ritual, bei dem die Dämonen alles in Schutt und Asche legen. Ein Refrain, der im Fegefeuer brennt, wird durch ein rasches und teuflisches Intermezzo verstärkt. Ein Zuhörer wird in den letzten Momenten des Rituals in die düsteren und hoffnungslosen Tiefen der Hölle gezogen. Die verzaubernde, infernalische Verdammnis der letzten Takte fasziniert immer wieder bei jedem Hören." 
Höre die Single "Sermon" auf:
Youtube: 
https://youtu.be/V2-lkFf7GBE
Bandcamp: 
https://gomorran.bandcamp.com
Spotify: 
https://spoti.fi/3APCBHX
Deezer: 
https://www.deezer.com/en/album/258017212
Tidal: 
https://listen.tidal.com/album/197290991/track/197290992
Apple Music: 
https://apple.co/3CSAXWu
Pre-Save "Excerpts From the Dark Age" -Platte bei Spotify: 
https://bit.ly/3lt5d30
BIOGRAPHIE:
Gomorran wurde im Herbst 2019 in Helsinki gegründet, als Olli Lappalainens seine Auszeit vom Schlagzeugspielen beendete. Er hatte einen brennenden Wunsch eine neue Band zu gründen und wieder Metal-Musik zu produzieren. Gitarrist Joonatan Wiitasalo kam wieder zurück in die Musikszene und ist der Band beigetreten, um seine Heavy-Musik-Kreativität auszuleben. In den darauffolgenden Monaten sind viele neue Song-Ideen herausgekommen.
Auch wenn das Komponieren gut lief, die Band suchte verzweifelt neue Bandmitglieder. Am Ende des Sommers 2020 ist der Band der Botschafter der bösen Schallwellen, Sänger/Gitarrist Perttu Laamanen, beigetreten. Perttu hat dem Komponieren von neuen Material einen großen Auftrieb gegeben. Songstrukturen und -ideen sind zu kompletten Liedern geworden, und Gomorran hat damit begonnen, das Produzieren seiner Debüt-Platte zu planen. Zu Beginn des Jahres 2021, kurz vor der Aufnahme von "Excerpts from the Dark Age", ist Panu Nykänen als Bassist in die Band aufgenommen worden.
Olli und Joonatan wollten gnadenlose und wahnsinnige Musik, inspiriert von Ajattara and Cannibal Corpse, komponieren, und so entstand Gomorrans erster Song "Black Plague" im Frühjahr 2020. Das Lied erwies sich als richtungsweisend dafür, wie die Band musikalisch vorwärtsstreben wollte. Gomorran hält seine Musik für Death-Metal, die von der Finsternis des Black-Metals beeinflusst ist. Die Einflüsse anderer Musikrichtungen sind deutlich hörbar, da die Bandmitglieder eine weite Breite von musikalischen Einflüssen mitbringen. Die Songtexte von "Excerpts from the Dark Age" beinhalten erschütternde Geschichte über das Römische Reich, das Mittelalter und heidnische Literatur.
Die Band hat letztendlich ihre Debüt-Platte "Excerpts from the Dark Age" selbstständig in ihrer Bandproberaum in Vallila, Helsinki, aufgenommen. Gomorrans Schlagzeugspieler Olli Lappalainen hat alles gemixt. Chor, Tasten und Streichinstrumente sind von Markus Lappalainen arrangiert und produziert worden. Die Aufnahme und Mixing der Platte wurde im Juli 2021 fertig, daraufhin folgte das Mastering von Juho Räihä von Sound Spiral Studios. "Excerpts from the Dark Age" wurde im Herbst 2021 von Inverse Records, eine Plattenlabel und -Agentur, veröffentlicht.