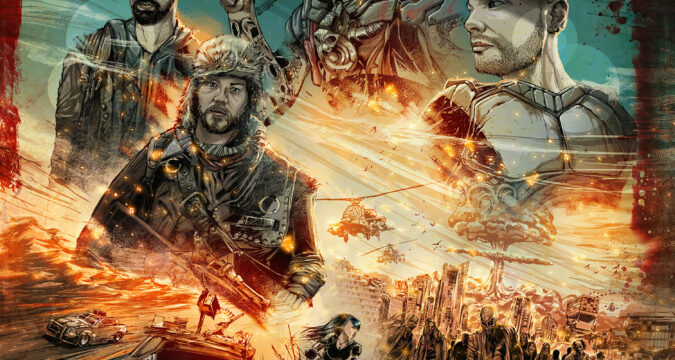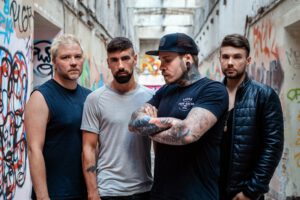 Self-confident and authentic as usual, ENGST recently released the first two singles 'Wieder da', 'Mein Problem' & 'Schlechtes Gewissen' off their upcoming album and are now back with their third banger 'Alle tragen Schwarz'!
With 'Alle tragen Schwarz' ENGST broach the issue of somehting very important among our society.
Matthias Engst says: "Each of us has been a part of it. Whether as a victim, a perpetrator or someone who just simply looks away. Bullying is more topical than ever! Thanks to social media, victims are no longer safe even at home. This form of emotional torment is carried with you for a lifetime. And some cannot withstand this pressure. It was important to us to open our mouths and point the finger at everyone who is to blame. All of us!"
Watch the music video for 'Alle tragen Schwarz' now:
https://youtu.be/JiKK_QIC6r4
Stream, Purchase 'Alle tragen Schwarz' now: https://Engst.lnk.to/AlletragenSchwarz
Their eagerly awaited second album »Schöne neue Welt« will be released on 30th of October 2020 via Arising Empire.
ENGST are ready to continue what they started with their successful debut album »Flächenbrand« and are thus not only rewarding themselves for years of hard work and stamina, but also all fans who have already discovered the potential of the Berlin band as support act for renowned bands like MASSENDEFEKT, BETONTOD and ROGERS. The album consists of a perfect combination of Matthias' gripping voice, overwhelming hooks and tearing guitars. One thing is clear: As soon as ENGST show up, the demolition is for sure!
Pre-order the upcoming sophomore album 
»Schöne neue Welt«
 here and get your hands on the 
limited bundles
: https://ENGST.lnk.to/SchoeneNeueWelt
After two sold out headliner tours and numerous festival shows across the country, 
ENGST 
are back with their second album »
Schöne Neue
Welt
«. The band comes to their fans in Germany and Switzerland for 10 dates!
After the band played over 70 shows in the last year and laid the stages in ruins, they are motivated and just waiting to plunge back into the crowd and make the new world a bit more beautiful again.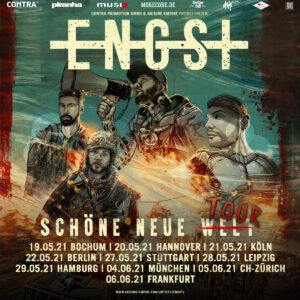 »Schöne neue Welt Tour 2021«
Presented by 
Contra Promotion GmbH
, 
Initiative Musik
, 
piranha
, 
musix
, 
MoreCore 
& 
Berliner Luft
19.05.21 DE-Bochum, Zeche
20.05.21 DE-Hannover, Faust
21.05.21 DE-Köln, Essigfabrik
22.05.21 DE-Berlin, Kesselhaus
27.05.21 DE-Stuttgart, Im Wizemann
28.05.21 DE-Leipzig, Anker
29.05.21 DE-Hamburg, Gruenspan
04.06.21 DE-München, Technikum
05.06.21 CH-Zürich, Exil
06.06.21 DE-Frankfurt, Das Bett
Tickets: https://www.contrapromotion.com/kuenstler/engst/
ICYM:
Watch the music video for 'Schlechtes Gewissen' now: https://youtu.be/04rYepes0YI
Stream 'Schlecht Gewissen' now: https://ENGST.lnk.to/SchlechtesGewissen
Watch the music video for 'Mein Problem' now: https://youtu.be/q7U4lIN10Dg
Stream 'Mein Problem' now: https://ENGST.lnk.to/MeinProblem
Watch 'Wieder da' here: https://youtu.be/288y0Ci9MoM
Stream 'Wieder da' now: https://ENGST.lnk.to/Wiederda
After dealing with time pressure during the writing process of their debut album »Flächenbrand« and finishing some parts only minutes before entering the studio, ENGST finally had the chance to take all the time they needed on »Schöne neue Welt«  – the second full-length release that once again captures the contrast between anger and hope, desolation and meaningful friendship, all melted in one captivating musical potpourri.
The band concludes:
"We are once again taking a clear stand and there is still so much to stand up against in our society. We take all of it and toss it into their faces…. but still, we wouldn't be ENGST without friendship, solidarity and love."
Consisting of a group of close friends who teamed up around front man Matthias Engst, the band are typical children of Berlin – unmistakable, rough and down-to-earth. And until today, Matthias Engst is living in the capital's problem district where he has grown up. The experiences he made during his youth, the roughness of the neighborhood and the love for his hometown are main elements in ENGST's songs that rife with social criticism yet always maintain respect for Matthias' origins and roots.