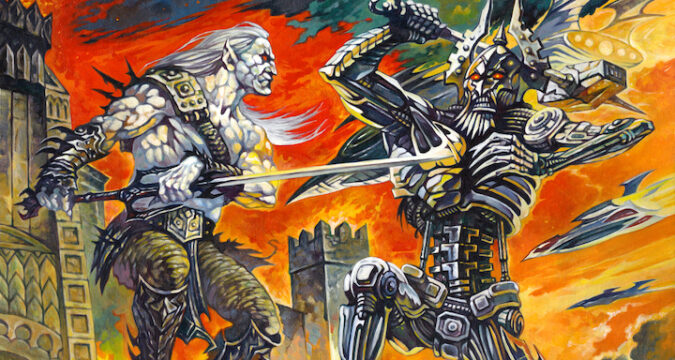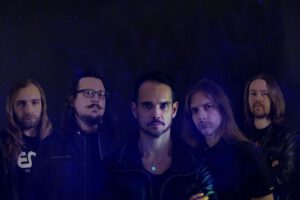 ETERNITIY'S END 
veröffentlichen heute die neue Single 
Hounds of Tindalos
 aus dem kommenden dritten Studioalbum 
"Ember's Of War"
. Passend zur Songveröffentlichung haben die  deutschen Tech Power Metaller auch ein dazugehöriges Musikvideo produziert. Die visuelle Präsentation zeigt 
ETERNITIY'S END 
in einer futuristischen Umgebung, die die Science-Fiction-inspirierten Themen von 
"Ember's Of War"
 widerspiegelt.
"Embers Of War" erscheint am 26.11.2021 via Prosthetic Records
Seht HIER das Musikvideo zu Hounds of Tindalos!
Streamt Hounds of Tindalos via Spotify | Apple Music | Tidal | Deezer | Bandcamp
Christian Muenzner (Gitarre & Keyboards) über die neue Single:
"Unsere dritte Single "Hounds of Tindalos" ist einer der eingängigsten Songs unserer Bandgeschichte und vereint all die Kernelemente unseres Sounds in einem kompakten Format. Der Track kombiniert klassische Heavy und Power Metal Trademarks der deutschen und amerikanischen Schule mit den neoklassischen Elementen unserer früheren Werke und ist zudem unser erstes offizielles Musikvideo. Es gibt eine Menge aggressiver Riffs, epische Gesangsmelodien, duellierende Gitarren und einen hymnenhaften Chorus.
Inhaltlich basiert der Song auf der gleichnamigen Geschichte von Frank Belknap Long und handelt von einem verrückten Wissenschaftler, der mit Hilfe von bewusstseinserweiternden Drogen in andere Dimensionen vorzudringen versucht, was ihm auch gelingt. Allerdings öffnet er hier mit das Tor zu einer anderen Welt das besser immer verschlossen hätte bleiben sollen. Seit dem wird er von den Wesen die er dort erblickt hat heimgesucht. Das Labor und Dimensionstor sind in der Szenerie des Videos zu sehen."
Eternity's End wurden 2014 von Gitarrist und Songwriter Christian Muenzner (Obscura, Paradox, Alkaloid, Ex-Necrophagist) gegründet und haben eine Reihe von Line-Up-Wechseln durchlaufen, um ihren Sound zu perfektionieren und sich zu einer Band zu entwickeln, die logistisch gesehen touren kann. Die Band hat bisher zwei Studioalben veröffentlicht, von denen ein Album über Crowdfunding finanziert wurde.
Mit einem neuen Line-Up an Bord machte sich die Band an die Arbeit an dem, was "Embers Of War" werden sollte. Das Album enthält viele Gitarrensoli, die an Racer X und Cacophony erinnern und bombastische Refrains im Stil von Iron Savior und Blind Guardian. In Kombination mit Theatralik und Storytelling, die King Diamond stolz machen würden, sind die Ergebnisse einfach überwältigend.
"Embers Of War" wurde zwischen Oktober 2020 und Mai 2021 aufgenommen und produziert von Christian Muenzner und Hannes Grossmann. Gemixt und gemastert wurde das Album von Hannes Grossmann in den Mordor Sound Studios. Als Gastmusiker bei den Chören auf allen Songs wirkten Piet Sielck und Jan-Sören Eckert von der deutschen Power Metal Institution Iron Savior mit.
Die acht Songs von "Embers Of War" tragen alle Merkmale eines zukünftigen Klassikers des Genres und werden die Hörer in eine Welt voller magischer Wunder entführen, weit weg von der täglichen Realität.
Seht hier die ersten bereits veröffentlichen Singles:
Arcturus Prime (guitar playthrough)
Deathrider (visualizer)
"Embers Of War" Tracklist:
1. Dreadnought (The Voyage of the Damned)
2. Bane of the Blacksword
3. Hounds of Tindalos
4. Call of the Valkyries
5. Arcturus Prime
6. Shaded Heart
7. Deathrider
8. Embers of War