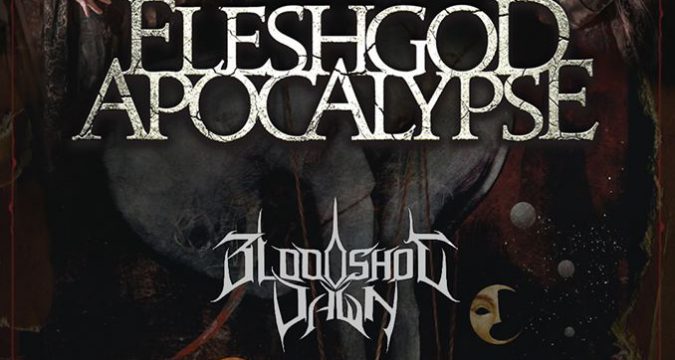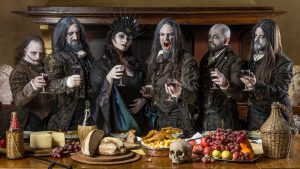 Die italienischen Orchestral Death Metal-Giganten FLESHGOD APOCALYPSE haben letztes Jahr ihr vielgelobtes fünftes Album namens »Veleno« via Nuclear Blast auf die Welt losgelassen. Nachdem sie im November/Dezember 2019 noch als Teil der »MTV Headbanger's Ball Tour« mit ihren Labelkollegen KATAKLYSM sowie WHITECHAPEL und DYSCARNATE die Bühnen Europas unsicher gemacht hat, wird die Band nun im Herbst 2020 als Headliner in die hiesigen Clubs zurückkehren. Die Metal-Legionäre von EX DEO werden das Sextett dabei unterstützen. Weitere Details findet Ihr unten!
Frontmann Francesco Paoli dazu: "Werte europäische Freude, diese Tour wird gewaltig. Endlich können wir euch unsere neuen Songs sowie unsere neue Liveproduktion im Rahmen einer Headlinetour präsentieren. Wir werden an viele altbekannte Orte, die uns am Herzen liegen, zurückkehren, aber natürlich auch anderen Territorien erstmalig einen Besuch abstatten. Wir werden den gesamten Kontinent heimsuchen und die Städte mit unserer ambitionierten neuen Liveshow, die mit einer extralangen Setlist und einigen coolen Überraschungen aufwartet, welche jene Nächte unvergesslich machen werden, beglücken! Obendrein freuen wir uns enorm, dass uns die Symphonic Death Metaller EX DEO, deren Line-up u.a. aus Mitgliedern der legendären kanadischen Band KATAKLYSM besteht, auf der »Veleno Across Europe Tour 2020« als Gäste begleiten werden! Diese sollte man sich definitiv nicht entgehen lassen…"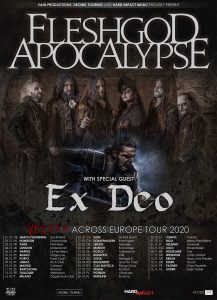 »Veleno Across Europe Tour 2020«
w/ EX DEO
01.10. D Übach-Palenberg – Rockfabrik
02.10. NL Nijmegen – Doornroosje
03.10. F Paris – Petit Bain
04.10. UK London – The Underworld Camden
06.10. F Nantes – Le Ferrailleur
07.10. E Bilbao – Stage Live
08.10. P Porto – Hard Club
09.10. P Lissabon – RCA Club
10.10. E Madrid – Sala Caracol
11.10. E Barcelona – Sala Bóveda
12.10. F Toulouse – Le Metronum
15.10. I Retorbido (PV) – Dagda Live Club
16.10. CH Sion – Le Port Franc
17.10. CH Schaffhausen – Kammgarn
18.10. D Leipzig – Hellraiser
20.10. D München – Backstage
21.10. SK Košice – Collosseum Club
22.10. H Budapest – A38
23.10. BG Sofia – Mixtape 5
24.10. RO Bukarest – Quantic Club
25.10. RO Cluj-Napoca – Flying Circus
27.10. CZ Prag – Futurum Music Bar
28.10. PL Posen – u Bazyla
29.10. PL Warschau – Klub Proxima
30.10. LT Vilnius – Vakaris
31.10. LV Riga – Melnā Piektdiena
01.11. FIN Helsinki – Ääniwalli
04.11. N Oslo – Røverstaden
08.11. B Roeselare – Trax
11.11. D Weinheim – Café Central
12.11. D Berlin – Musik & Frieden
13.11. D Essen – Turock
14.11. F Pagney-derrière-Barine – Chez Paulette
15.11. NL Leiden – Gebr. de Nobel
Weitere FLESHGOD APOCALYPSE-Termine:
»Veleno« – UK/IRL-Tour
w/ BLOODSHOT DAWN
12.02. UK Bristol – The Fleece
13.02. UK Leeds – The Key Club
14.02. IRL Dublin – Voodoo Lounge
15.02. UK Glasgow – Slay
16.02. UK Manchester – Rebellion
17.02. UK Milton Keynes – The Craufurd Arms
14./15.03. MEX Mexico City – Hell And Heaven Fest
»An Exclusive Evening Feat. The »Veleno« Classical Quartet«
w/ THE AGONIST
16.03. USA Dallas, TX – House of Blues
17.03. USA Austin, TX – Emo's
19.03. USA Atlanta, GA – Buckhead Theatre
20.03. USA Baltimore, MD – Soundstage
21.03. USA Philadelphia, PA – Theatre of Living Arts
22.03. USA Brooklyn, NY – Warsaw
23.03. CDN Québec City, QC – Le D'Auteuil
24.03. CDN Montréal, QC – Théâtre Corona
25.03. CDN Toronto, ON – The Phoenix Concert Theatre
26.03. USA Cleveland, OH – House of Blues
27.03. USA Chicago, IL – House of Blues
28.03. USA Lincoln, NE – The Royal Grove
29.03. USA Denver, CO – Summit
31.03. CDN Vancouver, BC – Rickshaw Theatre
01.04. USA Seattle, WA – El Corazón
02.04. USA Portland, OR – Crystal Ballroom
04.04. USA San Diego, CA – The Observatory North Park
05.04. USA Mesa, AZ – Club Red
06.04. USA Los Angeles, CA – The Regent Theater
10.07. S Gävle – Gefle Metal Festival
14./15.08. A Graz – Metal on the Hill
—–
Holt euch »Veleno« hier: www.nuclearblast.com/fleshgodapocalypse-veleno
Mehr zu »Veleno«:
'Sugar' OFFIZIELLES MUSIKVIDEO: https://www.youtube.com/watch?v=Xmq3iyW02b8
'Carnivorous Lamb' OFFIZIELLES LYRICVIDEO: https://www.youtube.com/watch?v=3RMEoOl80SM
'Worship And Forget' OFFIZIELLER VISUALIZER: https://www.youtube.com/watch?v=Rx67BcnDk9c
'Healing Through War' OFFIZIELLES LIVEVIDEO: https://www.youtube.com/watch?v=mviUmbrvAP0
'The Fool' OFFIZIELLES LIVEVIDEO: https://www.youtube.com/watch?v=yYJ4UmxGrIk
Italienisch für 'Gift', stellt »Veleno« das erste FLESHGOD APOCALYPSE-Album in drei Jahren und damit den Nachfolger des vielgelobten »King« (2016) dar. Der 'Metalteil' des Werks wurde gemeinsam mit Langzeitkollaborateur Marco Mastrobuono im Bloom Recording Studio sowie im Kick Studio in Rom, Italien aufgenommen. Der 'Orchesterteil' (die Ensembles) wurde dahingegen im Musica Teclas Studio in Perugia eingespielt. Seinen Feinschliff in Form von Mix und Mastering erhielt »Veleno« schließlich vom grammynominierten Jacob Hansen (VOLBEAT, THE BLACK DAHLIA MURDER, EPICA) in dessen Hansen Studios in Dänemark. Die gesamte Albumproduktion dauerte laut Paoli rund drei Monate. Das Artwork der Platte stammt von Travis Smith (AVENGED SEVENFOLD, OPETH, KATATONIA).
»Veleno« – Tracklist:
CD
01. Fury
02. Carnivorous Lamb
03. Sugar
04. The Praying Mantis' Strategy
05. Monnalisa
06. Worship And Forget
07. Absinthe
08. Pissing On The Score
09. The Day We'll Be Gone
10. Embrace The Oblivion
11. Veleno
Bonustracks (DIGI, DIGITAL und DIGITAL DELUXE)
12. Reise, Reise (RAMMSTEIN-Cover)
13. The Forsaking (Nocturnal Version)
»An Evening in Perugia« (Bonus-Blu-ray) – Tracklist:
01. Marche Royale
02. In Aeternum
03. Healing Through War
04. Cold As Perfection
05. Minotaur (The Wrath Of Poseidon)
06. Gravity
07. The Violation
08. Prologue
09. Epilogue
10. The Fool
11. The Egoism
12. Syphilis
13. The Forsaking