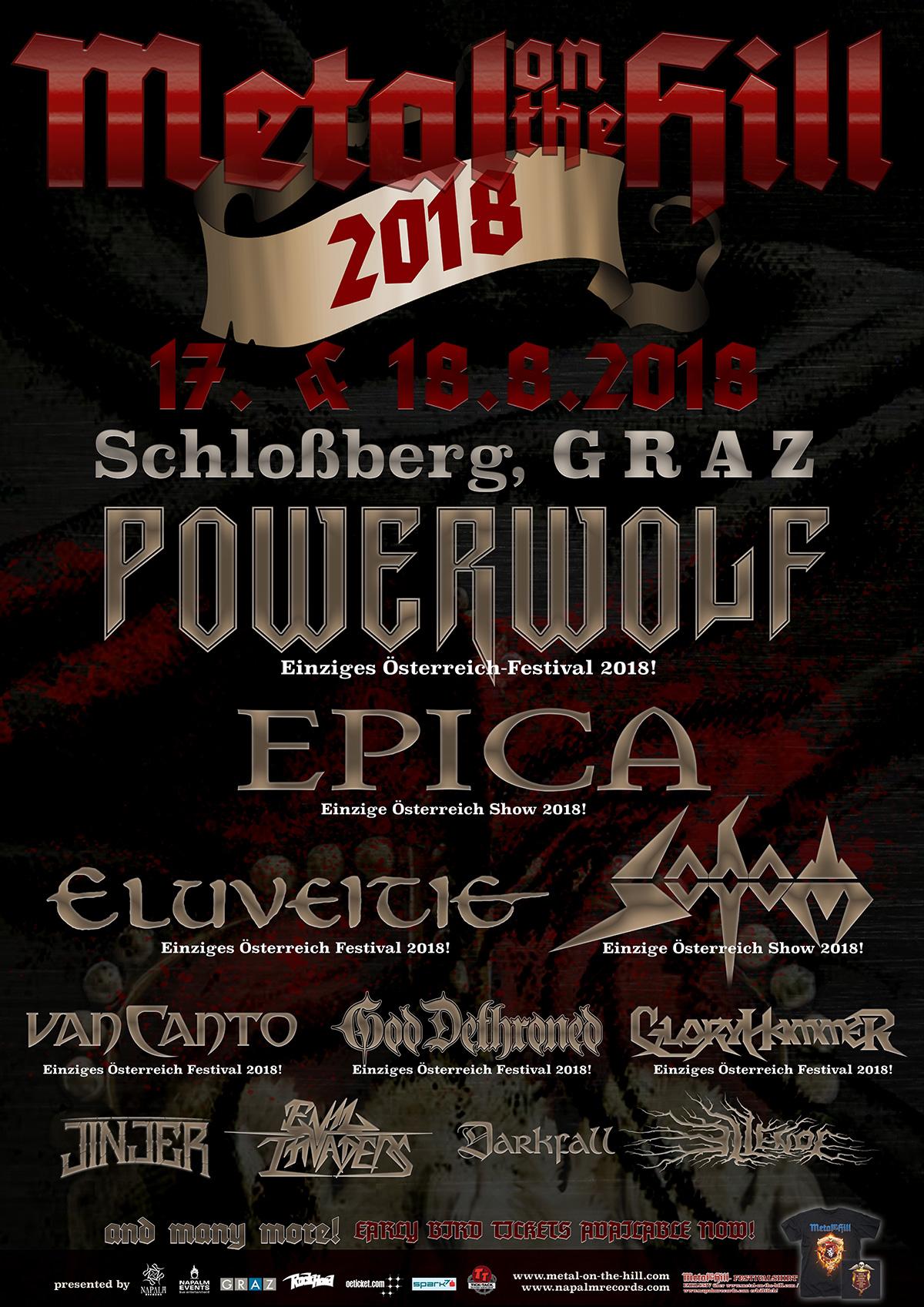 Das erste & einzige österreichische Boutique Festival geht bereits in die dritte Runde! Das Metal On The Hill Festival wird auch in diesem Jahr Fans an beiden Tagen auf den Kasematten – der wohl schönsten Bühne Österreichs – begrüßen. Save the Date: 17.08. – 18.08.2018!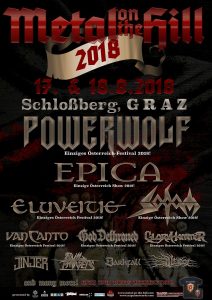 Zum bisherigen Line-up wird heute noch galaktisches Feuer entzündet! Die international besetzten Power Metaller von GLORYHAMMER kommen zu ihrem einzigen Österreich Festival 2018 nach Graz und werden den astralen Hammer mächtig schwingen! Es warten Metal-Hymen Deluxe mit einer fantastischen Bühnenshow, die der Schloßberg so noch nie gesehen hat!
Das Metal On The Hill Festival freut sich zudem Deutschlands erfolgreichste Metal Band der Gegenwart für die einzig wahre Metalmesse begrüßen zu dürfen: POWERWOLF machen Metal zur Religion! Die 3 letzten Tonträger waren in den Top 3 der Charts, davon 2 Tonträger auf  #1, ausverkaufte Headliner-Shows und frenetisch abgefeierte Festival-Gigs in ganz Europa sprechen dabei für sich! Amen & Attack!
Zum weiteren Line-up zählen EPICA und ELUVEITIE, die mit  ihren einzigen und exklusiven Österreich Shows und Festivals 2018 den Grazer Schloßberg zum Beben bringen werden! Weitere Hochkaräter sind die Trash Metal Helden von SODOM, die absolut einzigartige A-cappella Wucht VAN CANTO, gefolgt von Death Metal by GOD DETHRONED, den überaus erfolgreich gefeierten JINJER, sowie den belgischen Thrash Metal Jungspunden EVIL INVADERS. Abgerundet werden die bisherigen Announcements von den Grazer Lokalmatadoren ELLENDE und DARKFALL.
VIP-Tickets sind bereits jetzt restlos ausverkauft! Sichert euch Eure Festivalpässe für DAS Metal Event 2018 auf: www.metal-on-the-hill.com, www.ticketzentrum.at und www.oeticket.com.