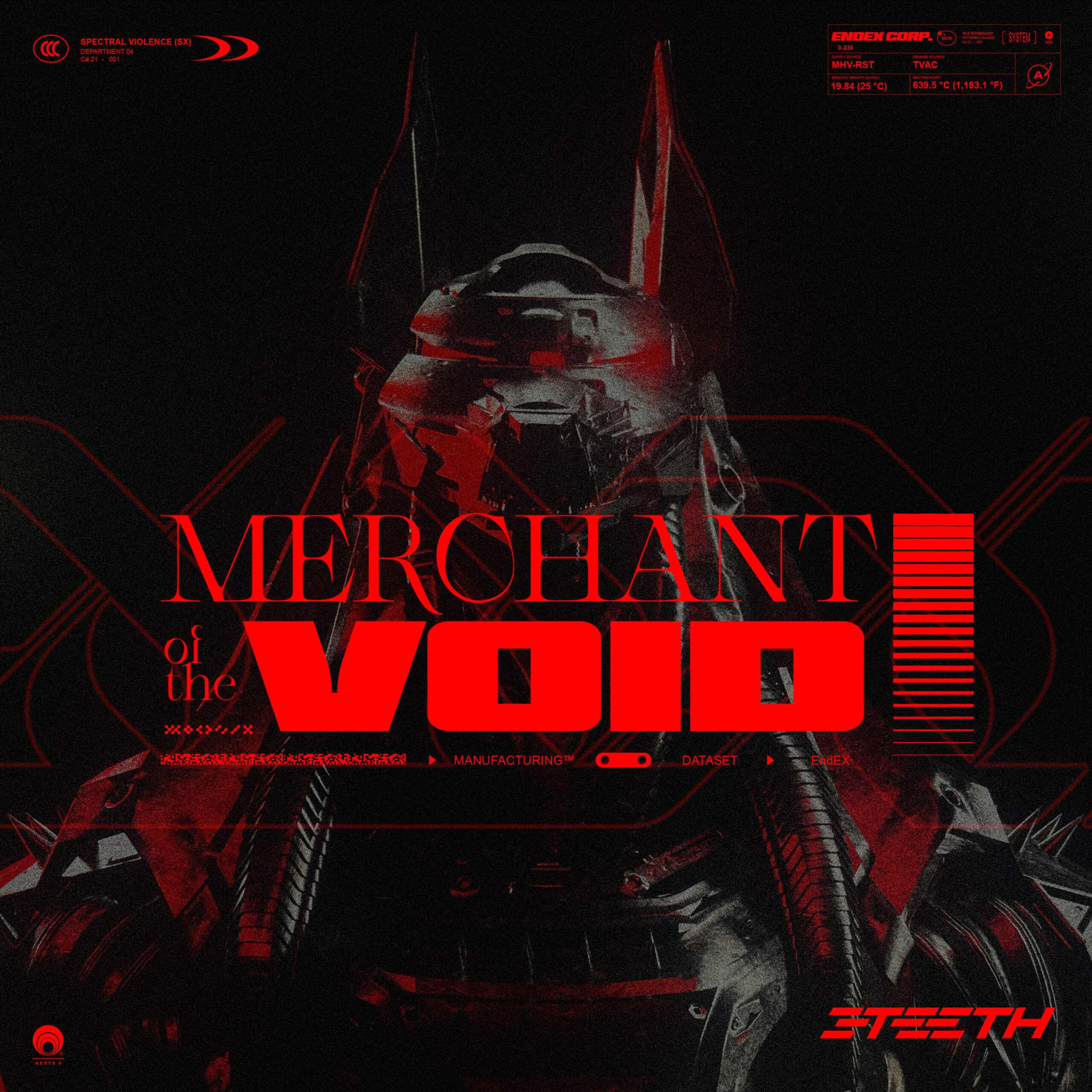 Neuester Vorgeschmack auf das kommende Album, mit Tracks, die von DOOM-Komponist Mick Gordon produziert wurden
3TEETH veröffentlichen jeden Monat eine neue Single bis zur Veröffentlichung des kompletten Albums über Century Media
Die moderne Industrial-Band 3TEETH hat sich mit "Merchant Of The Void" wieder in das Gespräch über unsere gequälte Realität eingeschaltet. Die heute veröffentlichte, brandneue Single der Band ist die erste in einer Reihe von monatlichen Veröffentlichungen, die auf das in Kürze über Century Media Records erscheinende neue Album hinweisen werden.
Während KI die Macht übernimmt, Banken kollabieren, das Klima weiter außer Kontrolle gerät und die Menschen sich mit einem existenziellen Alptraum auseinandersetzen, legen 3TEETH mit dem Track "Merchant Of The Void" eine brutale neue Sichtweise an den Tag und enthüllen damit ihre erste Salve in eine neue Ära der musikalischen Entwicklung.
Der Track wird von einem atemberaubenden Video begleitet, das von einem der führenden Animationskünstler Hollywoods, Matteo Santoro(der mit 3TEETH-Frontmann Alexis Mincolla aufgewachsen ist), produziert wurde. Das visuell epische Werk nimmt die Zuschauer mit auf eine Reise in den Hyperkonsumismus Lovecraft'schen Ausmaßes:
Sichert "Merchant Of The Void" hier: https://3teeth.lnk.to/MerchantOfTheVoid-Single
Der knallharte Song verbindet die für die Band typische düstere Elektro-Industrial-Metal-Alchemie mit dem Gedanken über den selbstzerstörerischen Weg, den die Menschheit eingeschlagen hat, wie Frontmann und kreativer Kopf Alexis Mincollabeschreibt:
 "Amidst the numbing pulse of hypermodernity, the insatiable appetite of data commodification devours our sense of meaning. The undead march of materialism eventually renders the human subject an automaton, desperately grasping for the ephemeral junk 2.0 to fill the abyss of existential emptiness. The self devolves into a mere echo, a ghostly specter caught in the whirlwind of techno-capital acceleration, the very essence of its being devoured by the machinery of its own weaponized desires. If the future eludes your vision, fear not, The Merchant of The Void is standing by and eager to sell it to you. Welcome to the cold descent into the black hole of total absolute commodification.  In the words of William S. Burrough 'The junk merchant doesn't sell his product to the consumer, he sells the consumer to his product. He does not improve and simplify his merchandise. He degrades and simplifies the client."
Merchant of The Void" folgt auf den zuvor veröffentlichten Track "Paralyze" (featuring Ho99o9), die beide vom mit Spannung erwarteten vierten Album von 3TEETH stammen, das demnächst über Century Media Records erscheint (weitere Details werden in Kürze bekannt gegeben).
Um das Fundament für das neue Songmaterial zu legen, zogen 3TEETH in die verlassene Stille von Joshua Tree, um der spürbaren Unruhe ihrer Heimatstadt Los Angeles zu entfliehen und eine neue Perspektive zu gewinnen. Das entstandene Material wird derzeit mit einem soliden, erweiterten Team aufgenommen, zu dem auch der versierte Sounddesigner Mick Gordon (bekannt für seine Arbeit an dem Spiele-Phänomen DOOM) gehört, der zusammen mit Produzent Nick Rowe und Mixer Sean Beavan (NIN) einige der Tracks produziert hat und dem unverwechselbaren Sound der Band eine weitere Dimension verleiht.
Mick Gordon sagt: "3TEETH are one of my favorite acts. They proudly fly their own unique flag. The new album charts course through the next stage of our vanity-led evolution as a species, and by that I mean the album is a world unto itself. I'm just stoked that these guys have allowed me along for the ride."
ÜBER 3TEETH
3TEETH manifestierten ihre cybersozialen Absichten bereits 2013: eine musikalische Entität, die aus Mincollas wöchentlichen Treffen in Downtown L.A., bekannt als "Lil' Death", hervorging. Xavier Swafford (Keys, Synth), Chase Brawner (Gitarren) und Andrew Means (Bass, Synth) schlossen sich Mincolla an. 3TEETH veröffentlichten ihr erstes selbstbetiteltes Album im folgenden Jahr. Allianzen mit Größen wie TOOL und Rammstein führten zu ersten Live-Auftritten des Kollektivs und zu einem weiteren Aufstieg mit der Veröffentlichung des Albums shutdown.exe. im Jahr 2017, das 3TEETH auf Bühnen weltweit brachte. In Zusammenarbeit mit Produzent und Mixer Sean Beavan (NIN) bei ihrem neuen Label Century Media steigerten 3TEETH ihr eigenes klangliches Wettrüsten mit Metawar (2019) und betraten eine neue Stufe des kulturellen Bewusstseins mit einer Sammlung von Tracks wie dem bissigen "President X" und ihrer eindringlichen Interpretation von Foster the People's "Pumped Up Kicks".
"The modern carriers of the industrial rock torch" — Revolver
"State-of-the-art sensory overload with take-no-prisoners level of aggression" — Rolling Stone
 "3TEETH bring the aggression with aplomb" — Loudwire