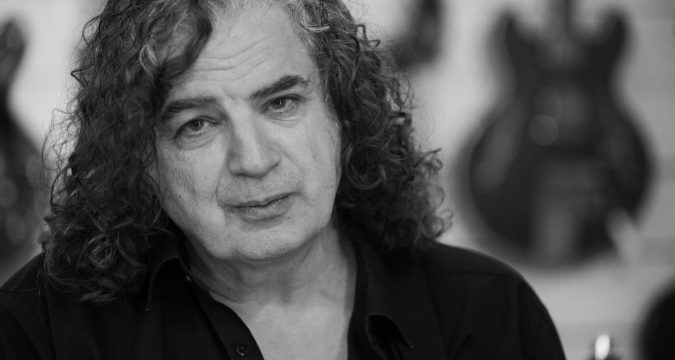 Jakko Jakszyk freut sich bekannt zu geben, dass er einen weltweiten Vertrag mit InsideOutMusic über die Veröffentlichung seines bevorstehenden neuen Solo-Albums "Secrets & Lies" Ende 2020 unterzeichnet hat.
Jakko kommentiert: "Ich bin wirklich begeistert, bei Inside Out zu unterschreiben. Ich habe Thomas Waber in den letzten Jahren kennengelernt und er hat mich immer wieder ermutigt und mir anschließend das Selbstvertrauen gegeben, wieder Musik für mich selbst zu machen."
Thomas Waber, Labelchef von InsideOut, fügt hinzu: "Ich bin wirklich froh, dass Jakko endlich die Zeit gefunden hat, ein weiteres Soloalbum fertigzustellen, und dass wir mit ihm daran arbeiten werden. Wir sind immer bemüht, mit den besten Talenten unserer Gruppe zusammenzuarbeiten." Genre und Jakko ist definitiv jemand, der dieser Beschreibung entspricht! "
Obwohl bekannt für seine Arbeit als Sänger und Gitarrist in King Crimson seit 2013, mit dem er ausverkaufte Nächte in der New Yorker Radio City Music Hall, dem alten Amphi-Theater in Pompeji und drei Nächte in der Londoner Royal Albert Hall gespielt hat. Jakszyk hat eine fast fünf Jahrzehnte andauernde und abwechslungsreiche Karriere hinter sich.
Er umfasst das Art-Rock-Outfit der späten 1970er Jahre, 64 Spoons, das einst als "Strawinsky meets the Barron Knights" bezeichnet wurde. Er wurde beim legendären Plattenlabel Stiff unter Vertrag genommen und tourte mit den Canterbury Scene-Legenden Dave Stewart und Pip Pyle als Mitglied der Rapid Eye Movement . Neben zahlreichen Studio-Sessions sowohl als Spieler als auch als Produzent, darunter eine Woche lang Mitglied von The Kinks, war Jakkos musikalische Karriere nichts anderes als vielseitig.
Vom Guitarist Magazine in den 1980er Jahren als einer der besten Gitarristen benannt, erregte sein Spiel die Aufmerksamkeit des Mark King, der ihn als Ersatz für den legendären Gitarristen Allan Holdsworth in Level 42 engagierte, mit dem Jakko Anfang der vier Jahre lang live aufgenommen und gespielt hatte 1990er Jahre.
Als talentierter Multiinstrumentalist, der in der Lage ist, im Rahmen des Avantgarde-Rocks bis hin zu elegantem Pop zu arbeiten, hat er mit einer Vielzahl von Künstlern zusammengearbeitet, darunter Anton Fier von Golden Palimino, Mica Paris, Tom Robinson und Peter Blegvad, John Greaves von Henry Cow, Mick Karn aus Japan und Richard Barbieri, Dave Stewart und Barbara Gaskin, Steve Hackett und Steven Wilson.
Jakszyk wurde bei den Progressive Music Awards 2017 bei Shakespeare's Globe in London mit dem Chris Squire Virtuoso Award ausgezeichnet und hat sich auch einen Ruf als gefragter Remixing-Ingenieur und Produzent erworben. In dieser Rolle wurde er beauftragt, mehrere klassische Progressive-Rock-Alben in Stereo und 5.1-Surround-Sound zu remixen, darunter ELPs Trilogy und Brain Salad Surgery, Chris Squires Fish Out Of Water, King Crimsons THRAK und The Moody Blues 'In Search Of The Lost Chord und mehrere konzertante Aufführungen von Jethro Tull, die in den Multi-Disc-Neuauflagen für Songs From The Wood, Heavy Horses, Minstrel In The Gallery und andere enthalten sind.
Weitere Informationen zu seinem bevorstehenden neuen Soloalbum in naher Zukunft