Neues Album, ausverkaufte Halle und eine Comeback Band waren der Ausganspunkt an diesem Abend in der Batschkapp in Frankfurt. NEW MODEL ARMY haben im August ihr neues Studioalbum " From Here" auf den Markt gebracht und sind mit der Scheibe auf großer Herbsttour. Kein Wunder das die Batschkapp an diesem Abend ausverkauft ist. Als Support haben NEW MIDEL ARMY das Stuttgarter Trio HELGAS PICTURE dabei, die sich erst im September wieder an ein Comeback versucht haben.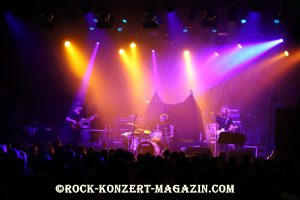 So war es dann das pünktlich um 20:00 Uhr die Lichter ausgingen und die drei Schwaben, angeführt von Zam Helga auf die Bühne kamen. Sänger und Gitarrist Zam Helga legt alles was er hat in seine Stimme, zelebriert dabei vollmundige Akkorde und ziseliert fein Figuren aus den Saiten. Bassist Packo Müller zupft den Bass und legt sich genauso ins Zeug wie Drummer Peter Kumpf. So spielen sie viele ältere Songs aus der Ära der frühen Anfänge aber auch das ein oder andere neuere Stück ist dabei. Was ein wenig sehr störend war, war die Tatsache das Zam nach jedem Stück, was sie gespielt haben, etwas zu erzählen hatte was das nächste Stück betraf. Das störte den fluss des Konzertes doch sehr und  so kam auch gar keine Stimmung auf bei den Fans, die artig ein wenig Applaus nach den Songs spendeten. Es mag ja sein das ZAM HELGA in den 80ern und 90ern ein echtes Brett waren aber so haben sie keine Chance da wieder hin zu kommen. Sie waren auch nur bei den 4 Terminen in Stuttgart, München, Leipzig und Heute in Frankfurt dabei.
Bildergalerie hier: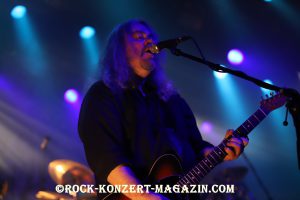 Jetzt sollte der Funke und vor allem der Spaß Faktor überspringen denn um 21:15 Uhr kamen NEW MODEL ARMY auf die Bühne. Es gibt nur wenige Bands, die sich so konsequent dem Mainstream verweigert haben wie NEW MODEL ARMY und die sich dennoch oder gerade deswegen über Jahrzehnte eine eingeschworene Fangemeinde erspielt haben. So ist die Batschkapp mit 1500 Fans auch ausverkauft als Gitarrist, Sänger und Songschreiber Justin Sullivan das Konzert mit "No Rest" eröffnet. Der Funke ist sofort auf die Fans übergesprungen. Mit "From Here" ist gerade das neue Album erschienen, und da durften einige neue  Song nicht fehlen. So brachte man von der Scheibe das fetzende "Never Arriving" und das nachdenkliche "End of Days". Früh am Abend gibt es den einzigen großen Hit der Band. "51st State of America" ist aktueller denn je. Mit dem Anti-Kriegs-Lied "Here comes the War" von 1993 oder dem "Angry Planet" aus 2015 hauen NEW MODEL ARMY einige Klassiker raus. Immer frenetisch gefeiert von den Fans. Die hatten Ihren Spaß aber leider ging auch dieses Konzert zu Ende. Mit dem Song "Get me out" verabschiedeten sich NEW MODEL ARMY von den Fans und hinterließen einfach nur glückliche Gesichter.
Setlist:
No Rest
Never Arriving
The Weather
The Charge
Watch and Learn
51st State
Believe it
From here
Where i am
Wipeout
Acoustic
End of Days
Here comes the War
Stranger
Ballade of Bodmin Pill
Fate
Get me out
Bildergalerie hier: