Was für ein Abend sollte es werden, wenn Trash Legenden, Newcomer und alteingesessene Haudegen an einem Abend auf der Bühne stehen. Der letzte Tag der Killfest Tour stand heute auf dem Programm. Mit OVERKILL als Headliner, DESTRUCTION als Co. Headliner, FLOTSAM AND JETSAM und REZET als Support, konnte es nur laut und hart werden. Leider fanden an diesem Abend nur knapp 500 Besucher den Weg in den Schlachthof.
Pünktlich um 18:30 Uhr legten die aus dem hohen Norden stammenden REZET auf der Bühne los. Was sehr schade war, war die Tatsache dass sich bis dahin erst so 120-130 Fans in der Halle verirrt haben. In den gut 30 Minütigen Gig haben REZET guten klassischen Trash Metal gemischt mit Speed Metal den Fans aufs Hirn gedrückt. Leider sprang der Funke nicht so ganz auf die Fans über, was sich den ganzen Abend hin zog.
Leider gibt es von REZET keine Bilder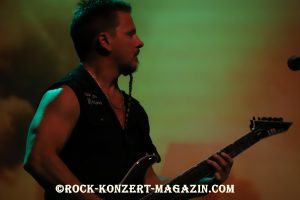 Mit FLOTSAM AND JETSAM kam nun noch etwas mehr Power auf die Bühne. FLOTSAM AND JETSAM spielten melodischen Trash Metal mit einer ordentlichen Portion Klassischen Metal, was an diesem Abend auch hervorstach. FLOTSAM AND JETSAM brachten mit "Desecrator", und "Hammerhead" sowie dem Abschluss Song "No Place for Disgrace" einige Klassiker Ihrer ersten beiden Alben zum Besten. Was ein geiler Gig und es gab ja noch 2 weitere.
Setlist:
1. Prisoner of Time
2. Desecrator
3. Iron Maiden
4. Hammerhead
5. Demolition Man
6. Suffer the Masses
7. I Live you Die
8. Recover
9. No Place for Disgrace
Leider gibt es von FLOTSAM AND JETSAM nur eine Handvoll Bilder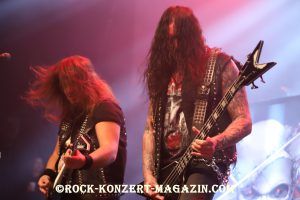 Nun wurde wieder umgebaut und dann waren DESTRUCTION an der Reihe. So wie man DESTRUCTION kennt war auch das Bühnenbild. Totenköpfe und abgetrennte Gliedmaßen schmückten die Bühne. Mit Ihrem neuen Album "Born to Perish" waren DESTRUCTION am Start und präsentierten den Fans auch den ein oder anderen Song daraus. Den Großteil des Gigs machten aber Songs aus den Alben von vor 2001 aus, was die Fans so richtig in Ektase versetzte. Durch "Mad Butcher", " Trash till Death" oder "Bestial Invasion" tat sich in der Mitte der Halle ein kleiner Moshpit auf und die Fans ließen Ihre Haare fliegen das es nur so krachte. Nun konnte OVERKILL zum letzten Akt auf die Bühne kommen
Setlist:
1. Curse the Gods
2. Nailed tot he Cross
3. Born to Perish
4. Mad Butcher
5. Eternal Ban
6. Inspired by Death
7. The Butcher strikes Back
8. Trash till Death
9. Betrayal
10. Bestial Invasion
Bilder von Destruction hier: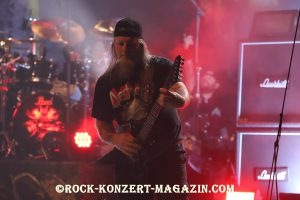 Von allen Bands an diesem Abend konnten OVERKILL nun 90 Minuten zeigen und hören lassen was Sie drauf haben. Dass Sie was drauf haben zeigen Sie ja nun schon seit über 30 Jahren. Auch mit neuem Album unterm Arm waren es allerdings die Klassiker der Alben aus den 1980ern, die am meisten für Stimmung sorgten. Die war zwar noch immer nicht auf dem Höhepunkt, aber wie die drei Acts vorher, gaben auch OVERKILL alles und gaben sich keine Blöße. Bobby "Blitz" Ellsworth machte seinem Nickname alle Ehre und schoss immer wieder nach hinten und wieder zurück an die Front. "Deny the cross" läutete insgesamt vier Zugaben ein und das Set endete mit "Welcome to the Garden State" vom aktuellen Album "The wings of war".
Es war alles bereitet für einen geilen Trashigen Abend nur wurde er von den Fans nicht so angenommen wie es hätte sein sollen. Die Bands haben in ihren Repertoires gegriffen und alles gegeben, also an Ihnen lag es nicht aber woran lag es dann? Ehrlich gesagt habe ich keine Ahnung, vielleicht liegt es daran das im Moment einfach viel zu viele Bands unterwegs sind und die Fans sich das einteilen müssen und nicht jedes Konzert besuchen können.
Setlist:
1. Last Man Standing
2. Electric Rattlesnake
3. Hello from the Gutter
4. Elimination
5. Bring me the Night
6. Head of a Pin
7. Horrorscope
8. Under one
9. Bastard Nation
10. Mean, Green, Killing Machine
11. Feel the Fire
12. Ironbound
13. Deny the Cross
14. Rotten tot he Cross
15. Fuck you
16. Welcome tot he Garden State
17. Fuck you (reprise)
Blder von OVERKILL hier.