Mat Sinner, auch bekannt für die erfolgreiche Speed-/Power-Metal-Band PRIMAL FEAR und seine Tätigkeit als Mastermind von "Rock Meets Classic", ist seit eh und je das Gesicht der deutschen Hard-Rock-Band SINNER. Nun hat er mit SINNER eine neue Scheibe namens "Santa Muerte" auf den Markt gebracht. SINNER machen zur Zeit die "The Santa Muerte" Release Show Tour und haben mit SAVAGE MESSIAH und ASOMUEL zwei geile Supports am Start. Im Kubana waren allerdings ASOMUEL aus welchen Gründen auch immer nicht dabei. So kamen wir also ins Kubana und waren erstmal etwas erstaunt, denn gerade mal 50-60 Fans hatten sich im Kubana versammelt um die beiden Bands zu sehen und hören.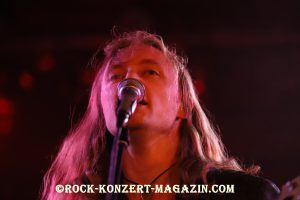 Um 20:00 Uhr ging es dann auch los, es wurde dunkel und ein Intro ertönte. Dann kamen SAVAGE MESSIAH auf die doch etwas kleiner gewordene Bühne, denn SINNER hatten nicht nur ihr eigenes Schlagzeug aufgebaut, worüber SAVAGE MESSIAH nicht spielen sollten und eine Bar. So musste also noch ein Schlagzeug aufgebaut werden damit SAVAGE MESSIAH auch spielen konnten. Dazu kommt das SAVAGE mit 6 Musikern auch nicht gerade eine kleine Band ist. Was Sie uns dann aber geboten haben, war wirklich geil. Spielfreude, klare und Harte Drums und Riffs, dazu eine gute Stimme von Sänger Dave Silver, runden die Band ab. Mit dem kürzlich erschienenen Album "Demons" haben SAVAGE MESSIAH auch noch neues Material mitgebracht. Mit "Virtue Signal" starteten die aus London stammende Band in den Abend. Leider waren es nicht viele Fans die den Weg in das Kubana gefunden haben aber die machten sofort Stimmung in der Bude. So kamen noch "Cross of Babylon", "The Fateful Dark" oder "Minority of one" aus den Boxen geknallt. Sound und Lichttechnisch war e seine geile Show von SAVAGE MESSIAH an diesem Abend. Gute 45 Minuten dann war es Zeit zum Umbauen für SINNER.
Setlist:
Virtue Signal
The Bitter Truth
Cross of Babylon
Hands of Fate
Under no Illusions
The Fateful Dark
Minority of One
Down and Out
Bilder von Savage Messiah hier: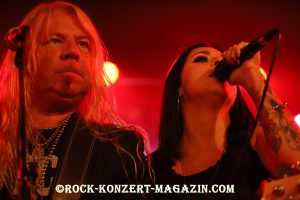 Nach der Umbaupause geht es weiter mit dem Intro von Monty Phyton´s "Always look on the bride side of Life" und dann kam MATT SINNER und seine Jungs auf die Bühne. Mit dabei die aus Venedig stammende Giorgia Colleluori. Die bereits als Backgroundsängerin für Rock Meets Classic tätige Künstlerin soll die Band auch zukünftig als festes Bandmitglied unterstützen. Es gab aber nicht nur Songs vom neuen Album, sondern auch die ein oder anderen älteren Songs und sogar ein Cover von Billy Idol. Spaß hatten alle an diesem Abend und das übertrug sich auch auf die wenigen aber glücklichen Fans an diesem Abend im Kubana. Immer wieder wechselten SINNER zwischen dem neuen Album und älteren Alben hin und her und brachten Songs wie ""Lucky 13", "Born to Rock" oder "Tequila Suicide". Dabei machte Giorgia auch eine sehr gute Figur und das Sie singen kann, hat Sie ja schon bei Rock Meets Classic bewiesen. Man hatte den Eindruck das Giorgia Matt den Rang abläuft, denn bei den mehrheitlich Männlichen Fans kam Sie sehr gut an. Kräftige Stimme mit einer hohen Ausdruckskraft so sang sich Giorgia in die Herzen der Fans. Ein kräftiges Drumsolo wurde auch eingeschoben und mit dem Cover von BILLY IDOL "Rebel Yell" war nochmals richtig Stimmung in der Bude. Nach knappen 1 ½ Stunden verabschiedeten sich SINNER mit dem Titeltrack des Albums "Santa Muerte" von den Fans. Was blieb war ein Abend der mit einer starken Band als Support eröffnet wurde und mit einem weiterem starken Konzert abgeschlossen wurde.
Setlist:
Intro
Comin out Fighting
Shine on
Bad Girl
Lucky 13
Danger Zone
Fiesta Y Copas
Born to Rock
Death Letter
Tequila Suicide
The Concrete Jungle
Drum Solo
Knife in my Hand
Rebel Yell
German Rocks
Rock´n Roll
Sana Muerte
Bilder von Sinner hier: