Um 18:00 Uhr ging es los auf dem Vorplatz der Congresshalle in Saarbrücken mit SANTA CRUZ. Leider war ich durch meine Arbeit und der Anreise pünktlich zum Umbau, also nach SANTA CRUZ da und kann euch somit nichts über den Gig berichten.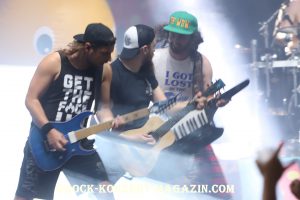 Nachdem die Umbaupause zu Ende war, waren ALESTORM dran und kamen mit Intro "DJ Matt Bell Indahouse" auf die Bühne. Es sollte nicht so der Abend von ALESTORM werden, wofür die Band
aber nichts könnte, aber dazu gleich mehr. Voller Elan und mit viel Spaß und Power kamen ALESTORM auf die Bühne und präsentierten den Fans die Songs "Keelhaulet" und "ALESTORM". Dann machte es Bumm und die Band hatte kein Strom mehr. Jetzt wurde fieberhaft gesucht um den Fehler zu finden. ALESTORM machte sich daraus einen Spaß und der ein oder andere machte Selfies von der grölenden
Menge. Sänger Christopher Alexander Bowes kam zwischendurch immer wieder ans Mikro und fragte die Gans ob man ihn versteht aber die Fans verstanden nur ihren eigenen Gesang. Nach guten 7 Minuten war der Fehler gefunden und es ging weiter bis zum Song "Hamgover". Danach musste das Konzert wegen Gewitter um gute 20 Minuten unterbrochen werden. Alle Besucher wurden auf gefordert in die
Congresshalle zu gehen, was sie auch taten. Der Regenguss war vorbei und es könnte weitergehen mit dem Song "Nancy the Tavern Wech" und "México". Auch durch diese Unterbrechung ließen sich ALESTORM nicht aus dem Konzept bringen und sorgten bei den teilweise klitschnassen Fans für reichlich Stimmung. Die Stimmung stieg nochmals an mit dem Song "Drink" den ALESTORM dann zum Besten
gaben. Mit reichlich wums und klaren Synthesizern kamen ALESTORM Druckvorschau aus den Boxen. Durch die beiden Unterbrechungen gab es leider eine etwas verkürzte Show von ALESTORM zu sehen und zu hören. So verabschiedeten sie sich von den Fans mit dem Song "Fucked with an Anchorage", die wiederum lautstark nach Zugaben riefen.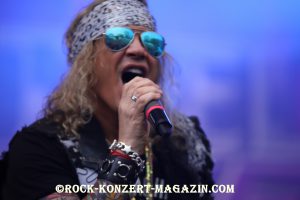 Umbauen und dann ging die Party weiter mit STEEL PANTHER. Wie immer kommen STEEL PANTHER in Glitzerklamotten, gestylten Haaren und Stirnband auf die Bühne um den Fans mal
mächtig ein zu heizen. Nach zwei Songs ging dann das gewohnte gequatschte los. Über alles sexuelle und welche Vorlieben sie haben. Wenn man es nicht besser wüsste würde man sagen man ist auf einem Konzert und keine Selbsthilfegruppe. Zwischendurch gab es Songs wie "Eyes of the Panther" oder "Gloryhole". Interessant wurde es dann für die Girls im Infield. Eine war auserkoren auf die Bühne zu kommen um von STEEL PANTHER einen Song gewidmet zu bekommen. Joanna war die glückliche die in der Mitte der Bühne Platz nehmen durfte und Sänger Michael Starr schlawenzelte um sie herum wie ein liebestoller Hahn. Dann wurden noch mehr Girls auf die Bühne geholt um den Song "17 Girls in a Row" zu präsentieren. Die Mädels hatten Spaß und versuchten alles zu geben auf der Bühne. Danach "verwandelte" sich Michael in Ozzy Osbourne um den Song "Crazy Train" zu präsentieren, der sehr gut bei den Fans ankam. Auf dem Höhepunkt der Stimmung machten STEEL PANTHER mit dem Song "Death to all but Metal" Schluss für diesen Abend. Sie verabschiedeten sich und gingen von der Bühne.
So bleibt ein Konzert in Erinnerung wo der Spaß im Vordergrund stand und die zum Teil selbst Verliebtheit von STEEL PANTHER.