SUBWAY TO SALLY haben mit Ihrem neuen Album die Fans wieder in ihren Bann gezogen, dies konnte man an der Chartplatzierung sehen, das Album stieg auf Platz 5 ein, und so war es nicht verwunderlich das SUBWAY TO SALLY bei Ihrer Hey Tour in teilweise ausverkauften Hallen spielten. So war es an diesem Abend in der Kölner Essigfabrik. Schon 1 Stunde vor Einlass bildete sich eine lange Schlange vor der Essigfabrik, weil jeder den besten Platz haben wollte. Auf ihrer Hey Tour begleitet sie MAJORVOICE.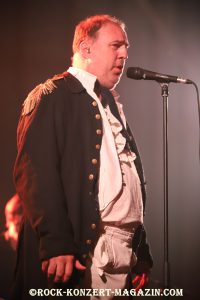 MAJORVOICE ist eine etwas andere Support Band, die, so ist mein Empfinden, aber auch das von einigen Fans, der falsche Support für SUBWAY TO SALLLY war. Mit Gitarre, Cello, Keyboard und einem ausgebildeten Bariton wurden Songs gecovert und anders interpretiert. Sänger Roland Zeidler wusste mit Humor und seiner Stimme zu überzeugen. Als er bei dem Song "Eisblumen" einmal die falsche Strophe gesungen hatte nahm er es mit Humor und bedankte sich bei den Fans, dass sie ihn auf die richtige Strophe gebracht haben. Mit dem neuen kommenden Album "The Newer Chapter" sind MAJORVOICE dann auch im Herbst unterwegs.
Wenn man ein Konzert mit 2 neuen Songs beginnt hat man eine Menge richtig gemacht, wenn die Fans gleich von Beginn an somit machen. An Pailletten und Glitter wurde im Song "Messiah" nicht gespart  und die Fans sparten beim 2. Song "Island" nicht mit Text, denn Sie sangen aus voller Kehle mit. Wenn man dann mit einem Klassiker ("Kleid aus Rosen") weiter macht, und die Halle zum Kochen bringt läuft alles nach Plan. Dem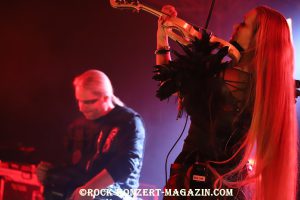 Platzmangel auf der Bühne ist es geschuldet, das sich nicht alle 7 Musiker auf der Bühne so bewegen können wie man es eigentlich von SUBWAY TO SALLY gewohnt ist. So bewegen sich hauptsächlich Eric und Ally auf der Bühne aber die Fans können sich ja auch nicht so bewegen, weil die Essigfabrik Knüppel voll ist. Weiter geht es in der Setlist mit Songs wie "Minne" oder "Aufgewacht" und angeblich ist mit dem Song "Ausgeträumt" Schluss für heute Abend. Doch die Fans fangen an sich Ihre Zugabe zu er singen, nicht zu er schreien. Sie singen aus vollen Kehlen "Hoch vom Galgen klingt es…" und siehe da SUBWAY singt weiter und die Fans haben sich doch tatsächlich auch noch 2 weitere Zugaben er sungen. Man muss schon sagen das es ein wirklich gelungenes Konzert war mit einer fantastisch aufspielenden Band, die auch nach dem Konzert noch Fan nah war und fleißig Autogramme gab und Photos mit den Fans gemacht haben.
Setllist:
1.       Messias
2.       Island
3.       Knochenschiff
4.       Kleid aus Rosen
5.       Königin der Käfer
6.       Imperator Rex Graecorum
7.       Tag der Rache
8.       Unsterblich
9.       Eisblumen
10.   Die Engel steigen auf
11.   Minne
12.   Anna's Theme
13.   Für Immer
14.   Henkersbraut
15.   Arme Ellen Schmitt
16.   Falscher Heiland
17.   Alles was das Herz will
18.   Aufgewacht
19.   Ausgeträumt
20.   Wenn Engel hassen (1. Zugabe)
21.   Sieben (1. Zugabe)
22.   Tanz auf dem Vulkan (1. Zugabe)
23.   Veitstanz (1. Zugabe)
24.   Grausame Schwester (2. Zugabe)
25.   Julia und die Räuber (2. Zugabe)