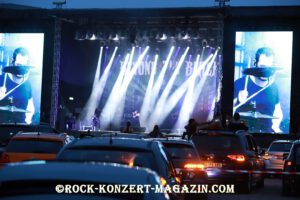 Freitagabend auf einem Parkplatz vor der Köpi Arena in Oberhausen. Etwa um die 150 Autos stehen aufgereiht in mehreren Reihen vor einer Bühne. Die Fans sitzen in ihren Autos, da sie dieses nur zum Gang zur Toilette verlassen dürfen und dann auch nur mit Mundschutz. Ein weitläufiges Gelände und mit großen Abständen zwischen den Autos findet also der Live Sommer 2020 in Oberhausen statt. Um 21:00 Uhr ist es soweit und das Konzert beginnt, deswegen sind die Fans in Ihren Autos hier. Zu Zeiten von Corona ist das die Möglichkeit, Konzerte zu spielen und wenigstens so ein wenig Geld zu verdienen. Es ist nur die Frage ob und wie es bei den Fans ankommt. Es ist schon etwas anderes ob man vor der Bühne steht und schreit, klatscht oder einen Circlepit macht, oder ob man im Auto sitzt, die Band auf einer großen Leinwand sieht und der Sound, der wirklich gut war, aus dem Radio kommt. Noch eine Änderung gibt es bei den Autokonzerten im Bezug zu den normalen Konzerten. Es gibt kein Merchandise Stand. Wenn die Fans etwas von der Band kaufen wollen, müssen Sie es über den Online Shop machen. Hier gibt es auch ein Sondershirt zu den Autokonzerten aber nur für eine bestimmt Zeit. Zu Beginn des Konzertes Wurden auch ein paar Regeln bekannt gegeben, wie sich die Fans während des Konzertes zu verhalten haben. So darf z.B. nicht gehupt werden, der Wagen nicht verlassen werden und um Applaus zu spenden, sollen die Fans Ihre Lichthupe oder Blinker betätigen.
BEYOND THE BLACK haben in diesem Sommer 2 solcher Konzerte gespielt. Dieses in Oberhausen und eins in Stuttgart. Anlass für diese Konzerte war das Release ihres neuen Albums "Horizons", welches am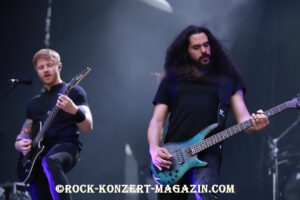 19.06.2020 erschienen ist. Als BEYOND THE BLACK um 21:00 Uhr die Bühne betraten, war es doch sehr still. Einige vereinzelte Fans schrien und klatschten aber so richtig kam es nicht an der Bühne an. Mit dem Opener "Horizon" stieg die Band in eine Setliste ein, die einige Songs vom neuen Album aber auch ältere Stücke enthielt. Komisch ist schon das man vor der Bühne im Fotograben steht und die Musik nicht viel oder gar nicht hört, da es keine PA nach vorne gab, um den Lärmschutz für die angrenzenden Anwohner zu garantieren. Der erste Song war zu Ende und ein wenig Applaus und klatschen kam auf aber nicht in der Lautstärke wie man es gewohnt ist aus den Hallen. Mit jedem Song wurde es lauter, was auch daran lag das die Fans dann doch gehupt haben, obwohl Sie es nicht sollten. Jenny und Gitarrist Chris, schwangen sich zum Song "Wounded Healer" in ein Cabrio und fuhren zwischen den geparkten Autos um her. So kam wenigstens etwas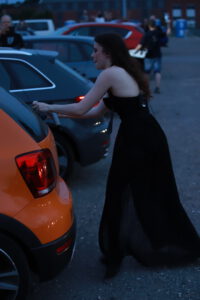 Fannähe auf. Die Fans die in zweiter Reihe standen stiegen dann doch aus ihren Autos aus um Jenny und Chris mal aus der Nähe zu sehen, was die Security nicht so toll fand. Die kamen nämlich und baten die Fans wieder sich in Ihre Autos zu setzten. Nach zwei Songs verschwanden die beiden wieder um auf der Bühne wieder Musik zu machen. Jenny kam aber nochmals runter, diesmal aber zu Fuß. Sie verteilte während Sie sang, den ein oder anderen Magneten an den Autos immer darauf bedacht, den nötigen Sicherheitsabstand ein zu halten. Was für eine komische Situation, in diesen Zeiten. Mit dem Klassiker und wohl bekanntestem Song "In the Shadow" verabschiedeten sich BEYOND THE BLACK von ihren Fans. Klar kamen sie nochmals wieder, denn nach 1:07 Minuten ein Konzert zu Ende zu gehen lassen, wäre schon ein wenig Armselig. So brachten Sie zum Schluß noch "Golden Pariahs" und "Hallelujha" bevor dann doch nach 1:30 Uhr alles vorbei war.
Abschließend kann man sagen, ja es war mal wieder ein Konzert aber die Stimmung in der Halle mit den Fans direkt an der Bühne ist und bleibt etwas anderes als in einem Autokino. Die Fans die sich nicht immer an die Lärmbeschränkungen gehalten haben, können dazu beitragen das es so in dieser Form nicht mehr stattfinden kann/darf. Nur muss man aber auch mal sagen das für diese 1:30 Stunde man die Kirche auch mal im Dorf lassen muss und danach ja auch wieder Ruhe einkehrt in der Umgebung.
Setlist:
Horizons
Hysteria
Burning in Flames
Million Lightyears
Wounded Healer
Heart of the Hurricane
Human
Trough the Mirror
Misery
Songs of Love and Death
Written in Blood
Lost in Forever
When Angels Fall
In the Shadow
Golden Pariahs
Hallelujah
Bilder vom Konzert gibt es hier: