Wenn die norwegischen Symphonic Black-Metal-Granden DIMMU BORGIR gemeinsam mit den finnischen Melodic Prog-Pionieren AMORPHIS auf Co-Headliner Tour sind, ist das schon eine Sensation für sich. Dass die unheilige Skandinavische Allianz zudem die amerikanische Post Black Metaller WOLVES IN THE THRONE ROOM als Begleitung eingeladen haben, macht den Abend noch sensationeller.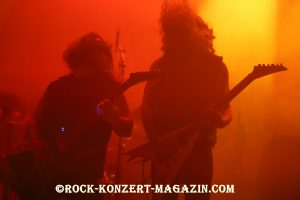 Um 18:50 Uhr ging es los und der Schlachthof wurde dunkel. Das Intro erklang und WITTR kamen auf die Bühne. Mit ihrem Post Black Metal verbreiteten sie Dunkelheit und viel Nebel. Was schade war denn so waren die Musiker nicht so gut zu erkennen auf der Bühne. Hinzu kam, dass man Sänger und Gitarrist Nathan Weaver gesanglich auch nicht gut verstand. So kam keine gute und vor allem gute Stimmung in der Halle auf. Zwischen den Songs ga es dann auch immer Intels, so das man Nichtgebrauches wusste wann hört der eine Song auf und wann ging der andere an, oder war es 30 Minuten lang 1 Song. 30 Minuten spielten WITTR und verschwanden mit dem letzten Accord wortlos von der Bühne so das noch nicht mal großer Schlussapplaus von den Fans kam.
Setlist:
Born from the Serpent's Eye
Angrboda
I will lay Down my Bones among the Rocks and Roots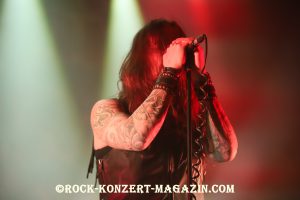 Mit AMORPHIS ging es dann um 20:00 Uhr nach der obligatorischen Umbaupause weiter. Hier passte nun mehr als vorher bei WITTR. Licht war gut, Sound war klasse und Sänger Tomi Joutsen war gut zu verstehen. Die Stimmung im Schlachthof war von der ersten Minute an eine ganz andere. Die Fans gingen mit und feierten AMORPHIS. Mit "The Bee" wurde der Abend glorreich eröffnet und AMORPHIS spielten ein geiles Set aus den verschiedenen Alben und Zeiten. "Bad Blood", "Against Widows" oder "The Golden Elk" waren dabei nur einige der Songs an diesem Abend. Voller Spielfreude und mit harten Klängen zogen AMORPHIS die Fand auf ihre Seite. "Are you ready for DIMMU BORGIR" fragte Tomi zwischendurch die Fans, die daraufhin in lautes Gegröle ausbrachen. Mit "House of Sleep" und "Black Winter Day" verabschiedeten sich AMORPHIS nach guten 75 Minuten von den Fans und machten Platz für DIMMU BORGIR.
Setlist:
The Bee
Heart of the Giant
Bad Blood
Silver Bride
The Four wise once
Into Hiding
Against Widows
Sampo
Wrong Direction
The Golden Elk
Sign from the North Side
House of Sleep
Black Winter Day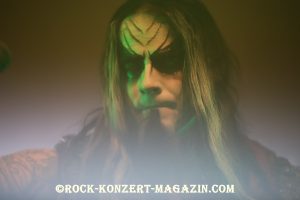 Es wurde wieder umgebaut und um 21:45 Uhr war es dann soweit. Die Lichter gingen aus und Nebel zog auf, was für uns Fotografen natürlich total toll war, weil die Sicht auf DIMMU BORGIR nicht besser wurde. Was blieb einem anderes übrig als das beste daraus zu machen. Düster und vor allem härter ging es nun wieder zur Sache. DIMMU BORGIR spielen düsteren Black Metal der bei den Fans sofort gut ankam. Im gut gefüllten Schlachthof war wieder sofort Stimmung als die Jungs aus Norwegen auf die Bühne kamen. Mit  "The Unveiling" starteten DIMMU BORGIN in ihren Abend. Harte Riffs gepaart mit schnellen Drums, so knallt es aus den Boxen, den Fans direkt aufs Hirn. Im Focus stand an diesem Abend eher das neuere Material von DIMMU BORGIN aber auch die älteren Stücke kamen nicht zu kurz und so gab es eine gute Mischung aus alten und neuen Material. In gewohnter Manier spielte DIMMU BORGIR ihr Set und verabschiedeten sich nach guten 75 Minuten mit dem Song "Mourning Palace" von den Fans.
Wer auf düstere und mit viel Nebel versehene Konzerte steht, der kam hier und heute voll und ganz auf seine Kosten aber nicht nur das wurde heute voll und ganz bedient sondern auch 3 starke Shows von 3 starken Bands gab es heute zu bestaunen und so gingen die Fans glücklich und zufrieden nach Hause.
Setlist:
The Unveiling
Interdimensional Summit
The Chosen Legacy
The Serpentine Offering
Gateways
Dimmu Borgin
Puritania
AEtheric
Council of Wolves and Snakes
Kings of the Carnival Creation
Progenies of the Great Apocalypse
Mourning Palace