Die "European Galactic Terrortour von GLORYHAMMER geht los und Sie haben ihre Heerschar mit den Worten "Europas mächtige Krieger, deklariert die Truppe. Die Zeit zur epischen Schlacht ist gekommen". Zur Unterstützung der Armeen von GLORYHAMMER kommen die Goblinkönige von NEKROGOBLIKON und die Zwergenlegion WINDROSE mit, um die Macht von Hoots an all die Getreuen zu bringen.
Nur leider hatten die Handlanger vergessen den Getreuen mit zu teilen, das der Beginn des Konzertes nicht um 20:00 Uhr war, wie überall angeschlagen, sondern schon um 19:30 Uhr und so kamen wir pünktlich im letzten Song der Zwergenlegion WINDROSE. Das was man hörte und sah, war gut und man hätte gerne mehr gesehen und gehört aber…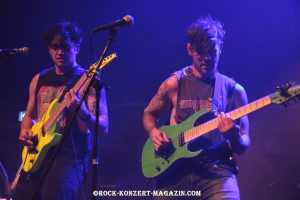 So ging es dann nach der Umbaupause mit den Goblinkönigen von NEKROGOBLIKON weiter. Man freute sich auf Melodic Death Metal aber was da aus den Boxen kam war alles andere als Melodic Death Metal. Vor allem Sänger Nicky Calonne war kaum zu verstehen. Das war überhaupt nichts. Die Instrumente wurden dann besser aber der Gesang blieb schlecht zu verstehen.  NEKROGOBLIKONS hatten ihr Maskottchen den  Goblin dabei, der in einer grünen Maske und buntem Anzug über die Bühne huschte und dabei immer wieder versuchte das Publikum zu animieren mit zu machen. Die Fans ließen sich nicht lange bitten und so feierten sie ihre Party mit den Goblinkönigen. Was ein wenig verwunderte war die Tatsache das zwischendurch immer wieder kleine Einspieler wie Gelächter, Applaus oder Ähnliches vom Band kam. Mit Songs wie "Darkness", "No One Survives" oder "Nekrogoblikon" heißen sie den Fans schon mächtig ein. So ging der Gig dann nach 30 Minuten zu Ende und alle stellten sich zum obligatorischen Foto vor den Fans auf.
Setlist:
The Many Faces of Dr. Hubert Malbec
No One Survives
We Need a Gimmick
Darkness
Dressed as Goblins
Dragons
Nekrogoblikon
The Magic Spider
Powercore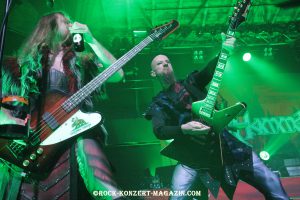 Nun war es soweit und nach der Umbaupause kamen die  glorreichen Krieger von GLORYHAMMER. Mit einem Intro was man auch nicht alle Tage hat, TOM JONES wurde als Pappmaschee auf die Bühne gestellt und der Song "Delilah" ertönte aus den Boxen. Dann kamen die Helden der Galaxy einzeln auf die Bühne. Die Fans skandierten schon die ganze Zeit immer wieder "Hoots, Hoots, Hoots". Vor den ein oder anderen Songs gab Angus McFife die ein oder andere Erklärung ab um dann den Song an zu sagen der nun kommt. Vor dem Song "Questlords of Inverness" hatte Angus ein unterschriebenes T-Shirt von GLORYHAMMER dabei und derjenige der während des Songs Crowd surfend zur Theke kommt und mit einem Bier crowd surfend wieder zur Bühne kommt sollte dieses T-Shirt bekommen. Biggi meldete sich und hat es geschafft. Dann kamen auch die Fans wieder auf ihre Kosten denn jetzt war es soweit und "The Hollywood Hootsman" wurde endlich gespielt. Was für eine Stimmung in der Garage. Bei GLORYHAMMER war nun der Sound und der Gesang klar und deutlich zu verstehen, so das es ein geiles Konzert war. Mit dem Song "Hootsforce" verabschiedeten sich GLORYHAMMER von den Fans um mit 5 weiteren Songs in der Zugabe wieder zukommen.
Setlist:
Delilah
Into the Terrorvortex of Kor-Virliath
The Siege of Dunkeld (In Hoots We Trust)
Gloryhammer
Angus McFife
Magic Dragon
The Land of Unicorns
Questlords of Inverness, Ride to the Galactic Fortress!
I Am a Real Hootsman
The Hollywood Hootsman
Goblin King of the Darkstorm Galaxy
Legend of the Astral Hammer
Masters of the Galaxy
Hootsforce
Encore:
Infernus Ad Astra
Rise of the Chaos Wizards
Universe on Fire
The Unicorn Invasion of Dundee