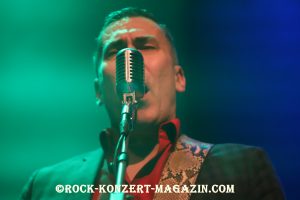 MONSTR MAGNET haben schon eine bewegte Vergangenheit hinter sich. Mittlerweile seit über 30 Jahren und Ende der 90er Jahre gab es eine besondere Ära. Da brachten MONSTER MAGNET die Scheibe "Powertrip" heraus. Mit diesem Album änderte sich auch die Marschroute der Band, die nun von Ihren bis dahin gespielten psychedelischen Klängen abweicht und sich mehr dem Rock und Heavy Metal widmen. Anlässlich ihres 30-jährigen Bestehens sind MONSTER MAGNET mit Powertrip auf Tour. An diesem Abend haben Sie Station im Schlachthof in Wiesbaden gemacht und haben als Support NEW YORK WANNABES dabei. Auf Grund von Krankheit im letzten Jahr findet die Tour erst jetzt statt.
Los ging es pünktlich um 20:00 Uhr mit NEW YORK WANNABES, einem Duo bestehend aus Lucky, dem Gitarristen und Sänger und Sue, die dabei die Drums bearbeitet oder wie Sie sich selbstnennen Die Grandiosen Dilettanten. Sie stehen für echten harmonischen Rock und das zeigten Sie auch in Ihren gut 40 Minütigen Gig.
Bilder New York Wannebes hier:
Um 21:15 Uhr, nach der Umbaupause ging in der Halle das Licht aus und das Intro "Goliath and the Vampires" ertönte.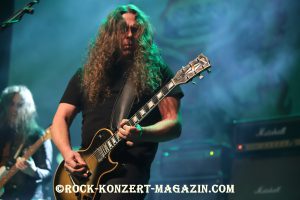 Die Band kommt auf die Bühne und die Fans sind sofort da, und als das Urgestein von MONSTER MAGNET, Sänger Dave Wyndorf, auf die Bühne kommt und die Gitarre in die Luft reckt, kennen die Fans kein Halten mehr. Jetzt kann es losgehen und es ging los und wie. Wie kleine Statisten wirken die anderen Bandmitglieder, wenn Dave da vorne steht und loslegt. Da man von Dave nicht viel Gelaber erwarten kann, wird den Fans ein Song nach dem anderen aufs Hirn gedrückt und das sind keine geringeren als die von "Powertrip". Insgesamt werden 10 von den 13 Songs gespielt. Die Fans singen, bangen und feiern MONSTER MAGNET ausgiebig und geben immer wieder viel Applaus. Mit "Space Lord" und den ultimativen "Motherfucker"-Sprechchören verschwinden MONSTER MAGNET erstmal von der Bühne.
Mit dem Zugaben Block hauen MONSTER MAGNET echt nochmal alles raus was Sie haben. Starten Sie doch mit "Twin Earth" vom 1993er "Superjudge"-Album um mit dem Cover von Rober Calvert "The Right Staff" nochmal für richtig Wind zu sorgen. Um sich aber richtig geil von den Fans zu verabschieden haben Sie sich die Songs "Look to your Orb for the Warning" und "Negasonic Teenage Warhead" vom 95er Album "Dopes to Infinity" ausgesucht. Wow jetzt ging es nochmals richtig ab und die Fans tobten sich nochmals so richtig aus, bevor es dann wirklich zu Ende war und ein Abend voller Gefühlen und einer Zeitreise zu Ende ging. Dank MONSTER MAGNET durften die Fans heute in vielen Erinnerungen schwelgen und nochmals so richtig abfeiern.
Setlist:
Atomic Clock
Tractor
Crop Circle
Temple of Your Dreams
3rd Eye Landslide
See You in Hell
Baby Götterdämerung
Bummer
Powertrip
Space Lord
Encore:
Twin Earth
The Right Stuff
(Robert Calvert cover)
Look to Your Orb for the Warning
Negasonic Teenage Warhead
Bilder von Monster Magnet hier: