Was eigentlich im Oktober 2019 stattfinden sollte, aber aus Krankheitsgründen dann abgesagt wurde, fand heute im Luxor sein Ende. THE NEW ROSES auf Nothing but wild Tour. Bei den Nachholterminen waren aber nicht wie im Oktober angekündigt FIGHTER dabei sondern NEW GENERATION SUPERSTARS aus England als Support dabei.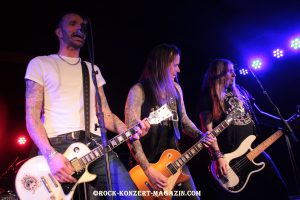 Um 18:00 Uhr war Einlass und schon vor der Zeit bildete sich eine lange Schlange vor dem Luxor denn die Show heute Abend war ausverkauft. Jeder wollte den besten Platz haben und so war das Gedränge groß. Als um 18:45 Uhr NEW GENERATION SUPERSTARS auf die Bühne kamen war das Luxor knackig voll und die Stimmung war schon ganz gut. Mit ihrem Britisch Rock mit ihren No-Frills, No-Fuss Ansatz rockten sie die kleine Location in Grund und Boden. Die Fans gingen steil mit und feierten die 4 Jungs auf der Bühne richtig ab. Leichte Züge vom Punk aber auch viel Rock knallten Sie den Fans aufs Hirn und hatten dabei ihren Spaß. Gleich mit Ihrem Opener "My Life" wusste NGS zu überzeugen. Ihm folgten Songs wie "Way back Home", "Taste of me" oder "Life of Crime". Zum Abschluss ihres gut 50 Minütigen Gigs gab es die Coverversionen von "Blitzkrieg Bop" von den RAMONES. Die Fans gingen noch mal steil und verabschiedeten NGS mit viel Applaus.
Setlist:
My Life
Nothing to lose
Keys to the City
Way back Home
Come over
Taste of ne
Hell City
Beat em down
Not like you
Raise a Toast
Life of Crime
King of the World
Blitzkrieg Bop
Bilder von New Generation Superstars hier: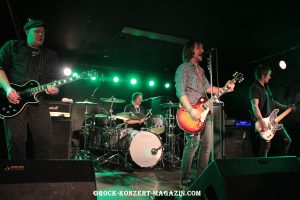 Um kurz nach Acht, nach Umbaupause und sonstigen Erledigungen kamen THE NEW ROSES auf die Bühne und ließen gleich mal zum Ende von "Nothing but Wild" den Strom auf der Bühne ausfallen, so das THE NEW ROSES für einen kurzen Moment ohne  Saft spielten. Egal brach der Stimmung keine Krone ab. Gitarrist und Sänger Thommy verkündete dann das der Gitarrist Norman Bites heute nicht dabei sein konnte aber würdig durch ein Gründungsmitglied, nämlich Dizzy Presley vertreten wird. Dizzy hielt sich zwar mehr im Hintergrund auf aber spielen kann er trotzdem. Von Song zu Song stieg die Stimmung und der ein oder andere musste mal an die Luft, was aber ganz schön schwer fiel, sich durch die Massen zu kämpfen. "Gimme your Love", "For a While" oder "Wildheart" waren nur ein paar Songs die knackig, straight und klar aus den Boxen kamen. So feierten THE NEW ROSES mit ihren Fans eine kleine aber feine Party im Luxor. Mit den Songs "Forever Never comes", "Ride with me" und "Thirsty" ging ein gutes Konzert zu Ende was aber Spaß auf mehr macht. Wer mehr erleben möchte hat im Februar, März und April die Möglichkeit, da geht die "Nothing but wild" Tour weiter.
Setlist:
Nothing but wild
Unkown Territory
Life ain't Easy
Gimme your Love
Long Way
For a While
Running out of Hearts
Whiskey Nightmare
Devil's Toys
Acoustic
Glory Road
Wildheart
Johnny
Goodless
One More for the Road
Down by the River
Forever never comes
Ride with me
Thirsty
Bilder von The New Roses hier: