Was für ein Abend in der Festhalle in Frankfurt. An diesem Abend spielten Sabaton ihre The Great War Tour. Mit Apocalyptica und Amaranthe spielten zwei Bands aus unterschiedlichen Genres als Support, was den Abend gerade so interessant machte.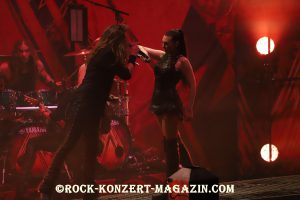 Den Abend eröffneten Amaranthe. Die schwedische Melodic-Death-Metal Band spielt heute eher power Metal gepaart mit Elektropop was aber bei den Fans an diesem Abend sehr gut ankam. Die Festhalle war zu diesem Zeitpunkt gut gefüllt aber es gab noch lange Schlange am Einlass So dass der ein oder andere Fan Amaranthe nur zur Hälfte oder gar nicht zu sehen bekam. Mit Kraft voller power und einschlägigen Drums begeisterten Amaranthe ihre Fans. Frontfrau Elize Ryd wechselt sich im Gesang mit ihren männlichen Kollegen ab und so gab es einen Wechsel zwischen gutturalem und klarem Gesang. Da ja alles auf den Headliner Sabaton ausgelegt war an diesem Abend durften Amaranthe nur gute 35 Minuten ihr können beweisen. Mit "Drop Dead Cynical" verabschiedeten sich Amaranthe von den Fans aber das war es noch nicht ganz.
Setlist:
Maximize
Digital World
Hunger
Amaranthine
GG6
Helix
That Song
Call OUR my Name
The Nexus
Drop Dead Cynical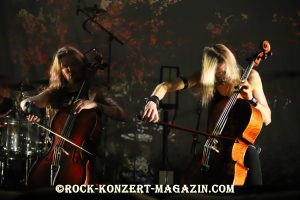 Nach ein paar Umbaumaßnahmen war es dann Zeit für die Seelisten von Apocalyptica. Apocalyptica schaffen es mit ihren Instrumenten, den Chellos, die für Metal eher untypisch sind ordentlich ab zu rocken. Erstaunt ist man darüber was man mit diesen massiven StreichInstrumenten alles anstellen kann. Da wird ein Chello über Kopf gespielt oder aber auch mal im liegen und wer ist schon mal Cello gespielt hat weiß wie unhandlich doch eigentlich diese Instrumente sind. Apocalyptica schaffen es die Fans die am Anfang etwas skeptisch und zurückhaltend waren in ihren Bann zu ziehen. Dabei hilft auch der Song Seemann denen sie zusammen mit der Front Frau von Amaranthe Eliza Ryd zum besten gaben. Auch das nachfolgende Stück I don't care garden sie mit Elizaried zum Besten. Auf einer großen LED Leinwand im Hintergrund lief zu dem ein oder anderen Song ein Video oder einfach nur Kunst. Apocalyptica verstehen ist ihre cellos in Kombination mit Schlagzeug und bei dem ein oder anderen Song mit Gesang zu kombinieren und daraus eine geile Show abzuliefern. Mit dem Cover von Metallica Nothing else Matters verabschiedeten sich Apokalyptica von ihrem Fans aber sie werden bei Sabaton nochmals auf die Bühne kommen.
Setlist:
Ashes of the Modern World
Path
En Route to Mayhem
Seemann
I don't Care
Grace
Seen & Destroy
Hall of the Mountain King
Nothing else matters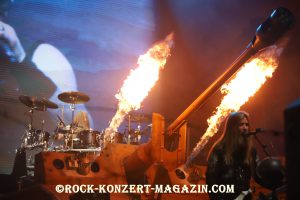 21:15 Uhr es war soweit der Headliner an diesem Abend Sabaton kam auf die Bühne. Der Vorhang viel und die Jungs aus Falun kamen auf die Bühne die aussah wie ein Schützengraben aus den ersten oder zweiten Weltkrieg. Gleich von der ersten Minute an wurde Sabaton Begeisternd gefeiert. Mit viel Pyrothechnik, Feuer und knackigen Rhythmen heizten Sabaton den Fans von der ersten Minute an ein. Sabaton spielt ein Mix aus alten und neuen Songs, wo die Fans teilweise einfach mit grölen konnten. Beim Song "The Attack of the Dead Men", Carmen Sabaton mit Gasmasken auf die Bühne. Sänger Joakim Broden sang den Song mit Gasmaske während die anderen ihre Gasmaske kurz da drauf ablegten. Mit dem Song Angels Calling kamen nun Apocalyptica auf die Bühne und spielten mit ihrem Cellos sechs Songs zusammen mit Sabaton. Wer nun aber dachte das Apocalyptica auf der Empore der Bühne stehen blieben, täuschte sich, schnell mischten sich die Musiker auf der restlichen Bühne mit Sabaton zusammen und zogen eine geile Show für die Fans ab. Mit dem Song Carolus Rex verabschiedeten sich Sabaton und Apocalyptica von den Fans so dass Sabaton kurze Zeit später zurück kam um sich mit vier Klassikern aus ihrem Report war von den Fans zu verabschieden. Hier durften Pyro, Feuer und Knalleffekte logischerweise nicht fehlen. Gegen 23:00 Uhr war das Konzert vorbei, Wobei die Fans noch eine ganze Weile da standen und immer wieder skandierten Sabaton, Sabaton, Sabaton.
Setlist:
Ghost Division
Great War
The Attack of the Dead Amen
Seven Pillars of Wisdom
Diary of an Unknown Soldier
The Last Battalion
The Read Baron
The Last Stand
82nd all the Way
Night Witches
With Apocalyptica
Angels Calling
Field of Verdun
The Price of a Mile
Dominium Maris Baltici
The Lion from the North
Carolus Rex
Encore
Primo Victoria
Bismarck
Swedish Pagans
To Hell and Back
Outro vom Band, Dead Soldier's Waltz und Masters of the World.