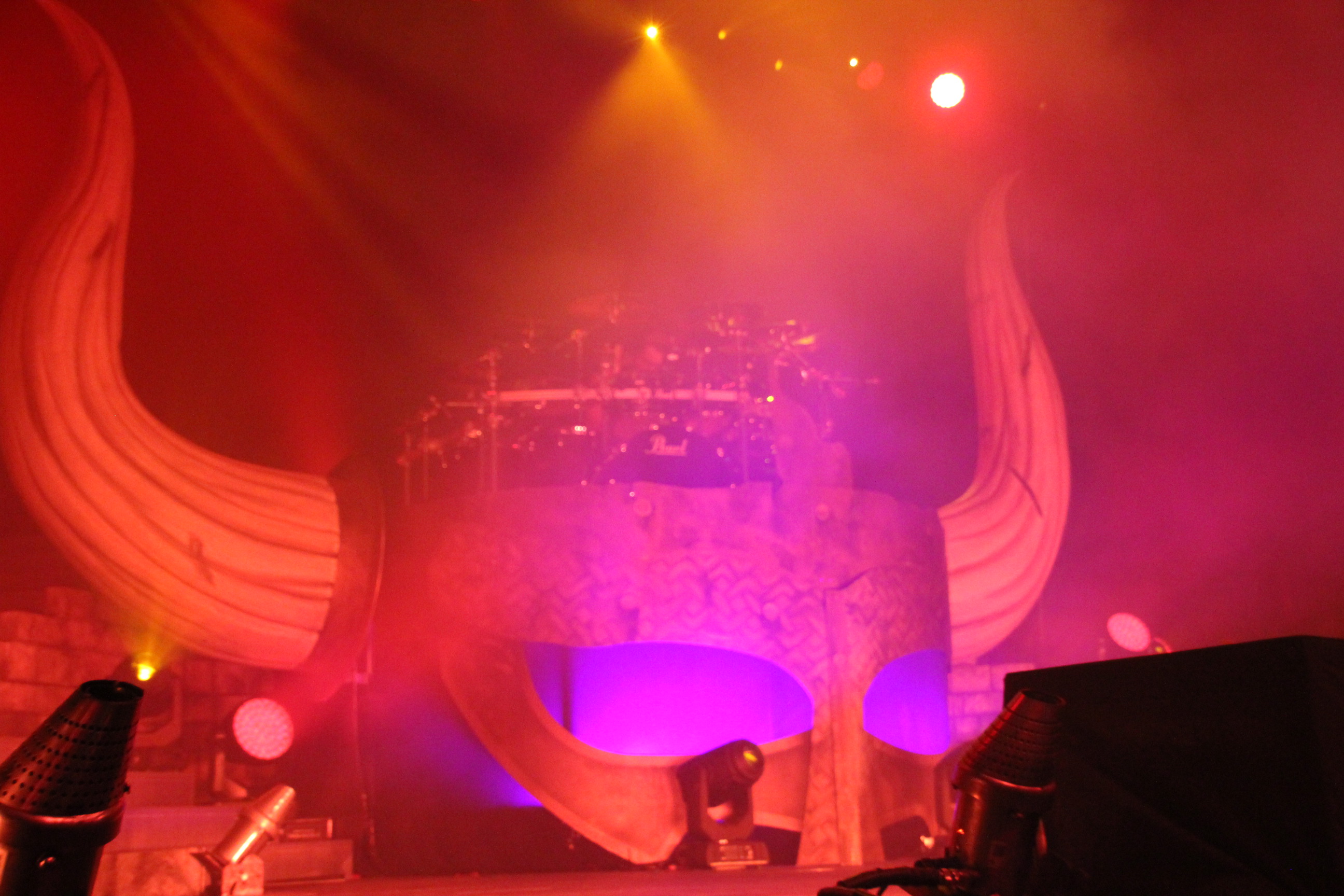 Nachdem Omnium Gatherum schon eine relativ gut beachtete Show hingelegt haben, wird die Bühne unter blauem Licht für Dark Tranquility umgebaut. Die oberen Ränge sind gefüllt, was auch bei den Vorgängern der Schweden der Fall war. Allerdings ist spätestens jetzt auch der Rest der Halle gefüllt. Die Stimmung ist gut, die Organisation der Veranstaltung reibungslos, was natürlich die langen Schlangen vor der Veranstaltung nicht verhindert.
Ohne viel dramatisches Vorspiel geht dann plötzlich das Licht aus. Sofortiger Jubel ergießt sich über der Bühne und im nach wie vor blauen Licht zeigen sich die Herren von Dark Tranquility.Das Lichtspiel ist ohnehin sehr gut. Zwischendurch gibt es vom oberen Bereich der Bühne orangefarbenes Licht, das von den Scheinwerfern so schnell gedreht wird, dass man es fast als flackerndes Feuer interpretieren könnte. Man darf also gespannt sein, was Amon Amarth an der Stelle noch auf die Bühne zaubern lassen.
Natürlich spielen DT auch den Titeltrack Atoma von ihrem neuen Album.
Amon Amarth kündigen sich mit einem absoluten Knall an. The pursuit of vikings lässt den Laden eskalieren und ist ein phantastischer Start.
"Geht's euch gut?" Sagt Johann Hegg. Als dritter Song einer der wichtigsten und die erste Auskopplung des neuen Albums: first kill. Großartig. Flammenwerfer auf der Bühne, Crowdsurfer im Publikum. Bei den Herren auf der Bühne allerdings was das Headbangen angeht: Sparflamme. Haben wohl schon genug gehabt in den vergangenen Wochen. Nackenschonung.
Das Schlagzeug ist geschmückt mit riesigen Hörnern, die unter dem Instrument zu einem Vikingerhelm vereint werden.
Bei the way of vikings verlassen die Musiker dann den unteren Bereich der Bühne und verschwinden auf den oberen Bereich hinter dem Schlagzeug. Denn: Sie machen Platz für zwei verkleidete Kollegen, die sich einen saftigen Schwrrtkampf liefern. Einer von ihnen verliert dabei sein Schild, bringt den anderen aber trotzdem um. Sehr vikingermäßig, sehr Amon Amarth.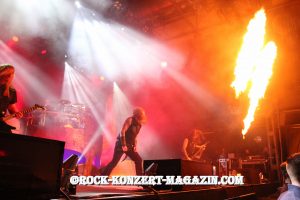 Zwischendurch kommt auch Odin mit großen Hörnern und Speer auf die Bühne, fuchtelt ein bisschen rum und verschwindet wieder. So wie zwei Bogenschützen, die immer wieder in die Menge zielen und dann auch wieder die Bühne verlassen. Aber das ist ein sehr abwechslungsreicher Teil der Bühnenshow, der getoppt wird durch einen riesigen beweglichen Drachenkopf, der von der rechten Seite der Bühne hineinlugt und dann erfolgreich vom Sänger mit einem mächtigen Hammer bekämpft wird. So erfolgreich, dass der Drachenkopf irgendwann erstarrt und sich nicht mehr bewegt.
Zum Abschluss gibt es dann wieder drei Knaller. Raise your horns, guardians of asgaard und twilight of the thundergod. Alles richtig gemacht, auch wenn man vielleicht für mehr Headbangen der Band an einem früheren Konzert der Kollegen teilnehmen sollte. Großartig.