Richtig Power gab es an diesem Tag in der Batschkapp in Frankfurt. Mit Ihrer Tour "Under the Red Cloud" sind AMORPHIS unterwegs und haben ALL WILL KNOW und MARTYRION mit dabei. Also war alles bereitet für Melodic-, Death Metal. Nach einigem Suchen für einen Parkplatz haben wir die Batschkapp erreicht und stellten fest, ganz schön voll hier obwohl es nicht ausverkauft war. Nichts wie rein und durchgekämpft zum Fotograben, denn um 20:00 Uhr sollte es mit ALL WILL KNOW losgehen. Pünktlich wie die Maurer kamen ALL WILL KNOW auch um 20:00 Uhr auf die Bühne und versuchten gleich von der ersten Minute an Stimmung bei den Fans zu verbreiten was Ihnen nicht immer gelungen ist. Hier hatte man den Anschein das es darauf ankam welchen Song ALL WILL KNOW gespielt haben, denn es gab Song wie "Still, Cold and Lost" da wurde gefeiert und Songs wie "Deeper into Time" da sprang der Funke nicht so über, obwohl Sänger Frank Richter sich alle Mühe gab und eine wirklich gute Show ablieferte.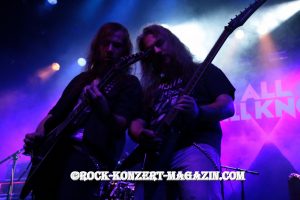 Es ist natürlich schwierig bei so einer Band wie AMORPHIS als Support zu spielen. Trotzdem merke man ALL WILL KNOW an das Sie viel Spaß und Engagement an den Tag legten und das wurde auch von den Fans gebührend honoriert. Nach einer halben Stunde war Schluss und es wurde ein wenig umgebaut für MARTYRION. Wir schreiben das Jahr 2153. Die Welt liegt in Schutt und Asche. Die Apokalypse ist über die Menschheit gekommen und es gibt nur noch wenige Überlebende."
Dieses Szenario ist es die sich MARTYRION aus Köln annehmen und so klang es dann auch an diesem Abend.  Kraftvoll, Energisch und ein wenig düster. Um aber so auf zu treten wie Sie es an diesem Abend getan haben, bedurfte es einige Wechseln in der Band und einige Stilrichtungen bis man den Stil gefunden hat den die Band heute spielt.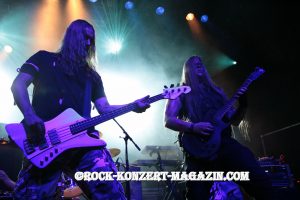 Dies was man an diesem Abend hörte war Apokalyptischer, Melodic Death Metal wie Sänger David es selbst beschrieb. Die Fans freuten sich und feierten schon mal auch in Vorfreude auf AMORPHIS die gleich noch kommen sollten. Starker Auftritt von MARTYRION in Frankfurt.
Setliste:
1.       Our Dystopia
2.       Genozenith
3.       T.W.I.C.R. The Stars
4.       With my Eyes unaffected
5.       What we leave behind
6.       The End of Eternity
7.       No Fear No Obedience
8.       Oblivion
9.       The Spirit
22:00 Uhr jetzt war es soweit AMORPHIS betraten die Bühne. Die Batschkapp wurde abgedunkelt es ertönte das Intro und nach und nach kamen Sie auf die Bühne unter tosendem Applaus der zahlreichen Fans in der Batschkapp. Sänger Tomi Joutsen brauchte gar nicht viel machen, seine bloße Anwesenheit sorgte für ein Ausrasten bei den Fans. Ohne viel Worte zu verlieren kamen AMORPHIS mit dem Opener "Under the Red Cloud" gleich dick ins Geschäft. Vor der Bühne gab es kein Halten mehr von den Fans. Mit den Songs "Hopeless Day", "The Smoke" oder "Death of a King" haben AMORPHIS genau ins Schwarze getroffen, denn da gingen die Fans nochmals richtig ab.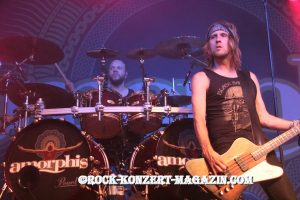 Klare, energische und kraftvolle Song die in der Musikalischen Ausrichtung auch klar und deutlich rüber kamen machten das Konzert zu einem wirklich gelungenen Gig. Um 23:30 Uhr waren AMORPHIS dann am Ende Ihrer Songs angekommen und ein geiles Konzert ging zu Ende.
Setliste:
1.       Under the Red Cloud
2.       Sacrifice
3.       Sampo
4.       Silver Bride
5.       Hopeless Days
6.       Bad Blood
7.       The Smoke
8.       Into Hiding
9.       Drowned Maid
10.   My Kantele
11.   The Four Wise ones
12.   Death of a King
13.   House of Sleep
14.   Black Winter Day