EDGUY sind auf Tour zu einem besonderen Ereignis. Seit 25 Jahren gibt es EDGUY nun schon und deswegen heißt ihre Tour auch "25 Years-The Best of The Best". Wie EDGUY selber versprechen werden wir Songs wie"King of Fools", "Superheroes" oder "Love Tyger'Live" hören und das sind nur 3 Songs von einer ganzen Palette an Songs die EDGUY zum Besten gaben. Nach dem erfolgreichen Tourauftakt in Bremen vor ausverkauftem Haus folgten nicht minder erfolgreiche Shows in Hamburg, Frankfurt, Saarbrücken und Bochum. Nun also waren EDGUY in Köln in der Essigfabrik zu Gast. Die Show die im Vorverkauf nicht ausverkauft war, wurde es am Abend. "Sold Out" war am Eingang zu lesen und es war voll. Um die Fans nicht ganz kalt auf EDGUY los zu lassen waren THE UNITY als Support mit an Bord.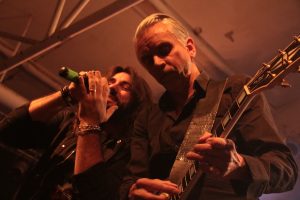 Die 5 um Drummer Michael Ehre und Gitarrist Henjo Richter, die beide auch bei GAMMA RAY zu Hause sind, heißen den Fans mächtig ein mit Ihrem Powerful Metal. Kraftvoll, Dynamisch und mit viel Spaß auf der Bühne präsentierten sich THE UNITY 45 Minuten lang den Fans. Los ging es um Punkt 20:00 Uhr mit einem Intro um dann gleich mal mit dem Song "Rise and Fall" Ihrer aktuellen Single, die über Steamhammer erschien, ordentlich zu punkten. Dies gelang und die Fans gingen gleich von der ersten Minute an mit und feierten was das Zeug hielt. Man muss auch sagen das es ein geiler Sound an diesem Abend war.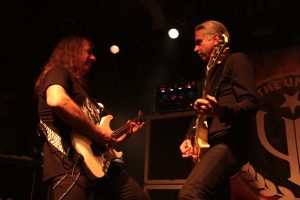 Es wurde nicht viel geredet sondern Sänger Gianba Manenti lies lieber Songs sprechen. Der aus Italien stammende Gianba versuchte dann doch mal kurz was auf Deutsch zu sagen und stellte fest "fase die ein geiler Abend ist". Nach dem letzten Song "Never Forget" verabschiedeten sich THE UNITY artig von den Fans und es wurde fleißig umgebaut.
Setlist:
1. Rise and Fall
2. Firesign
3. No more lies
4. God of Temptation
5. Close to Crazy
6. Send ne a Sign
7. Never Forget
Das warten hat ein Ende und EDGUY kamen unter tosendem Beifall auf die Bühne. Tobias versuchte einen Sprung auf den letzten Metern zu machen was ihm auch gelang aber dabei zerlegte er sein Headset, so das er von der Musik nichts mehr verstand. Schnell bekam er ein neues und weiter ging es. Gleich mit dem Opener "Love Tyger" hatte EDGUY die Fans in Ihren Bann gezogen.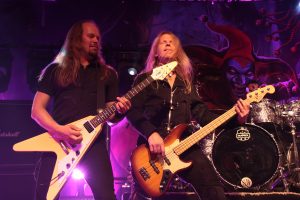 Bei jeder Gelegenheit sangen die über 1000 Fans aus vollen Kehlen mit. Tobias weiß wie er seine Fans behandeln muss und so spielte er das Spiel "Kölner Aufschrei" mit Ihnen. Jedesmal wenn Tobias das Wort Köln sagte sollten alle in der Essigfabrik laut aufschreien. Völlig egal was er sagte er hängte überall das Wort Köln dran und jedesmal schrieb die Fans laut auf. Vor dem Song "The Piper Never Dies" würdigte Tobias einen Fabelhaften Sänger, denn er, wie er sagte, selbst persönlich kennen lernen und sogar mit Ihm singen. Es ging sogar soweit das dieser Sänger Einfluss auf EDGUY hatte. Dieser Sänger war kein geringerer als RONNIE JAMES DIO. Dementsprechend gab es dieses 12 Minütige Werk zu hören. Was auf gar keinen Fall fehlen durfte war das Drum Solo und so kam es dann auch nach dem Song "Tears of a Mandrake". Felix Bohnke haute mächtig drauf und verbreitet so nochmals richtig Stimmung. Bis hierhin war es ein geiler Auftritt von EDGUY der auch so weiter ging. Zur fortgeschrittener Stunde schrie Tobias mal wieder das Wort Köln und erschreckte sich ein wenig da die Fans laut aufschrieen, weil er wie er sagte das schon wieder vergessen hatte. Die Fans nicht. Auch so ein großartiges Konzert geht mal zu Ende und so verabschiedeten sich EDGUY nach dem Song "King of Fools artig von Ihren Fans und man kann einfach nur sagen das es ein großartiges Konzert war.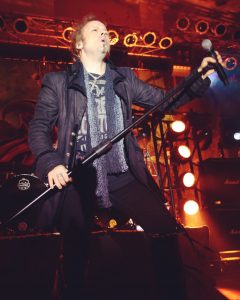 Nur eins sollte Tobias vielleicht machen, nämlich etwas weniger zwischendurch reden und ein oder zwei Songs mehr spielen.
Setliste:
1. Love Tyger
2. Vain Glory Opera
3. Mysteria
4. Land of The Miracle
5. Lavatory Love Machine
6. The Piper Never Dies
7. Tears of a Mandrake
8. Drum Solo
9. Ministry of Saints
10. Save me
11. Babylon
12. Superheroes
13. King of Fools