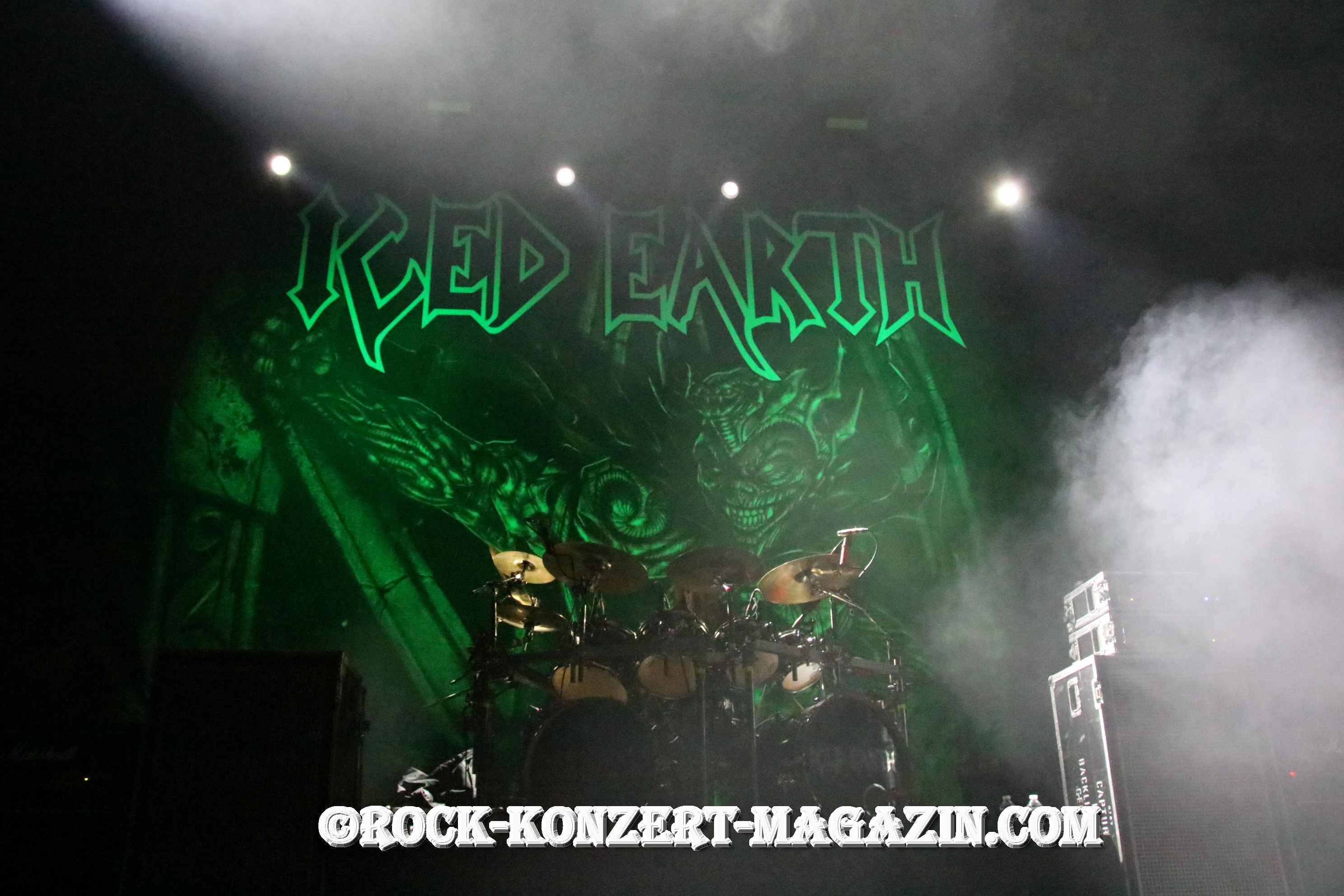 Seit nun mehr als 3 Dekaden spielen ICED EARTH harten, knackigen Power Metal. So auch auf ihrem nun mehr 12. Studioalbum "Incorruptible" welches mit ihrem Sänger Stu Block ein großartiges Werk ist. So lautet auch ihre nun anstehende Tour die mit den Supports FREEDOM CALL und die aus England stammenden METAPRISM abgerundet werden.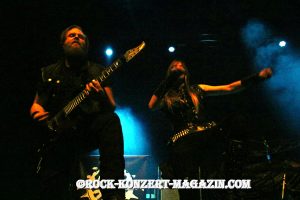 Zu letzt genannte METAPRISM eröffneten auch gleich mal pünktlich um 19:30 Uhr den Abend. Mit im Gepäck hatten METAPRISM ihre am 26.01. erscheinende neue Scheibe "Catalyst To Awakening". Die Band um Frontfrau Theresa Smith und Joey Draper werden in zartem Licht getaucht und knallen den gut 1000 Fans Songs wie "The Awakening" oder "Catharsis" um die Ohren. Sehr geil weil der Sound an diesem Abend auch spitze ist. METAPRISM weiß zu überzeugen und dabei haben sie auch richtig Spaß am spielen was man Ihnen sofort ansieht. Mit "Needles of Light and Shame" sowie dem Hit "Lost in The Dark" und anderen knalligen Songs haben METAPRISM eine geile Setlist die allerdings nach guten 30 Minuten schon zu Ende ist. Auf der einen Seite verständlich, denn es kamen ja noch FREEDOM CALL und ICED ESRTH auf der anderen Seite schade davon hätte man gerne noch mehr gehört.

Nach der obligatorischen
Umbaupause kamen FREEDOM CALL aus Nürnberg an die Reihe. FREEDOM CALL die heute nicht in der aktuellen Bandbesetzung angetreten sind, da Ramy Ali zu Hause geblieben ist. Hier wird wohl Nachwuchs erwartet zu mindest kann man das aus den Worten von Sänger Chris Bay vermuten. Für ihn spielt Kevin Kott von MASTERPLAN die Drums.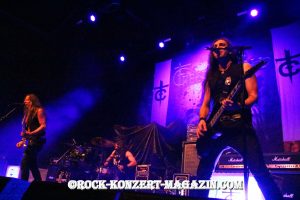 Da Kevin ja nun auch kein unbeschriebenes Blatt ist fällt
es erst gar nicht auf das Ramy nicht dabei ist. Auch hier wird einem knalliger Metal um die Ohren gehauen so das die Stimmung von Minute zu Minute steigt. FREEDOM CALL die mit ihrem aktuellen, schon etwas älteren Album "Masters of
Light" unterwegs sind powern was das Zeug hält. Songs wie "Hammer of The Gods", "Masters of Light" oder die Metalhymne "Metal Is for everyone" dürfen hier und heute Abend nicht fehlen und so ist es auch kein Wunder das diese und die anderen Songs nicht ihre Wirkung bei den Fans verfehlen.

Ohne langes Geplänkel kommt nun der Headliner ICED EARTH auf die Bühne und Sie zeigen gleich mal mit ihrem
Opener "Great Heathen Army" wo der Hase heute Abend lang läuft. Knallharten mit geilen Riffs und Drums unterlegten Power Metal. Metalherz was willst Du mehr.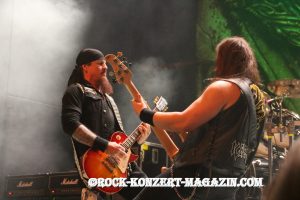 Es wird sich an diesem Abend auch nicht viel damit aufgehalten, viel zu
erzählen sondern hier wird Musik vom Feinsten geboten. Ansagen von Stu werden nur dann gemacht wenn es sich um einen neuen Song vom Album "Inncoruptible" handelt wie z. B. der Song "Raven Wing". Als Jon Schaffer, seines Zeichens Gitarrist und Backgroundsänger das Wort ergreift, erklärt er uns das er vor 30 Jahren den Bandnamen von PURGATORY in ICED EARTH umtaufte und seitdem sehr großen Erfolg hat, was er nur den Fans zu verdanken hat. Um der alten Zeiten Willen spielten ICED EARTH dann auch den gleichnamigen Klassiker vom Album "Stormrider" wo Jon selber singt. Was für ein geiler Abend der mit den Songs "Clear The Way" und "Watching over me" gegen 23:00 Uhr zu Ende ging.

Was bleibt von diesem Abend übrig? Eine gelungene Mischung von Bands die auf die Bühne kommen und einfach
nur Musik machen wollen und machen. Glückselige Fans die freudestrahlend die Halle verlassen und sich schon auf das nächste Konzert von MEGAPRISM, FREEDOM CALL und ICED EARTH freuen.
Setlist:
1. Great Heathen Army
2. Burning Times
3. Dystopia
4. Black Flag
5. Headed Wore
6. I died for you
7. Vengeance Is Mine
8. Brothers
9. Last December
10. Raven Wing
11. Prophecy
12. Birth of The Wicked
13. Coming Curse
14. Stormrider
15. Angels
16. Travel in Stygain
-——————————————
17. Clear The Way
18. Watching over me