Im kleinen Luxor in Köln war an diesem Abend mächtig was los. Kein Wunder waren keine geringeren als ANNIHILATOR an diesem Abend am Start. Die Kanadier zelebrieren harten Trash Metal und hatten aus Santa Cruz in Kalifornien ARCHER NATION als Support dabei. Es konnte also losgehen im Luxor, wenn ja wenn der Veranstalter oder der Betreiber des Luxors nicht etwas komische Ansichten hätte.
Wir Fotografen fanden einen Fotograben vor der aber nicht benutzt werden durfte da dies kein Fotograben sondern ein Abstandsgraben war. Fotos bitte nur aus dem Publikum heraus. Bei Howard Carpendale mag das funktionieren bei einem Metal Konzert wird das schwierig.
Nun gut irgendwie Fotos gemacht und dann ganz dem Gig von ARCHER NATION gewidmet.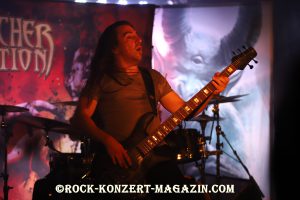 Pünktlich um 20:00 Uhr kam das Trio dann auch auf die Bühne um sich den Fans zu präsentieren. Die Stimmung war von der ersten Minute an da und hielt sich auch den gesamten Gig lang durch. ARCHER NATION stehen für Rock/Heavy Metal und was die drei aus den Boxen hauten war richtig geile Musik die zum Headbangen animierte, was die Fans auch taten.  Von Ihrem 2019 erschienen Album "Beneath the Dream" spielten Sie Songs wie "I am The Dawn" oder "Division". Auch ältere Songs wie den 2015 erschienenen Track "Culling the Weak" durfte nicht fehlen. Hart und mit voller Spielfreude zeigten die drei was sie drauf haben und das war eine ganze Menge. Leider dauerte der Gig nur 30 Minuten und so waren ARCHER NATION schneller wieder weg als sie Musik machen konnten.
Bildergalerie Archer Nation hier:
Umbaupause werden genutzt um Bier zu holen oder eine Zigarette zu rauchen, so aber nicht an diesem Abend. Im Gegenteil es wurde immer voller vor dem Abstandsgraben denn jetzt kamen ANNIHILATOR. Jeff Waters, der Gitarrist, Sänger und Gründer von ANNIHILATOR hatte an diesem Abend den Schalk im Nacken sitzen, dass merkte man direkt als er auf die Bühne kam.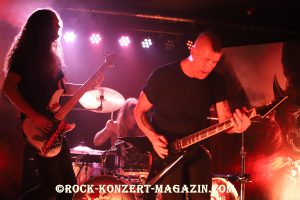 Er spielte mit den Fans und die machten begeistert mit. Gleich mit dem Opener "Betrayed" zeigten ANNIHILATOR was die Fans an diesem Abend erwarten konnten. Harte Drumms, Fette Riffs und spielfreudige Jungs die wild auf der Bühne rumturnten. Die Fans bangten was das Zeug hielt. Riesen Stimmung im kleinen Luxor. Immer wieder forderte Jeff die Fans auf mit zu machen, die sich nicht lange bitten ließen. Auch von Technischen Schwierigkeiten, Gitarrist Aaron Homma, war auf einmal nicht mehr zu hören, ließen sich ANNIHILATOR nicht aus der Ruhe bringen, dafür sind sie einfach zu lange im Geschäft. "Set the World on Fire", "The Trend" oder "Psycho Ward" waren ein paar Songs die den Fans aufs Hirn gedrückt wurden. Starker Gig von den Kanadischen Jungs um Jeff Waters der nach guten 90 Minuten mit dem Song "Alison Hell" zu Ende ging.
Was blieb war die Erinnerung an einen starken Abend mit zwei geilen Bands die genau wissen wie Sie ihre Fans in ihren Bann ziehen.
Setlist:
Betrayed
King of the Kill
Na Way Pit
One to Kill
Set the World on Fire
Ultraparanoia
The Trend
Schizos (are Never Aline) Part I+ II
Drum Solo
Knight Jumps Queen
Twisted Lobotomy
Psycho Ward
Tricks and Traps
Phantasmagoria
Burns like a Buzzsaw Blade
T. Y. D.
Alison Hell
Bildergalerie Annihilator: