Die BEAST IN BLACK Europian Tour steht unter einem besonderen Stern, sind die Finnen doch das erste Mal als Headliner auf einer großen Tour unterwegs. Passend dazu haben sie ihr im Februar erschienenes zweites Album "From Hell with Love" im Gepäck. Auf dieser Tour begleitet sie die finnische Band TURMION KÄTILÖT.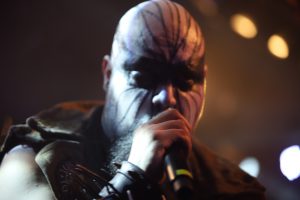 TURMION KÄTILÖT, frei übersetzt den "Hebammen des Verderbens", welche im Wesentlichen aus MC Raaka Pee (voc) und DJ Vastapallo (git) bestehen. Verstärkt werden die zwei Durchgeknallten von Spellgoth (voc), Master Bates (bass), Run-Q (key) und DQ (drums) Rein optisch haben sie ein bisschen was von MARILYN MANSON, hinzu kommt schrille SM-Ästhetik in obskurem Gewand. Akustisch fahren sie aber eine andere Schiene, die man am gröbsten wohl als Symbiose aus Electro- und Industrial Metal bezeichnen könnte. Das heißt: Haufenweise fette Beats, hartes Gitarren geschrammel und äußerst eingängige Songs mit mächtig Groove. Spontaner Bewegungsdrang ist hier ein schon fast unbewusster Reflex, der einem beim Hören der energiegeladenen Geschosse überkommt. Bunt gemischt hörte sich die Setlist an, die aus Finnischen und englischen Songs bestand. Da TURMION KÄTILÖT hier in Deutschland noch nicht so bekannt sind, war es etwas stiller zu Beginn des Konzerts, wobei man auch sagen muss das es schon zwei verschiedene Genres waren, die uns da an diesem Abend geboten wurden. Mit "Grand Ball" eröffneten die Finnen den Abend und steigerten sich in dieses Konzert richtig geil rein, was den Fans auch nicht verborgen blieb, und so feierten die Fans dann ab Mitte des Konzerts die Finnen, als wenn diese schon so oft in Deutschland gespielt haben.
Bilder von Turmion Kätilöt hier: http://rock-konzert-magazin.com/konzerte-2019-t-z/turmion-kaetiloet/
Setlist:
1.      Grand Ball
2.      Love Is Dead
3.      Verta ja lihaa
4.      Minä määrään
5.      Suolainen kapteeni
6.      U.S.C.H!
7.      Faster Than God
8.      Helvetin torvet
9.      Sikiö
10.  Pyhä maa
11.  Lataa ja varmista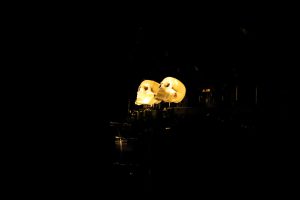 21:15 Uhr, außer 2 beleuchteten Totenköpfen war es dunkel in der Zeche in Bochum. Dann kamen sie, die Jungs von BEAST IN BLACK. Gleich von der ersten Minute an war Stimmung in der Zeche und der Opener "Cry out for a Hero" vom neuen Album "From Hell with Love", trug seinen Part dabei. Irgendwie war es BEAST IN BLACK an zu sehen das Sie gehörigen Respekt aber auch erleichtert waren, auf Ihrer ersten Headliner Tour zu sein. Die Stimmung war riesig in der ausverkauften Zeche, und da sah man dann mal das die gesamten Support Shows in den beiden Vorjahren sich absolut gelohnt haben. BEAST IN BLACK präsentierten viele neue Songs, aber auch den ein oder anderen alten Song, die bei den Fans am Besten ankamen, den Fans. So durften auf der Setliste Songs wie "Beast in Black" oder Eternal Fire" nicht fehlen. Sänger Yannis Papadopoulos war dann zwischendurch auch mal fast sprachlos als er sich dafür bedankte das so viele Fans zu ihrer ersten Headliner Tour gekommen sind und es unheimlich viel Spaß macht den Fans zu geben was sie wollen, nämlich harte und guten Power Metal.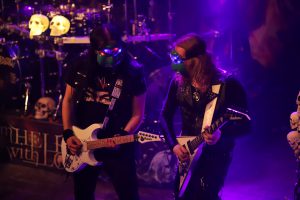 So ging es weiter durch die Setliste bis BEAST IN BLACK dann beim Song "From Hell with Love" angekommen sind, mit diesem Song verabschiedeten Sie sich auch von den Fans, bevor Sie dann nochmals auf die Bühne kamen um mit "No Surrender", "Blind and Frozen" und "End of the World", einen gelungenen Abschluss eines Konzertes hin zu legen. Viele Fans wollten danach immer noch eine Zugabe aber irgendwann ist auch mal alles zu Ende und so gingen die Fans mit einem breiten Grinsen im Gesicht nach Hause und BEAST IN BLACK machten sich auf nach Amsterdam, wo am nächsten Tag der nächste Gig wartete.
Bilder von Beast in Black hier: http://rock-konzert-magazin.com/konzertfotos-2019-a-f/beast-in-black/
Setlist:
1.      Cry out for a Hero
2.      Unlimited Sin
3.      Beast in Black
4.      Eternal Fire
5.      This Is War
6.      The Fifth Angel
7.      True Believer
8.      Heart of Steel
9.      Born Again
10.  Repentless
11.  Ghost in the Rain
12.  Die by the Blade
13.  Crazy, Mad, Insane
14.  Sweet True Lies
15.  From Hell with Love
Encore:
16.  No Surrender
17.  Blind and Frozen
18. End of the World