Wenn man an Symphonic Metal denkt, denken die meisten unweigerlich an eine Band mit einer Sängerin. Dies ist aber nicht bei allen Symphonic Metal Bands so. In der Turbinenhalle gab es an diesem Abend beides zu sehen und zu hören. BEYOND THE BLACK sind auf ihrer "Heart of the Hurricane" Tour und haben die Schwedische  Band MISTER MYSERY als Support dabei.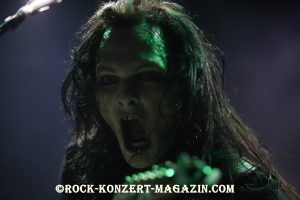 Um 20:00 Ihr kamen MISTER MYSERY "SchlangenArtig" auf die Bühne. Mit ihren schwarzen Klamotten und weiß gemalten Gesichtern versuchten Sie Böse aus zu sehen. Drummer Rizzy hatte zu dem noch gruselige Kontaktlinsen drauf und machte während des Spielens immer wieder Faxen, als wäre er ein Clown aus ES. Was einem so ein wenig gewundert hatte, war die Tatsache das dass Licht auf der Bühne mehr als hell war und gar nicht so düster. Dafür war der Sound, vor allem der Gesang von Sänger Harley Vendetta in den vordersten Rhein nicht zu hören. MISTER MYSERY haben es mit Energie geladenen Riffs, gemixt mit hymnischen Refrains und fettenden Gitarren Solos geschafft die Fans an diesem Abend in Ihren Bann zu ziehen. Ihre Songs die kraftvoll und hart aus den Boxen knallten wurden von den Fans begeistert gefeiert, obwohl der ein oder andere mit den Jungs erstmal nichts anfangen konnte. 45 harte, knackige und anstrengende Minuten dauerte der Gig von MISTER MYSERY aber der hatte es in sich.
Setlist:
The Blood Waltz
MYSERY Ghost
Legion
You and I
Alice
Dead Valentine
Rebels
Tell me how
Live heile you can
Bildergalerie von Mister Misery hier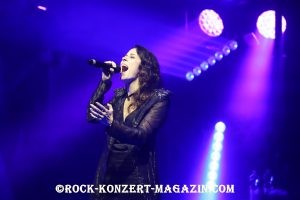 Dann war Umbaupause und dann war es an der Zeit das BEYOND THE BLACK den Hurrican los ließ. Das gelang ihnen von der ersten Minute an. Nach dem Intro legten Sie gleich los mit "Hysteria", gefolgt von "When Angels Fall". Die Fans in der nicht ganz ausverkauften Turbinenhalle feierten Jennifer und Ihre Jungs auf jeden Fall mächtig ab. Jennifer weiß mittlerweile ganz genau wie sie die Fans anpacken muss. Mit ihrer starken Stimme, gutem Sound und Licht wusste BEYOND THE BLACK zu überzeugen. Als Jennifer frage wer bei der letzten Show in der Turbinenhalle dabei war grölte die Hälfte der Halle lauthals. "Spiderweb of Eyes", "Unvroken" oder "Dear Death" taten ihr ubriges hinzu. Zu "Spiderweb of Eyes" den Jennifer und Bassist Stefan zusammen geschrieben haben gab es dann noch eine kleine Anekdote, wie der Song entstanden ist. Stefan meinte Eyes nicht im Sinne von Eyes sondern von ICE und Jennifer hatte sofort Gedanken für Eyes im Kopf und so entstand der Song. Beim Song "Dear Death" saß Jennifer neben dem Mischpult am Klavier und gab diesen mit Gitarrist Chris Hermsdörfer hautnah den Fans zum Besten. Genauso wie die Songs "Song for the Godless" und den Song von MICHAEL PATRICK KELLY "Salve Regina". Gespannt hörten die Fans zu und feierten die beiden. Damit die beiden wieder ohne hetze auf die Bühne laufen konnten gab es nun ein Drum Solo.
Runder herum war es wieder ein geiles Konzert von BEYOND THE BLACK welches mit dem Song "In the Shadows" nach etwas mehr als 90 Minuten zu Ende ging. Wer BEYOND THE BLACK nochmals oder überhaupt mal sehen möchte hat hierzu noch die Gelegenheit, denn das heute Abend war erst der Anfang ihrer Tour.
Setliste:
Intro
Hysteria
When Angels Fall
Songs of Love and Death
Beyond the Mirror
Wrotten in Blood
Unbekömmlich
Spiderweb of Eyes
Running to the Edge
Million Lightyears
Dear Death
Through the Mirror
Song for the Godless
Salve Regina
Drum Solo
Misery
Heart of the Hurrican
Lost in Forever
Shine and Shade
Hallelulja
In the Shadow
Outro
Bildergalerie von Beyond the Black