CLAWFINGER, die seit den 90ern Kult-Status in der Crossover-Rockszene genießen sind wieder auf Tour und haben im Schlachthof in Wiesbaden Halt gemacht. Durch Ihre Texte haben Sie sozialkritisch aber auch den Nerv einer ganzen Generation getroffen.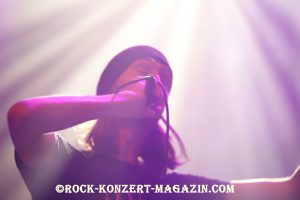 Mit FREEZES DEYNA geht es an diesem Abend um Punkt 20:00 Uhr los. Crossover ist das Zauberwort und die Jungs da oben auf der Bühne wissen was Sie da machen. Mit Ihrem Mix aus Rap und Hardcore wird gleich mal die Richtung für heute Abend festgelegt und die Fans finden es richtig geil. Turntable-Scrates und Samples prägen maßgeblich den Sound der jungen Schweizer. Sänger Rib, gefühlt 2 Meter groß, rapt und shoutet was das Zeug hält. FREEZES DENYA kann aber auch ruhig und mit Gefühl. Das Beweisen Sie als sie anstelle von harten Beats und Raps auch mal die jazzige Bluesseite rauslassen, dazu kommt dann noch der klare Gesang und schon hat man, so scheint es eine andere Band auf der Bühne stehen.
Dies sind aber nur Ausnahmen und so bleiben Sie Ihrem Mott treu, Rapcore auf die Ohren und aufs Hirn der Fans zu schleudern. Diese sind nach Start Schwierigkeiten aber immer mehr in den Bann der 5 Schweden gezogen worden und so sieht man immer mehr Kopf Schüttler und Bewegung in die Menge kommen. Ein gelungener Gig und ein guter Einstieg in den Abend und so war man gespannt was uns CLAWFINGER nun zu bieten haben.
Setlist:
Intro
Gallows on the Playground
Pussy´s Paradise
Breakpoint
Nature fucks back
Too loud to Ignore
Boubelee
Brand new dawn
Bildergalerie Freezes Deyna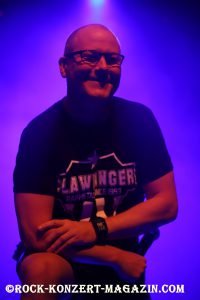 Es wurde Dunkel und mit der geänderten Version von "Goldfinger, nämlich Clawfinger" betraten die Schweden die Bühne, um ein Feuerwerk der guten Laune und der erfolgreichen Jahre der Band zu versprühen. CLAWFINGER leben eigentlich nur noch von den erfolgreichen Jahren, das merkte man daran als Sänger Zak Tell die Frage stellte: "Wer ist heute Abend hier, der damals Deaf Dumb Blind gekauft hat?". Unter frenetischem Jubel zeigten viele Leute mittleren Alters auf. "Vielen Dank das Ihr heute alle hierhergekommen seid" und weiter "middle aged man make a fool of themselves" gab er zum Besten und strich sich leicht verschmitzt über seinen kleinen Bierbauch. CLAWFINGER spielen ein Potpourri der alten Stücke, in bester Laune und mit viel Spaß aber auch ein wenig Selbstironie. Sie rocken die Bühne im Stile einer gealterten Band. Zwischen den ganzen alten Songs "schummelte" sich ein neuer Song, der aber bei vielen schon bekannt war. Schnell wirbelt ein Moshpit im vorderen Zentrum des Schlachthofs, an den sich wohl am nächsten Tag so mancher noch erinnern vermag, ebenso wie an die Zeiten, in denen man einen solchen Kraftakt mit mehr Kondition gemeistert hat. Hut ab vor der Kondition die CLAWFINGER an den Tag legen, denn Sänger und Bassiste hüpfen auf der Bühne um her wie Flummis, dazu gibt es Songs wie "Warfair", "Catch me" oder "The Biggest & The Best". Als es mit den Songs "The Truth" und "Do what i say" zum Ende an diesem Abend kommt, schreit Zak vorher nochmals ins Mikro : "This is the Last Chance to go fucking crazy" und die Fans taten es.
So war es dann vorbei und Zak stand oben auf der Bühne und nickte nur mit dem Kopf über soviel Power von den Fans über den gesamten Abend. Zufrieden und ausgepowert gehen CLAWFINGER von der Bühne, um kurz darauf am Merchandise Stand Autogramme zu schreiben und Selfies mit den Fans zu machen.
Setlist:
Intro Clawfinger Theme from Goldfinger
Prisoners
Nothing going on
Recipe for Hate
Hold your Head up
Catch me
Rosegrovenigger
Warfair
Don´t get me wrong
Tear you down
Money Power Glory
None the Wiser
Burn in Hell
Two Sides
Biggest & The Best
The Price we Pay
The Truth
Do what I Say
Clawfinger Bilder