Trotz Festival Saison sind die ein oder anderen Bands in den Hallen der Republik unterwegs. So auch an diesem Abend sind COMBICHRIST mit ihrer "On Fire World Tour"in der Batschkapp zu Gast. Ihnen zur Seite steht RAVE THE REQVIEM.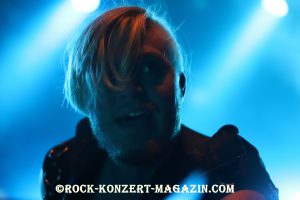 RAVE THE REQVIEM spielen eine Mischung aus Industrial und Electro Metal, welcher sich live richtig geil anhört. Zu Beginn des Konzerts waren allerdings nicht so viele Fans in der Batschkapp und die Halle war auch im letzten Drittel abgehängt so das man daraus schließen musste das nicht so viele Fans dem gesamten Konzert beiwohnen würden. RTR kamen auf die Bühne und zogen von der ersten bis zur letzten Minute eine gelungene Show ab. The Cantor und The Archbishop sprangen auf der Bühne umher, als würden sie am Ende der Show mit einem Preis für die Beste sportliche Leistung geehrt werden. Neben der kratzigen Stimme von Gitarrist und Sänger The Prophet, überzeugte The Seraph mit ihrer klaren und ausdrucksvollen Stimme und brachte so den Kontrast in die Show. Mit Songs wie "Crack the Sky" oder " Aeon" brachten sie mehr als nur Stimmung in die Halle und zeigten sich als sehr würdigen Support für COMBICHRIST. Gute 45 Minuten durften RTR an diesem vorletzten Tag der Tour zeigen warum sie als Support von COMBICHRIST mit gefahren sind.
Setlist:
Skydweller
Synchronized Stigma
Ghost Royal
Mono Heart
Are you happy Noe, Fidelio
Ikaros
Crack the Sky
Aeon
Bilder von Rave the Reqviem hier: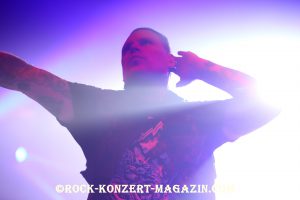 Nach der Umbaupause war es dann soweit. Mit dem Song "The Shit will fuck you Up", der vom Band lief, läuteten COMBICHRIST ihren Gig ein. Sofort waren die Fans in der Halle da und sangen lautstark mit. Dann kamen Sie auf die Bühne und, wie man es bei COMBICHRIST gewohnt ist, mit wenig Licht und teilweise nur mit Stroboskop Licht von hinten standen sie auf der Bühne und knallten den Fans gleich mal "Hate like me" um die Ohren. Was für ein Einstieg in ein Konzert das nicht ganz 90 Minuten dauern sollte. Wer COMBICHRIST an diesem Abend zum ersten Mal gesehen hat könnte so richtig was erleben. Kraftvoll, Dynamisch und mit viel Power knallten die 4 Jungs einen Song nach dem anderen heraus. Neben den normalen Drumkids gab es noch ein extra Stand Schlagzeug welches genauso malträtiert wurde wie das normale Schlagzeug. Sänger Andy LaPlegua War auch die ganze Zeit auf der Bühne unterwegs. Pünktlich zum Start von COMBICHRIST war die Batschkapp nun prall gefüllt und ich Fans hatten ihren Spaß und die Stimmung war riesig. "Never Surrender", "Guns at last Dawn" oder "Can't Controll" trugen zur guten Stimmung bei. Den Höhepunkt bei den Fans erreichte  COMBICHRIST mit dem Song "what the fuck is wrong with you". Die Kanten jetzt kein Halten mehr und feierten COMBICHRIST nach allen Regeln der Kunst. so viel power Kraft und Action fordern ihren Tribut und so spielten COMBICHRIST noch zwei Songs um sich dann gebührend von ihren Fans zu verabschieden.
Es war ein wirklich gelungener Abend mit zwei Bands die Industrial Elektro Metal zum besten gaben und der Batschkapp an diesem Abend mächtig einheizten. Ich glaube wenn dieses Konzert nicht in der Festival Saison statt gefunden hätte, wären noch mehr Fans in der Batschkapp gewesen.
Setliste:
Intro: This Shit will fuck you Up
Hate like me
Never Surrender
Shut Up and Swallow
Satan's Propaganda
Guns at last Dawn
Throat Full of Glasses
Can't Controll
Follower the Trail of Blood
No Redemption
Blut Royal
What the Fuck is wrong with you
Maggots at the Party
One Fire
Bilder von Combichrist hier: