Mittlerweile haben sich die Niederländischen Symphonic Metaler von DELAIN einen guten Namen erarbeitet und so ist es kein Wunder, das die Zeche in Bochum zum Auftakt der Masters of Destiny European Tour fast ausverkauft ist. Was allerdings schade was, das ARKONA die als Support von DELAIN dabei sind statt um 20:00 Uhr wie angekündigt schon um 19:45 Uhr auf die Bühne kamen und starteten. Diejenigen die erst später kamen, verpassten somit die ersten 4 Songs.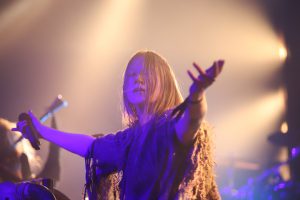 ARKONA stammen aus Russland und sind hierzulande eigentlich noch recht unbekannt, was auch daran liegt das die Band in russischer Sprache singt und somit das Interesse bei vielen noch nicht geweckt ist, obwohl die Band nun schon seit 2002 existiert. Frontfrau Maria "Scream" Archipowa wechselt immer wieder zwischen Klargesang und Growls, was ihr sehr gut gelingt. Ein weiteres Highlight der Band ist Vladimir "Volk". Er spielt bei der Band die Flöten und Dudelsack und bringt so die gelungene Mischung aus Folk und Pagan Metall mit ins Spiel. Was man nicht vermutet hätte ist, dass ARKONA eine ganze Stunde zur Verfügung hatten und diese auch richtig gut genutzt haben, um sich den Deutschen Fans zu präsentieren. Es war ein couragierter, engagierter und spielfreudiger Auftritt, der wie gesagt nach 1 Stunde zu Ende ging.
Der Headliner des Abends war an der Reihe und mittlerweile ist es allgemein bekannt das DELAIN eine starke Live Band ist. Trotz der ein oder anderen Umbesetzung in der Band selbst, die zweite Gitarristin Merel Bechtold ist nicht mehr dabei und Schlagzeuger Joey Marin de Boer ist auch neu in der Truppe, kommen DELAIN sehr druckvoll und mit viel Wucht daher. Frontfrau Charlotte Wessels zeigt sich an diesem Abend auch wieder in bestechender Form. Neben den gesanglichen Fähigkeiten überzeugte Sie auch in Punkto Ausstrahlung an diesem Abend.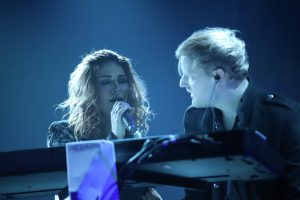 DELAIN spielen an diesem Abend neuen Stoff, vom neuen Album "Apocalypse & Chill", welches im Dezember erscheint. Mit "One Second", und "Burning Bridges" konnte man schon 2 Songs auf You Tube hören aber mit "Let´s Dance" gab ein Titel an diesem Abend seine absolute Premiere, der auch bei den Fans richtig gut ankam. Die fast ausverkaufte Zeche feiert die Band wo sie nur können und brauchen nicht großartig zum Mitmachen, klatschen oder hüpfen aufgefordert werden, dass machen Sie von ganz allein. Schade war nur das mit dem Klassiker "We are the Others" nach guten 1 ½ Stunden das Konzert ohne Zugaben zu Ende ging. Trotzdem kann man sagen das DELAIN wieder ein großartiges Konzert abgeliefert haben und es immer wieder geil ist ihnen zu zu sehen und zu hören.
Setlist:
Pendulum
Virtue and Vice
One Second
Suckerpunch
Burning Bridges
The Hurricane
Masters of Destiny
Here come the Vultures
Sing to me
Let´s Dance
Combustion
Hand of Gold
Not enough
Don´t let go
The Gatheriing
Fire with Fire
We are the Others