Am 08.März erschien das neue Album von FIDDLER'S GREEN mit dem schönen Namen "Heyday". Unter gleichen Namen sind die Folk-Metaller auch auf Tour. Begleiten tun sie dabei die Irischen Folk-, Alternativ Rocker von THE MOORINGS.
Mit einem Intro ging es um 2 Minuten vor Acht los. THE MOORINGS die im Dunkeln auf der Bühne standen zeigten von der ersten Minute an das sie gewillt sind das Publikum, welches sehr präsent war, in Stimmung zu bringen für FIDDLER'S GREEN. THE MOORINGS stehen für eine gute Mischung aus Celtik Folk und Alternative Rock, was sie eindrucksvoll zelebrierten. Mit Songs wie "Another Drinking Wound" oder "Friendshiep"
brachten Sie die Fans in Stimmung. Zwischendurch machten THE MOORINGS die Fans darauf aufmerksam das Sea Shepard sich dafür einsetzen das die Meere sauber werden und bleiben. Daraufhin spielten Sie den Song "Captain Watson's Gang", der von den Meeren dieser Welt handelt. Mit einer Überraschung warteten die Irish Folk Musiker auf. "auf der Reeperbahn nachts um halb eins" wurde auf eine
ganz besonderen Art und Weise präsentiert. Erst in einem ganz langsamen Rhythmus und dann in schnellen Version. Damit verabschiedeten sich THE MOORINGS von den Fans die sie begeistert feierten.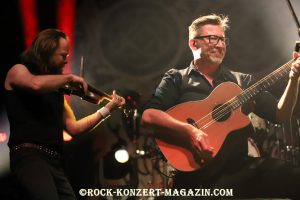 21:02 Uhr im E-Werk wurde es dunkel und nur der Banner im Hintergrund der Bühne wurde blau angestrahlt. Dann kamen Sie um mit ihrem Opener "The Freak of Enniskillen" gleich mal für Stimmung beim
Publikum zu schaffen. Im hellen Licht und mit klaren Sound präsentierten uns FIDDLER'S GREEN Folk Rock erster Klasse. So zogen sie durch bis Gitarrist Patrick Pat Prziwara erzählte das er heute morgen zu spät zum Treffpunkt kam weil er noch N-TV schauen musste und sich darüber amüsierte das sich die Nazis selber kaputt machen. Passend dazu spielten Sie den Song "No Anthem", woraufhin sie frenetisch gefeiert wurden. Beschaulich wurde es beim Song "You Raise me Up/ Kick the Bucket Tunes" welches Tobias auf der Geige einleitete um dann mit Frank an der Trommel und Stefan an der Gießkanne Percussion mäßig unterstützt zu werden. Stimmungsvolle Songs wie "Down", "John Kanaka" oder "One Fine Day" folgten. Mit einer Wall of Folk ging es beim Song "Rocky Road to Dublin" stimmungsvoll weiter. Mit "Cheer up" verabschiedeten sich FIDDLER'S GREEN von ihren Fans um nach einer kurzen Pause mit THE MOORINGS zusammen wieder auf die Bühne zu kommen. "The Leaving of Liverpool" wurde nun zusammen performed. "Folk's Not Dead" und "Blarney Roses" bildeten den Abschluss eines gut zweistündigen Konzertes, welches von der ersten bis zur letzten Minute richtig Spaß gemacht hat. FIDDLER'S GREEN spielen noch den ein oder anderen Gig auf der Tour, bevor sie dann beim Shamrock Castle am 12.+ 13.07. auf der Jägersburg in Bammersdorf Open Air gehen.
Setlist:
Intro
1. The Freak of Enniskillen
2. Slainte
3. A Night in Dublin
4. The Creel
5. Bottoms Up
6. Limeryck Style
7. No Anthem
8. Born to be a Rover
9. The Congress Reel
10. The Night Pat Murphy Died
11. Raise your Arms
12. You Raise ne up/ Kick the Bucket Tunes
13. Together as one
14. John Kanaka
15. Take ne Back
16. One Fine Day
17. Down
18. Instrumental/ Hall of the Mountain King
19. Rocky Road to Dublin
20. Yindy
21. Victor and hin Demons
22. Old Dun Cow
23. Cheer Up
——————————————
24. The Leaving of Liverpool with THE MOORINGS
25. Folk's Not Dead