Zwischen dem ein oder anderen Festival sind HYPOCRISY diesen Sommer auch in der ein oder anderen Halle unterwegs, bevor es dann im Herbst auf großer Tour mit AMON AMARTH und ARCH ENEMY geht. Heute sind sie in der Essigfabrik zu Gast und haben SOILWORK und DUST IN MIND dabei.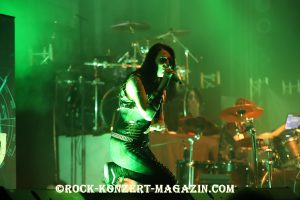 Den Abend eröffnen dürften die Franzosen von DUST IN MIND um Frontfrau Jennifer Gervaise. DUST IN MIND präsentieren Symphonic Metal der sich ein wenig anlehnt an LACUNA COIL oder PAIN. Nichts desto trotz kommt das was da aus den Boxen kommt ganz gut rüber. Da sind harte Riffs, die gepaart werden mit fetten Drums und einigen Growls bzw. härteren Gesangspassagen von Sänger und Gitarrist Damien Dausch. Der Zuspruch der Fans hielt sich noch in Grenzen, so recht möchte die Stimmung nicht aufkommen. Frage ist woran lag es? An der weiblichen Stimme oder daran das SOILWORK und HYPOCRISY eine etwas andere Gangart anschlagen als die 5 aus Frankreich. Den Fans wurden Songs wie "This is the End", "Another Dimension" oder "From Ashes to Flames" präsentiert. Nach etwas mehr als 35 Minuten verabschiedeten sich DUST IN MIND von den Fans, die sie dann doch mit viel Applaus verabschiedeten.  So konnte nun umgebaut und alles hergerichtet werden für SOILWORK.
EIGENTLICH muss man über SOILWORK nicht viel sagen denn was die Jungs aus Helsingborg in Schweden jedesmal auf die Bühne zaubern ist bekannt. Harter, schwerer, schneller und lauten Melodic Death Metal. Nicht umsonst gehören SOILWORK zu denjenigen Bands die diese Genre mit geprägt haben. Björn Strid, Sänger und Frontman der Band lässt von der ersten Minute an keine Zweifel aufkommen, warum SOILWORK heute Abend hier sind, um den Fans 12 Songs auf Hirn zu nageln, dass sie nicht mehr wissen wo vorne und hinten ist. Dies gelingt ihnen auch direkt den die Fans feiern begeistert mit. Gleich mit dem Opener "Arrival" ist die Stimmung da. Dies zieht sich über Songs wie "Full Moon Shoals", "The Phantom" bis zum Abschluss Song "Stälfägel"hin. Aber nicht nur Björn zog eine geile Show ab alle anderen waren ebenso voll in ihrem Element, so dass es eine rundum gelungene Show war, die nach guten 55 Minuten zu Ende war.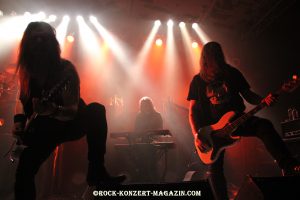 Setlist:
Arrival
Average Stalker
Nerve
Full Moon Shoals
Living Infinite I
Nurturing Glance
Akuma Afterglow
Drowning
The Phantom
The Ride Majestic
Stabbing
Stälfägel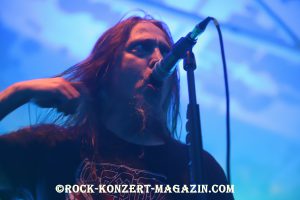 Wieder Umbaupause aber dann sollte es auch schon losgehen mit Peter Tätgren und HYPOCRISY. Das Intro kam von AC/DC und mit "Fractured Millennium" legten HYPOCRISY so richtig los. Schön war die Stimmung wieder da und Peter erzählte den Fans das sie an einem neuen Album arbeiten, welches, so hofft er doch dann bald erscheinen wird. Er mag es schon jetzt und hofft das die Fans dies auch mögen. Dem Jubel nach zu urteilen ist die Vorfreude riesig bei den Fans. Vereinzelt gab es von den Fans rufe nach dem ein oder anderen Song, da diese sich auf die Frage von Peter: "What you want to hear?" nicht einigen konnten machten HYPICRISY mit "Erasure" weiter. Stimmung = riesig. Leichter Nebel auf der Bühne und diese in Blau/Rot mit ein wenig weißem Licht versetzt, so konnte man teilweise nur die Silhouetten der Band erahnen. Dazu knalliger, knackiger Sound der den Fans mächtig auf die Ohren gedrückt wurde. Viele Head bangende Köpfe sah man und der erste Circle Pit ließ auch nicht lange auf sich warten. Nach zwei Medleys mit "Fire in the Sky" und dem last Song "Roswell" weiter aufs Hirn. Was für ein starker Gig von HYPOCRISY der nach guten 70 Minuten zu Ende ging und nur strahlende Gesichter hinterließ.
Setlist:
Fractured Millennium
Walley of the Damned
End of Disclosure
Adjusting the Sun
Erasure
Pleasure Medley
Apocalypse Medley
Carved Up
Fire in the Sky
Warpath
Final Chapter
Roswell
Bildergalerie von Soilwork hier:
Bilder von Hypocrisy hier: