Kann man eine Woche besser beginnen als sich gleich am Montag das Hirn mit fetten Riffs, harten Drums und ein paar Bier zu zu dröhnen? Nö besser geht nicht. So kamen dann reichlich Fans in die Batschkapp um INSOMNIUM, THE BLACK DAHLIA MURDER und STAMINA zu sehen und zu hören.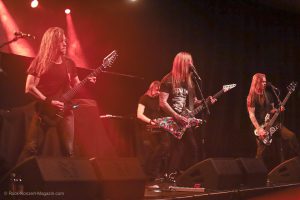 STAMINA eröffneten den Abend pünktlich um 19:30 Uhr. Was die Jungs aus Lemi in Finnland den Fans gleich von Beginn an aufs Hirn drückten war harter kompromissloser Trash Metal der die Stimmung in der Batschkapp gleich mal nach oben trieb. Die ganze Truppe sprühte an diesem Abend nur so vor Spielfreude, was sich übertrug auf die Fans. Zwischen den Songs gab es mal die ein oder andere Ansage von Gitarristen und Sänger Veli Antti Hyyrynen, der u.a. feststellte das Sie 2006 beim Wacken Open Air gespielt haben und sogleich wissen wollte wer von den Anwesenden sie dort schon gesehen hat. Waren nicht viele. So ging es dann weiter in der Setlist denn STAMINA hatten nur 35 Minuten, um sich den Fans zu präsentieren. Sound und Licht waren an diesem Abend klasse und so war der gute Gig dann nach 35 Minuten zu Ende.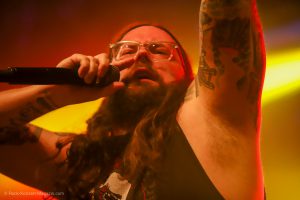 Wenn THE BLACK DAHLIA MURDER auf dem Programm stehen, braucht man eigentlich nicht mehr viel zu sagen. So auch an diesem Abend. Nach dem Intro von AC/DC's "Highway to Hell" legten die Männer um Sänger Trevor Strnad los als hätten sie noch was vor heute Abend. Hautenger Melodic-Death Metal knallte aus den Boxen und Trevor bearbeite die Bühne zwischendurch als wäre er auf einer Sport Veranstaltung. Immer wieder forderte er die Fans durch hinhalten das Mikrophon' s auf kräftig mit zu singen, was diese auch lautstark taten. Ob "Widowmaker" vom Album "Nightbringers" oder "Matriarch" vom gleichnamigen Album, alles Songs wurden begeistert von den Fans gefeiert und knallten nur so aus den Boxen. Das THE BLACK DAHLIA MURDER keine "Poser" in dem Sinne sind, merkte man daran das die Gitarristen zwar headbangend aber nicht nebeneinander posierend auf der Bühne standen. Das ist nicht ihre Intuition. So gab es noch u.a. die Songs "As Good as Dead" oder "Kings of the Nightworld". Nach einer guten Stunde ging der kraftvolle, dynamische und harte Gig zu Ende und die Fans freuten sich jetzt auf INSOMNIUM
Setlist:
Widowmaker
Jars
Contagion
Miasma
Matriarch
Warborn
Horrible Night
Nightbringers
As Good as Dead
Stirring Seas
Kings of the World Nightworld
Everything
Deathmask
Bilder von The Black Dahlia Murder hier: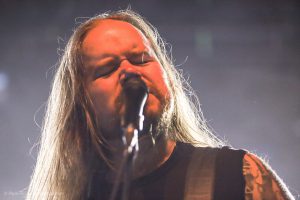 Mit ihrer Tour Like a Grave 2019 Europa-Tour machen INSOMNIUM nun in der Batschkapp Station. Mit 14 Songs im Gepäck wollen Sie das im Oktober erschienene neue Album "Heart like a Grave" natürlich den Fans näherbringen. Mit Wut und Aggression, Verderben und Finsternis, Herzschmerz und Sehnsucht liegt das gesamte Spektrum der finnischen Männerwelt in den Songs, so INSOMNIUM selbst zum neuen Album. Dies haben Sie an diesem Abend eindrucksvoll zum Besten gegeben. Die Stimmung in der Batschkapp war dementsprechend hoch. "Into the Woods" ein älteres Stück kam aber auch sehr gut an und es sollte nicht das einzige ältere Stück sein was INSOMNIUM an diesem Abend spielten. Vor dem nächsten älteren Song "Ephemeral" gab es durch Sänger und Bassist Niilo Sevänen erstmal ein Commercial Break, indem er die Fans dazu aufrief Merchandise als Weihnachtsgeschenke für sich selbst zu kaufen, tja der Rubel muss rollen. Mit den Songs "One for Sorrow" und dem Titeltrack vom neuen Album "Heart like a Grave" ging ein knallharter Abend mit 3 Trashenden, melodischen und powernden Bands zu Ende. Dieses Konzert hinterließ jedenfalls glückselige Fans die nun nur noch Weihnachten entgegen fiebern um dann eine Karte für das nächste Konzert von INSOMNIUM geschenkt zu bekommen.
Setlist:
Intro
Valediction
Neverlast
Into the Woods
Through the Shadows
Pale Morning Star
Change of Heart
And Bells they toll
Mute is my sorrow
Ephemeral
In the Grooves of Death
The Primeval Dark
While we sleep
One for sorrow
Heart like a Grave
Bilder von Insomnium hier: