Jeff Scott Soto ist ein Sänger der schon in ganz vielen Projekten mitgemacht hat. Nun ist er wieder Solo unterwegs, da er mit SOTO ein neues Album mit dem Titel "Origami" veröffentlicht hat. An diesem Abend sind Sie nun zu Gast im Kubana in Siegburg und haben mit SCARLET AURA und STOPSTOP, zwei außergewöhnliche Bands mit dabei.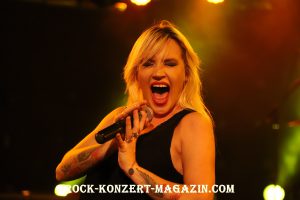 Pünktlich um 19:00 Uhr kommen SCARLET AURA auf die Bühne. Aura, die Sängerin, klein und zierlich aber gar nicht müde, heizte den Fans im Kubana mal ordentlich ein. Leider waren an diesem Abend nur rund 80 Fans zugegen, um sich die 3 Bands an zu hören und an zu schauen. Geiler Sound und gutes Licht waren an diesem Abend bei allen 3 Bands gegeben, so dass es ein geiler Abend werden konnte. Mit ihrem Heavy Metal unter Anlehnung an DIO, HELLOWEEN oder IRON MAIDEN, kommen Sie bei den Fans sehr gut an. Die feiern SCARLET AURA auch richtig groß an diesem Abend. "Hail to You", "You´re not Alone" oder "Color Blind" waren an diesem Abend richtig geile Songs in einer Setliste die zwar nicht so lang aber dafür gut zusammen gestellt war, so dass die Fans sich schon mal einstimmen konnten auf das was noch kommt. Mit dem Song "Let´s go Fucking wild" gingen nicht nur die Fans vor der Bühne richtig ab, sondern auch SCARLET AURA hauten ein Feuerwerk der Spielfreude und der harten Riffs den Fans um die Ohren.
Setlist:
This Future becomes our Past
Hail to You
In the Name of my Pain
My own Nightmare
You´re not Alone
Fallin´to Pieces
Hot n´Heavy
Colour Blind
Let´s go Fucking wild
Zur Bildergalerie: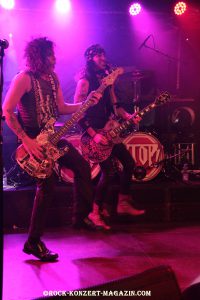 Kurze Umbaupause und dann kamen STOPSTOP aus England. Man muss schon sagen das dies eine kultige, leicht chaotische aber eindrucksvoll aufspielende Band ist. Die Frage die man sich stellt ist, wie lange braucht Drummer Danny Spasov, morgens zum frisch machen. Mit den Haaren kann er jeder Frau Konkurrenz machen. STOPSTOP spielen eine Mischung aus Metal & Roll das so Energie geladen ist, dass sie selbst auch keine Minute ruhig auf der Bühne stehen können. "Renegade", "Living a Lie" oder Lola" brachten das Kubana richtig zum Kochen. Zwischendurch tauchten immer wieder Band Mitglieder von JEFF SCOTT SOTO auf der Bühne auf umso noch weiter die Stimmung an zu heizen. Nach "In N Out" gingen STOP STOP von der Bühne und mit Clownsmasken verkleidete Musiker kamen auf die Bühne. Hierbei handelte es sich nicht um STOPSTOP sondern, wie konnte es auch anders sein um JEFF SCOTT SOTO und seine Jungs, denn STOPSTOP kamen aus dem Backstage Eingang und marschierten schnurstracks Richtung Theke. Auf dem Weg dahin spielten Sie den Song "STOPSTOP". Sie kletterten auf und dann hinter die Theke um dann wieder raus zu gehen und vor der Bühne den Song zu Ende zu spielen um mit den letzten Worten stop stop alle auf den Boden zu fallen. Was für eine Energiegeladene Show von den 3 Jungs aus England.
Setliste:
The Last Call
Renegade
Poser
Living a Lie
Joint he Party
Lola
In N´Out
StOp, sToP
Zur Bildergalerie: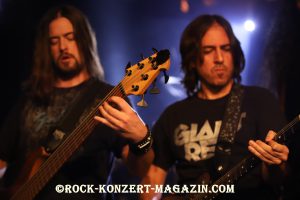 Nun war es soweit und der Hauptact war an der Reihe. Mit einem Intro kamen JEFF SCOTT SOTO auf die Bühne und die mittlerweile etwas über 100 Fans im Kubana waren aus dem Häusschen. Hart, Druckvoll und mit ganz viel Power kamen Songs wie "Freakshow", "Wrath", oder "Drowning" aus den Boxen geknallt. Dies war heute der letzte Tag der Tour "Origami" und man merkte dass alle ihren Spaß hatten. Ohne viel zu reden brachten JEFF SCOTT SOTO und die Jungs einen Song nach dem anderen den Fans näher und so zog sich die gute Stimmung durch den ganzen Abend. So langsam ging die Show aber auch zu Ende und mit dem Song "Stand Up" kamen nochmals alle 3 Bands auf die Bühne um dann im Chor zu singen und anschließend zu feiern.
Setlist:
Hypermania
Freakshow
21st Century / Colour my XTC
Warth
Drowning
Weight of the World
Soul Divine
The Fall
Watch the Fire / learn to Live again / One Love
Origami
Detonate
Eyes of Love
Cyber Masquerade
Livin the Life
Risk
World gone Colder
Tears in the Sky
I´ll Be waiting
Stand up
Zur Bildergalerie: