Die geballte Ladung Trash Metal gab es heute Abend in der Garage in Saarbrücken. Das Bay Area Quintett von TESTAMENT hat gerufen und es folgten Ihnen SACRED REICH, IRON REAGAN und die Deutschen Aufsteiger DUST BOLT.
Einziger Wehrmutstropfen an diesem Abend war, dass es schon um 18:00 Uhr los ging und die Garage da noch nicht gefüllt war.
DUST BOLT gingen um 18:00 Uhr auf die Bühne und trotz allem nicht so viel los war gaben die Jungs auf der Bühne von der ersten Minute an Vollgas. Mit ihrem Old School Trash Metal heizten sie die Fans mal so mächtig ein.   Neben dem schnellen und aggressiven Thrash Metal, der jedoch auch von Melodien bei Gesang und Gitarren geprägt ist, ist DUST BOLT besonders für ihre energischen Live Shows bekannt. Die gab es auch heute wieder zu sehen und zu hören. "Dead Inside", "Bloody Rain" oder "Another Day in Hell" wussten den Fans zu gefallen und so war die Stimmung bei den Fans auch richtig gut. Nach guten 30 Minuten war dann Schluß, denn es kamen ja noch andere Bands auf die Bühne.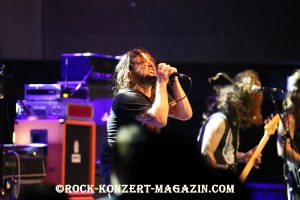 Mit IRON REAGAN aus Richmond in Virginia ging es weiter. Die Jungs spielen einen Mix aus Crossover, Hardcore Punk und Trash Metal. Jetzt füllte sich die Garage auch etwas mehr, war es doch auch schon 18:45 Uhr als IRON REAGAN auf die Bühne kam. Was auffiel war, das die Songs teilweise ziemlich kurz waren und der Gesang von Sänger Tony Foresta kaum bis gar nicht zu verstehen war, was aber nicht am Sound lag sondern an der Art und Weise wie Tony performte. Eigentlich Schade denn so hört sich das was IRON REAGAN anbieten gar nicht schlecht an. Den Fans schien es egal zu sein, die hatten ihren Spaß, denn es gab immer wieder einen Circle Pit oder eine Wall of Death. IRON REAGAN hatten auch nur etwas über 30 Minuten Zeit sich den Fans zu präsentieren und so waren schon die "alten Herren" von SACRED REICH an der Reihe.
19:48 Uhr die Garage ist voll und SACRED REICH kommen auf die Bühne um mit ihrem Opener "American Way" gleich mal zu zeigen, was die Fans nun erwarten können. Harte Riffs gepaart mit fetten Drums und dazu den Gesang von Sänger und Bassist Phil Rind schon ist die Stimmung in der Garage da. Am 23.08.2019 erscheint nach mehr als 20 Jahren wieder ein Studio Album von SACRED REICH unter dem Titel "Awakening" woraus sie auch gleich mal den Titelsong "Awakening" zum Besten gaben. Mit "Independent" oder "Manifest" wurden Klassiker an diesem Abend gespielt. Der Sound und das Licht passten an diesem Abend richtig gut zusammen und so konnten SACRED REICH nach guten 45 Minuten von der Bühne gehen aber nicht ohne das obligatorische Band/Fans Foto.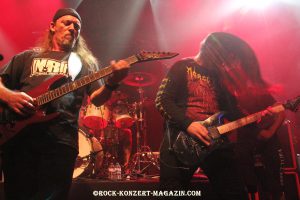 Setlist:
American Way
Death Squad
Awakening
Free
Who's to Blame
Independent
Ignorance
Dividende
Love…Hate
Manifest
Surf
Kurzer Umbau und dann war es soweit. Alles war gerichtet für die Bay Area Trasher von TESTAMENT. Mit einem Intro ging alles an und dann kamen Sie um "Brotherhood of the Snake" den Fans aufs Hirn zu knallen. Die Stimmung war sofort da und Chuck verteilte bereitwillig Plektons an die Fans. Sehr guter Einstieg der auch weiterhin anhielt. Keine langen Reden sondern Song auf Song gab es für die Fans in der Garage. Die ein oder anderen Songs die TESTAMENT schon lange oder noch nie live gesungen haben gab es an diesem Abend. "Low" war einer davon.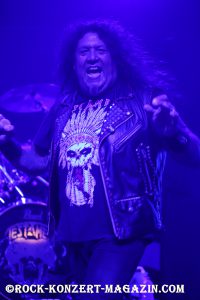 Es war eine geile Mischung aus Song aus den 80ern über die 90er bis hin zu den 2000dern. Die ein oder anderen Fans schauten zwar zwischendurch mal ein wenig skeptisch aber sobald der Song in den ersten Tönen lag feierten Sie was das Zeug hielt. Circle Pits, Headbangen und lautes mit gröhlen gehörte an diesem Abend einfach dazu. So flogen die Songs nur so aus den Boxen, wobei es auch beim Sound und beim Licht keine Beanstandungen gab.
So ging ein Konzert zu Ende an dem die Fans noch lange denken werden, denn es war nicht so wie die Konzerte sonst von TESTAMENT. Den Fans war es egal sie gingen glücklich nach Hause und in der Garage kehrte nach soviel Trash Metal wieder Ruhe ein.
Setlist:
Intro
Brotherhood of the Snake
Palette King
More than meets the Eye
DNR
 Eyes of Wrath
Legions of the Dead
Löw
The Preacher
Into the Pit
Electric Crown
Over the Wall
Disciple of the Watch
Practice what you Preach
New Order
The Formation of Damnation
Bildergalerie Sacred Reich:
Bildergalerie Testament hier: