Die finnischen Folk Metal-Superstars KORPIKLAANI haben ihr neues Studioalbum »Kulkija« ("Wanderer") am 07. September 2018 via Nuclear Blast Records veröffentlicht. In wenigen Tagen werden sie dieses auf ihrer Headlinetour durch Nordamerika (w/ ARKONA; alle Termine findet ihr unten) ausgiebig live vorstellen. Um die Wartezeit bis dahin noch etwas zu verkürzen, hat die Band heute ein neues Lyricvideo zu einem weiteren Song ihres neuen Werks online gestellt, das einmal mehr von Jan Yrlund erstellt wurde. Schaut euch 'Kuin korpi nukkuva' jetzt auf YouTube an: https://www.youtube.com/watch?v=q1HnD86aWS8
Jonne dazu: "Aus irgendeinem Grund habe ich während der ersten Demoaufnahme des Songs einen traditionellen Tango herausgehört. Dieser Gedanke ist bis heute nicht gewichen. Auch wenn wir den Songs live spielen, kann ich einen Tango-Einfluss darin spüren, ich ziehe den Beat wie Topi Sorsakoski hinter mir her. Da ich diese ursprüngliche Form nicht gänzlich verschwinden lassen wollte, haben wir am Ende des Songs wirklich einen Tango-Teil eingebaut. Der Tango ist also kein Witz, auch wenn es nun für manche so klingen mag. Eine gewisse Prise Ironie ist aber nicht gänzlich ausgeschlossen, das ist auch schon bei Sorsakoski der Fall gewesen.
Dieser Song ist auf eine bestimmte Art und Weise locker-leicht, birgt aber auch Stärke und sogar etwas Traurigkeit in sich. Tuomas Keskimäkis Text geht in dieselbe Richtung. Er soll vorallem vermitteln, dass es wichtig ist, den Moment zu leben, wofür auch KORPIKLAANI stehen. Die Band ist schon immer in der Lage gewesen, den Moment beim Schopf zu packen und das Leben hier und jetzt zu genießen."
Über 'Kuin korpi nukkuva' ("Wie ein schlafender Wald"):
Ein Wanderer träumt von einer einfachen Reise auf einer ebenen Straße, mit dem Mädchen seiner Träume an seiner Seite. Als er wieder zuhause ist, fühlt es sich für ihn so an, als würde er nirgendwo hingehören. Der Wanderer möchte am liebsten nie wieder aufwachen, da ein Leben voller Ängste und Sorgen auf ihn wartet. Am Ende des Traums pflückt das Mädchen eine tote Blume, woraufhin er erwacht. Es wird ihm bewusst, dass er einen jeden Tag genießen und nicht an morgen denken sollte.
—–
Ihr reist viel oder seid allgemein viel unterwegs? Werdet ein Teil von KORPIKLAANIs Abenteuer rund um die Welt! Benutzt einfach den Hashtag #KorpiklaaniWayfarers auf Twitter und Instagram und eure Fotos erscheinen hier: http://nblast.de/KorpiklaaniWayfarers
—–
»The Wayfarer«
w/ ARKONA
31.10. USA Boston, MA – Brighton Music Hall
01.11. USA New York, NY – Gramercy Theatre
02.11. CDN Québec, QC – Impérial Bell
03.11. CDN Montréal, QC – Club Soda
04.11. CDN Toronto, ON – Mod Club Theatre
05.11. USA Chicago, IL – Bottom Lounge
06.11. USA Minneapolis, MN – Varsity
07.11. CDN Winnipeg, MB – The Park Theatre
08.11. CDN Saskatoon, SK – Coors Event Centre
09.11. CDN Edmonton, AB – The Starlite Room
10.11. CDN Calgary, AB – Marquee Beer Market
12.11. CDN Vancouver, BC – Rickshaw Theatre
13.11. USA Seattle, WA – El Corazón
14.11. USA Portland, OR – Bossanova Ballroom
15.11. USA San Francisco, CA – The Fillmore
16.11. USA Sacramento, CA – Holy Diver
17.11. USA San Diego, CA – House of Blues
18.11. USA Los Angeles, CA – Regent Theater DTLA
19.11. USA Phoenix, AZ – Crescent Ballroom
21.11. USA Dallas, TX – House of Blues
23.11. USA Atlanta, GA – Masquerade
24.11. USA Richmond, VA – Capital Ale House
25.11. USA Philadelphia, PA- Theatre of Living Arts
26.11. USA Baltimore, MD – Soundstage
***NEU***
w/ PROFANE OMEN
25.01. FIN Helsinki – Nosturi (w/ TROLLFEST, WALTARI)
26.01. FIN Tampere – Klubi (w/ TROLLFEST)
31.01. FIN Jyväskylä – Lutakko
01.02. FIN Lahti – Finlandia-klubi
02.02. FIN Turku – Apollo
07.02. FIN Kuopio – Henry's Pub
08.02. FIN Oulu – Hevimesta
09.02. FIN Seinäjoki – Rytmikorjaamo
***NEU***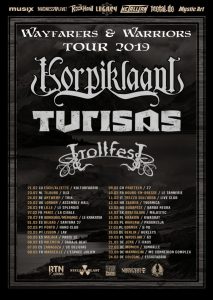 »Wayfarers & Warriors Tour 2019«
w/ TURISAS, TROLLFEST
21.02. LUX Esch an der Alzette – Kulturfabrik
22.02. D Wacken – Wacken Winter Nights
23.02. NL Tilburg – 013
24.02. B Antwerpen – Trix Muziekcentrum
25.02. UK London – Islington Assembly Hall
26.02. F Lille – Le Splendid
27.02. F Paris – La Cigale
28.02. F Mérignac – Krakatoa
01.03. E Bilbao – Santana 27
02.03. P Porto – Hard Club
03.03. P Lissabon – Lisboa ao Vivo
05.03. E Málaga – Paris 15
06.03. E Murcia – Garaje Beat Club
07.03. E Saragossaa – Centro Cívico Delicias
08.03. F Marseille – Espace Julien
09.03. CH Pratteln – Z7
10.03. F Bourg-en-Bresse – La Tannerie
11.03. I Trezzo sull'Adda (MI) – Live Club
12.03. HR Zagreb – Tvornica Kulture
13.03. H Budapest – Barba Negra Music Club
14.03. SK Bratislava – Majestic Music Club
15.03. PL Krakau – Klub Kwadrat
16.03. PL Warschau – Progresja
17.03. PL Danzig – B90
19.03. D Berlin – Huxleys Neue Welt
20.03. PL Breslau – Centrum Koncertowe A2
21.03. D Jena – F-Haus
22.03. D München – TonHalle
23.03. D Mannheim – MS Connexion Complex
24.03. D Köln – Essigfabrik
31.05. – 02.06. CZ Pilsen – Metalfest Open Air
03. – 06.07. D Ballenstedt – Rockharz Open Air
21. – 27.07. SLO Tolmin – MetalDays
01. – 04.08. RO Rasnov – Rockstadt Extreme Fest
Bestellt »Kulkija« hier: http://nblast.de/KorpiklaaniKulkija
More on »Kulkija«:
'Kotikonnut' OFFIZIELLES LYRICVIDEO: https://www.youtube.com/watch?v=tzsUWvKsgqQ
'Harmaja' OFFIZIELLES VIDEO: https://www.youtube.com/watch?v=AoTkmBB4yow
'Henkselipoika' OFFIZIELLES VIDEO: https://www.youtube.com/watch?v=ZB7PyLYQyXg
'Aallon alla' OFFIZIELLES LYRICVIDEO: https://www.youtube.com/watch?v=uul1tiTZ07Y
Track-by-Track #1: https://www.youtube.com/watch?v=94I4_No8IKE
Track-by-Track #2: https://www.youtube.com/watch?v=b8VWu8wkV0E
Track-by-Track #3: https://www.youtube.com/watch?v=MlNKKaWwATk
Trailer #1 – Musikalische Entwicklung:
https://www.youtube.com/watch?v=DzDeQBDiJpg
Trailer #2 – Aufnahmen und Produktion:
https://www.youtube.com/watch?v=FcugCiRzQl4
»Kulkija« – Tracklist:
01. Neito
02. Korpikuusen kyynel
03. Aallon alla
04. Harmaja
05. Kotikonnut
06. Korppikalliota
07. Kallon malja
08. Sillanrakentaja
09. Henkselipoika
10. Pellervoinen
11. Riemu
12. Kuin korpi nukkuva
13. Juomamaa
14. Tuttu on tie
»Kulkija« enthält insgesamt 14 Tracks und ist mit einer Gesamtspieldauer von über 71 Minuten KORPIKLAANIs bislang längstes Werk. Aufgenommen wurde es im Petrax Studio (Hollola, FIN), gemixt in den Sound Supreme Studios (Hämeenlinna, FIN), wobei die Band zum ersten Mal mit Produzent Janne Saksa zusammengearbeitet hat. Den Mastering-Feinschliff hat die Platte von Svante Forsbäck (u.a. RAMMSTEIN) verpasst bekommen. Das Artwork stammt von Jan Yrlund (u.a. BATTLE BEAST, MANOWAR), der bereits sämtliche Artworks für vorherige Alben und Singles der Band gestaltet hat.
Bandgründer Jonne kommentiert: "Wir waren mit einem Endergebnis noch nie so zufrieden, wie wir es jetzt mit »Kulkija« sind. Wir haben versucht, alles so natürlich wie möglich klingen zu lassen. Wie der Titel bereits vermuten lässt, stellt diese Platte eine Art Reise dar, die einem einfach ein gutes Gefühl verleihen soll."
Sami fügt hinzu: "»Kulkija« ist keine schlichte Ansammlung von Songs, sondern ein "richtiges" Album mit einer gewissen Atmosphäre, die den Hörer durch das Werk begleitet. Dieses Mal waren wirklich alle Songs bereits im Voraus fertig, sodass wir im Studio nichts mehr arrangieren mussten. Tuomas [Violine] und ich hatten enorm viel Platz zur Entfaltung und konnten die Folk-Parts so in aller Ruhe einspielen."