Das neue Ensemble Album Swan Songs III erscheint am 7. August | Bestelle es JETZT vor!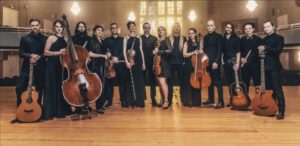 Could you still love me with a splintered mind?
Bereits der erste Ton auf LORD OF THE LOST's neuem Ensemble Album Swan Songs III überrascht und zieht die Aufmerksamkeit des Hörers auf sich. Das neue Album startet ohne jede Anlaufzeit, wobei sich das Klavier Intro in Kombination mit der tiefen, markanten Stimme von Chris Harms schnell zum heute veröffentlichten Opening Track des neuen Albums, "A Splintered Mind", entfaltet. Im Laufe des Stückes wird der volle Klang des 14-köpfigen The Lord Of The Lost Ensembles stückweise enthüllt, sowie die Varietät der Band selbst unterstrichen.
Die zweite Singleauskopplung von Swan Songs III vertont die seelische Zerrissenheit des Protagonisten, auf der Suche nach Anerkennung und Liebe. Der emotionale Zwiespalt wird sowohl im Songwriting, als auch in der kraftvollen Instrumentalisierung und in der Atmosphäre des Songs versinnbildlicht, der heute zusammen mit einem offiziellen Musikvideo veröffentlicht wurde.
Das Video wurde unter der Regie von Chris Harms in der Friedrich-Ebert-Halle in Hamburg aufgenommen und fängt nicht nur die Stimmung von Swan Songs III in ästhetischen Bildern ein, sondern stellt zudem das gesamte klassische Ensemble vor.
LORD OF THE LOST über die neue Single und das Video:
"Es war uns sehr wichtig, dass einer der Kern-Songs von Swan Songs III ein Video bekommt, welches unser gesamtes, 14-köpfiges Ensemble vorstellt, denn auf diese Größe ist unser zunächst als kleines Abenteuer geplanter Akustik-Ausflug personell bereits angewachsen. Als wir das Video gedreht haben, wurden gerade die Restriktionen zur laufenden Pandemie beschlossen, so haben wir es gerade noch so eben geschafft, dieses Video mit unserem wunderschönen Ensemble zu drehen. Ein paar Tage später wäre dies nicht mehr möglich gewesen. Umso mehr hoffen wir, dass dieser Song ein wenig Wärme ins Herz bringt, in dieser für alle komplizierten Zeit."
Die Hamburger Dark Metal-Sensation LORD OF THE LOST kehrt mit dem neuesten Epos aus ihrer facettenreichen Swan Songs Reihe mit klassischem Ensemble zurück: Das langersehnte Swan Songs III, wird am 7. August 2020 via Napalm Records veröffentlicht.
Die Standardversion von Swan Songs III besteht aus neuen Tracks, die mit dem The Lord Of The Lost-Ensemble aufgenommen wurden, sowie neuen Versionen einer handverlesenen Auswahl von LORD OF THE LOST Klassikern; darunter der herausragende, 18-minütige Epos "Letters To Home".
Für alle visuellen und audiophilen Dark-Metal-Liebhaber wird es Swan Songs III als hochwertiges Earbook geben. Neben den neuen Songs und den Neuvertonungen auf den ersten beiden CDs, enthält das Earbook Demo-Versionen von acht der neuen Tracks auf insgesamt drei CDs. Eingerahmt in 48 Seiten voll hochwertiger LORD OF THE LOST Illustrationen, erwarten den Fan über 2 Stunden Musik.
Swan Songs III ist ein Geschenk an alle Musikfans und markiert den nächsten Höhepunkt in der musikalischen Karriere von LORD OF THE LOST!
LORD OF THE LOST über Swan Songs III:
"Die Swan-Songs-Reihe ist für uns inzwischen vom musikalischen Seitensprung zur dauerhaften Affäre zum zweiten musikalischen Lebenspartner geworden. Wir fühlen uns inzwischen genauso zu Hause in dieser Variante unserer Musik, wie in der 'normalen' Version unserer selbst. Swan Songs III erzeugt dabei inzwischen einen Tiefgang, der, mit etwas Abstand seit der Fertigstellung betrachtet, selbst uns als Beteiligte überrascht. Und es ist auf keinen Fall der letzte Teil einer Trilogie – aber für uns bisher der Höhepunkt unserer Klassik-Laufbahn."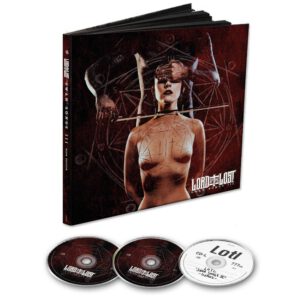 Swan Songs III wird in den folgenden Formaten verfügbar sein:
– Digitales Album
– 2 CD Digipak (Swan Songs III CD 1 & 2)
– 2 LP Gatefold Vinyl (Swan Songs III CD 1 ONLY)
– Earbook (Swan Songs III CD 1 & 2 + Swan Songs Demos) – streng limitiert auf 300 Exemplare
– Deluxe Box (Earbook + Swan Songs III CD 1 & 2, Swan Songs Demos, Swan Symphonies (2 CD instrumentale Versionen) + Opus X (2 CD Live Versionen)) – streng limitiert auf 500 Exemplare – SOLD OUT
Tracklist Swan Songs III CD1:
1. A Splintered Mind
2. A One Ton Heart
3. Dying On The Moon (feat. Joy Frost)
4. Zunya
5. Unfeel
6. Deathless
7. Agape
8. Hurt Again
9. Amber
10. We Were Young (feat. HEAVEN CAN WAIT Choir)
11. 4'33"
12. Dying On The Moon (Joyless Version)
13. We Were Young (feat. HEAVEN CAN WAIT Choir – ZDF
Version)
Tracklist Swan Songs III CD2:
1. Loreley (Swan Songs III Version)
2. Morgana (Swan Songs III Version)
3. Black Halo (Swan Songs III Version)
4. Cut Me Out (Swan Songs III Version)
5. In Silence (Swan Songs III Version)
6. Seven Days of Anavrin (Swan Songs III Version)
7. My Heart Is Black (Swan Songs III Version)
8. Letters To Home (Swan Songs III Version)
Tracklist Swan Symphonies III CD1:
1. A Splintered Mind (Swan Symphonies III Version)
2. A One Ton Heart (Swan Symphonies III Version)
3. Dying On The Moon (Swan Symphonies III Version)
4. Zunya (Swan Symphonies III Version)
5. Unfeel (Swan Symphonies III Version)
6. Deathless (Swan Symphonies III Version)
7. Agape (Swan Symphonies III Version)
8. Hurt Again (Swan Symphonies III Version)
9. Amber (Swan Symphonies III Version)
10. We Were Young (Swan Symphonies III Version)
Tracklist Swan Symphonies III CD2:
1. Loreley (Swan Symphonies III Version)
2. Morgana (Swan Symphonies III Version)
3. Black Halo (Swan Symphonies III Version)
4. Cut Me Out (Swan Symphonies III Version)
5. In Silence (Swan Symphonies III Version)
6. Seven Days of Anavrin (Swan Symphonies III Version)
7. My Heart Is Black (Swan Symphonies III Version)
8. Letters To Home (Swan Symphonies III Version)
Tracklist Swan Songs Demos:
1. A Splintered Mind (Demo)
2. A One Ton Heart (Demo)
3. Dying On The Moon (Demo)
4. Zunya (Demo)
5. Unfeel (Demo)
6. Hurt Again (Demo)
7. Amber (Demo)
8. We Were Young (Demo)
Tracklist Opus X CD1:
1. Lament For The Condemned (Live In Hamburg 2019)
2. Morgana (Live In Hamburg 2019)
3. Prison (Live In Hamburg 2019)
4. Sex On Legs (Live In Hamburg 2019)
5. I.D.G.A.F. (Live In Hamburg 2019)
6. Die Tomorrow (Live In Hamburg 2019)
7. Black Lolita (Live In Hamburg 2019)
8. Dry The Rain (Live In Hamburg 2019)
9. One Day Everything Will Be Okay (Live In Hamburg 2019)
10. Credo (Live In Hamburg 2019)
Tracklist Opus X CD2:
1. Raining Stars (Live In Hamburg 2019)
2. Full Metal Whore (Live In Hamburg 2019)
3. Loreley (Live In Hamburg 2019)
4. Voodoo Doll (Live In Hamburg 2019)
5. Forevermore (Live In Hamburg 2019)
6. Blood For Blood (Live In Hamburg 2019)
7. Six Feet Underground (Live In Hamburg 2019)
8. La Bomba (Live In Hamburg 2019)
9. Trisma (Live In Hamburg 2019)
10. Drag Me To Hell (Live In Hamburg 2019)
Line-up:
The LORD OF THE LOST Ensemble 2020:
Chris Harms: Vocals, Violoncello, Semi Acoustic Guitar
π: Acoustic Guitar
Bengt Jaeschke: Acoustic Guitar
Class Grenayde: Acoustic Bass
Gared Dirge: Grand Piano
Corvin Bahn: Organ, Harpsichord, Celeste
Maline Zickow: 1st Violin
Felicitas Fischbein: 2nd Violin
Ida Luzie Phlipp: Viola
Miriam Göbel: Violoncello
Julia C. Pfänder: Contrabass
Niklas Kahl: Percussions
Daniel Möhrke: Percussions
Henrik Petschull: Percussions