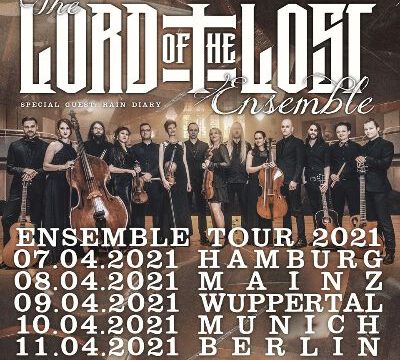 Neues Ensemble Album
Swan Songs III
erscheint am 7. August
Album Release-Streaming Konzert am 08. August Ensemble Tour durch Deutschland im April 2021
We're on the run
We're leaving soon
One day we're dying on the moon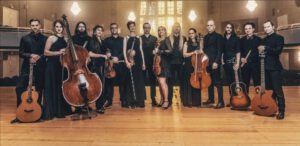 Mit "Dying On The Moon" veröffentlichen LORD OF THE LOST eine gefühlvolle Ballade, perfekt inszeniert von Chris Harms und Gastsängerin Joy Frost, deren Stimmen sich in diesem bittersüßen Duett perfekt ergänzen. Untermalt vom klassischen The Lord Of The Lost Ensemble, liefern die deutschen Dark-Metal-Maestros einen berührenden Track zwischen Sehnsucht und Verzweiflung – eine Ode an das Vertrauen in die eigenen Entscheidungen und den Glauben an sich selbst.
Das dazugehörige Musikvideo ist komplett in schwarz-weiß gehalten, und mäandert zwischen technischen Errungenschaften der 60er Jahre und der Mondlandung.
Nach einigen Zusammenarbeiten im Songwriting Prozess zwischen LORD OF THE LOST und der US-amerikanischen Singer/Songwriterin Joy Frost in der Vergangenheit, wie z.B. bei "Voodoo Doll" oder "Ribcages", ist Joys Stimme das erste Mal überhaupt auf einem Song der Band zu hören. "Dying On The Moon" ist die dritte Singleauskopplung des neuen klassischen Ensemble-Albums Swan Songs III, das am 7. August veröffentlicht wird.
Chris Harms über die Zusammenarbeit mit Joy Frost:
"Nach so vielen Jahren, in denen wir uns kennen und gemeinsam Songs geschrieben haben, war es an der Zeit, Joy ins Rampenlicht des LOTL-Kosmos zu rücken. Ich liebe ihre Stimme so sehr, ich könnte ihr den ganzen Tag zuhören. Was immer sie singt, es klingt gut. Egal, was."
Joy Frost ergänzt:
"Chris und ich kennen uns seit 2015. Im Sommer, als wir uns zum ersten Mal trafen, saß ich als eine seiner Tontechnik-Studentinnen in der ersten Reihe seines Klassenzimmers. Ich erinnere mich, dass ich während des Unterrichts davon träumte, Songwriter für seine Band zu werden – damals war das natürlich nur eine Fantasie. Fünf Jahre später haben wir mehrere Songs zusammen geschrieben und jetzt hat er mich gebeten, mit ihm ein Duett aufzunehmen. Ich bin aufrichtig dankbar dafür, dass ich sein musikalisches Vertrauen gewonnen habe und daraus eine echte Freundschaft entstanden ist."
Die Hamburger Dark Metal-Sensation LORD OF THE LOST kehrt mit dem neuesten Epos aus ihrer facettenreichen Swan Songs Reihe mit klassischem Ensemble zurück: Das langersehnte Swan Songs III, wird am 7. August 2020 via Napalm Records veröffentlicht.
Die Standardversion von Swan Songs III besteht aus neuen Tracks, die mit dem The Lord Of The Lost-Ensemble aufgenommen wurden, sowie neuen Versionen einer handverlesenen Auswahl von LORD OF THE LOST Klassikern; darunter der herausragende, 18-minütige Epos "Letters To Home".  
Für alle visuellen und audiophilen Dark-Metal-Liebhaber wird es Swan Songs III als hochwertiges Earbook geben. Neben den neuen Songs und den Neuvertonungen auf den ersten beiden CDs, enthält das Earbook Demo-Versionen von acht der neuen Tracks auf insgesamt drei CDs. Eingerahmt in 48 Seiten voll hochwertiger LORD OF THE LOST Illustrationen, erwarten den Fan über 2 Stunden Musik.
Swan Songs III ist ein Geschenk an alle Musikfans und markiert den nächsten Höhepunkt in der musikalischen Karriere von LORD OF THE LOST!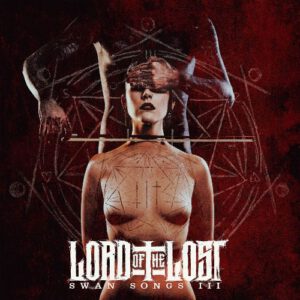 LORD OF THE LOST über Swan Songs III:
"Die Swan-Songs-Reihe ist für uns inzwischen vom musikalischen Seitensprung zur dauerhaften Affäre zum zweiten musikalischen Lebenspartner geworden. Wir fühlen uns inzwischen genauso zu Hause in dieser Variante unserer Musik, wie in der 'normalen' Version unserer selbst. Swan Songs III erzeugt dabei inzwischen einen Tiefgang, der, mit etwas Abstand seit der Fertigstellung betrachtet, selbst uns als Beteiligte überrascht. Und es ist auf keinen Fall der letzte Teil einer Trilogie – aber für uns bisher der Höhepunkt unserer Klassik-Laufbahn."
Sichere dir dein Exemplar von Swan Songs III HIER! Das erste Format ist bereits komplett ausverkauft
Swan Songs III wird in den folgenden Formaten verfügbar sein:
Digitales Album
2 CD Digipak (Swan Songs III CD 1 & 2)
2 LP Gatefold Vinyl (Swan Songs III CD 1 ONLY)
Earbook (Swan Songs III CD 1 & 2 + Swan Songs Demos) – limitiert auf 300 Exemplare
Deluxe Box (Earbook + Swan Songs III CD 1 & 2, Swan Songs Demos, Swan Symphonies (2 CD instrumentale Versionen) + Opus X (2 CD Live Versionen)) – limitiert auf 500 Exemplare – SOLD OUT
Tracklist Swan Songs III CD1:


1. A Splintered Mind




2. A One Ton Heart




3. Dying On The Moon (feat. Joy Frost)




4. Zunya




5. Unfeel




6. Deathless




7. Agape




8. Hurt Again




9. Amber




10. We Were Young (feat. HEAVEN CAN WAIT Choir)




11. 4'33"




12. Dying On The Moon (Joyless Version)




13. We Were Young (feat. HEAVEN CAN WAIT Choir – ZDF Version) 

Tracklist Swan Songs III CD2:


1. Loreley (Swan Songs III Version)




2. Morgana (Swan Songs III Version)




3. Black Halo (Swan Songs III Version)




4. Cut Me Out (Swan Songs III Version)




5. In Silence (Swan Songs III Version)




6. Seven Days of Anavrin (Swan Songs III Version)




7. My Heart Is Black (Swan Songs III Version)




8. Letters To Home (Swan Songs III Version)

Tracklist Swan Symphonies III CD1:
1. A Splintered Mind (Swan Symphonies III Version)
2. A One Ton Heart (Swan Symphonies III Version)
3. Dying On The Moon (Swan Symphonies III Version)
4. Zunya (Swan Symphonies III Version)
5. Unfeel (Swan Symphonies III Version)
6. Deathless (Swan Symphonies III Version)
7. Agape (Swan Symphonies III Version)
8. Hurt Again (Swan Symphonies III Version)
9. Amber (Swan Symphonies III Version)
10. We Were Young (Swan Symphonies III Version)

Tracklist Swan Symphonies III CD2:
1. Loreley (Swan Symphonies III Version)
2. Morgana (Swan Symphonies III Version)
3. Black Halo (Swan Symphonies III Version)
4. Cut Me Out (Swan Symphonies III Version)
5. In Silence (Swan Symphonies III Version)
6. Seven Days of Anavrin (Swan Symphonies III Version)
7. My Heart Is Black (Swan Symphonies III Version)
8. Letters To Home (Swan Symphonies III Version)

Tracklist Swan Songs Demos:
1. A Splintered Mind (Demo)
2. A One Ton Heart (Demo)
3. Dying On The Moon (Demo)
4. Zunya (Demo)
5. Unfeel (Demo)
6. Hurt Again (Demo)
7. Amber (Demo)
8. We Were Young (Demo)

Tracklist Opus X CD1:
1. Lament For The Condemned (Live In Hamburg 2019)
2. Morgana (Live In Hamburg 2019)
3. Prison (Live In Hamburg 2019)
4. Sex On Legs (Live In Hamburg 2019)
5. I.D.G.A.F. (Live In Hamburg 2019)
6. Die Tomorrow (Live In Hamburg 2019)
7. Black Lolita (Live In Hamburg 2019)
8. Dry The Rain (Live In Hamburg 2019)
9. One Day Everything Will Be Okay (Live In Hamburg 2019)
10. Credo (Live In Hamburg 2019)

Tracklist Opus X CD2:
1. Raining Stars (Live In Hamburg 2019)
2. Full Metal Whore (Live In Hamburg 2019)
3. Loreley (Live In Hamburg 2019)
4. Voodoo Doll (Live In Hamburg 2019)
5. Forevermore (Live In Hamburg 2019)
6. Blood For Blood (Live In Hamburg 2019)
7. Six Feet Underground (Live In Hamburg 2019)
8. La Bomba (Live In Hamburg 2019)
9. Trisma (Live In Hamburg 2019)
10. Drag Me To Hell (Live In Hamburg 2019)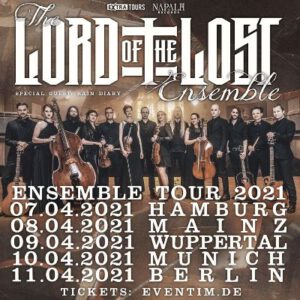 LORD OF THE LOST wird am 8. August ein exklusives Releasekonzert via Livestream spielen, bei dem Songs des frisch erschienenen Albums sowie Klassiker der Swan Songs Reihe aufgeführt werden. Tickets gibt es HIER
2021 werden LORD OF THE LOST endlich wieder live auf Deutschland Tour gehen. Die Ensemble Tour macht folgende Stationen:
w/ Rain Diary
07.04.21 DE – Hamburg / Friedrich-Ebert-Halle
08.04.21 DE – Mainz / Kurfürstliches Schloss
09.04.21 DE – Wuppertal / Historische Stadthalle
10.04.21 DE – München / Alte Kongresshalle
11.04.21 DE – Berlin / Huxleys
Tickets gibt es HIER
Line-up:
The LORD OF THE LOST Ensemble 2020:
Chris Harms: Vocals, Violoncello, Semi Acoustic Guitar
π: Acoustic Guitar
Bengt Jaeschke: Acoustic Guitar
Class Grenayde: Acoustic Bass
Gared Dirge: Grand Piano
Corvin Bahn: Organ, Harpsichord, Celeste
Maline Zickow: 1st Violin
Felicitas Fischbein: 2nd Violin
Ida Luzie Phlipp: Viola
Miriam Göbel: Violoncello
Julia C. Pfänder: Contrabass
Niklas Kahl: Percussions
Daniel Möhrke: Percussions
Henrik Petschull: Percussions