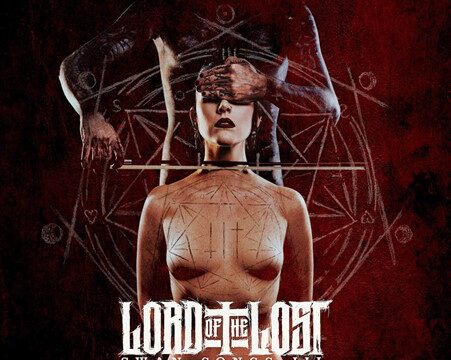 Bestelle das Ensemble Album Swan Songs III JETZT!
Die Dark Metal Sensation LORD OF THE LOST meldet sich nach dem durchschlagenden Erfolg ihres letzten Ensemble Albums Swan Songs III mit einem neuen offiziellen Musikvideo zu "We Were Young", mit dem Heaven Can Wait Chor, zurück.
Die gefühlvolle Version offenbart eine neue Facette des LORD OF THE LOST Universums und zeigt besonders emotionale Reminiszenzen auf: Unterlegt mit Bildern aus Chris Harms' Kindheit und mit einer klassischen Super8-Kamera aufgenommen, wie auch der Stil des Musikvideo bewusst widerspiegelt, gibt das neue visuelle Kunstwerk den wohl bisher intimsten und emotionalen Einblick in das Leben des charismatischen Sängers. LORD OF THE LOST stellen einmal mehr heraus, dass die größte Inspiration und der beste Regisseur von zeitgenössischer Kunst, das Leben selbst ist.
"Mit dem Video zu 'We Were Young' möchte ich meinen Eltern danken. Das Video ist ist ein Spiegel meiner, dank ihnen, glücklichen Kindheit, die mir den Weg geebnet hat, der zu werden, der ich heute bin. Das Video zeigt echte Super8-Film-Aufnahmen seit meiner Geburt im Jahre 1980 bis ins Jahr 1994, als das Magnetband so langsam das Zelluloid verdrängte. Im Abspann des Videos ist die Zeit vor meiner Geburt zu sehen, die meine Eltern seit 1967 für sich filmisch festgehalten haben. Der Regisseur dieses Videos war das Leben selbst und es zeigt hier eine Origin-Story, die persönlicher nicht hätte ausfallen können." – Chris Harms
LORD OF THE LOST & HEAVEN CAN WAIT Chor – We Were Young (Official Video) | Napalm Records – YouTube
Die einmalige Version von "We Were Young", frisch vom letzten Ensemble Album Swan Songs III, wurde zusammen mit dem Seniorenchor Heaven Can Wait aufgenommen. Die vollständige Geschichte, alle Hintergrundinfos und beeindruckende Aufnahmen gibt es in der zugehörigen ZDF Dokumentation HIER zu sehen. Die Live-Version von "We Were Young" mit dem Heaven Can Wait Chor, gibt es außerdem HIER!
Die Standardversion des neuesten Epos aus der Swan Songs Reihe, Swan Songs III, besteht aus neuen Tracks, die mit dem The Lord Of The Lost-Ensemble aufgenommen wurden, sowie neuen Versionen einer handverlesenen Auswahl von LORD OF THE LOST Klassikern; darunter der herausragende, 18-minütige Epos "Letters To Home".
Für alle visuellen und audiophilen Dark-Metal-Liebhaber wird es Swan Songs III als hochwertiges Earbook geben. Neben den neuen Songs und den Neuvertonungen auf den ersten beiden CDs, enthält das Earbook Demo-Versionen von acht der neuen Tracks auf insgesamt drei CDs. Eingerahmt in 48 Seiten voll hochwertiger LORD OF THE LOST Illustrationen, erwarten den Fan über zwei Stunden Musik. Swan Songs III ist ein Geschenk an alle Musikfans und markiert einen weiteren Höhepunkt in der musikalischen Karriere von LORD OF THE LOST!
Swan Songs III ist in den folgenden Formaten verfügbar:
– Digitales Album
– 2 CD Digipak (Swan Songs III CD 1 & 2)
– Vinyl (Swan Songs III CD 1 ONLY)
– Earbook (Swan Songs III CD 1 & 2 + Swan Songs Demos) – streng limitiert auf 300 Exemplare – SOLD OUT
– Box (Earbook + Swan Songs III CD 1 & 2, Swan Songs Demos, Swan Symphonies (2 CD Instrumental Versions) + Opus X (2 CD Live concert)) – streng limitiert auf 500 Exemplare – SOLD OUT
Tracklist Swan Songs III CD1:
1. A Splintered Mind
2. A One Ton Heart
3. Dying On The Moon (feat. Joy Frost)
4. Zunya
5. Unfeel
6. Deathless
7. Agape
8. Hurt Again
9. Amber
10. We Were Young (feat. HEAVEN CAN WAIT Choir)
11. 4'33"
12. Dying On The Moon (Joyless Version)
13. We Were Young (feat. HEAVEN CAN WAIT Choir – ZDF Version)
Tracklist Swan Songs III CD2:
1. Loreley (Swan Songs III Version)
2. Morgana (Swan Songs III Version)
3. Black Halo (Swan Songs III Version)
4. Cut Me Out (Swan Songs III Version)
5. In Silence (Swan Songs III Version)
6. Seven Days of Anavrin (Swan Songs III Version)
7. My Heart Is Black (Swan Songs III Version)
8. Letters To Home (Swan Songs III Version)
Tracklist Swan Symphonies III CD1:
1. A Splintered Mind (Swan Symphonies III Version)
2. A One Ton Heart (Swan Symphonies III Version)
3. Dying On The Moon (Swan Symphonies III Version)
4. Zunya (Swan Symphonies III Version)
5. Unfeel (Swan Symphonies III Version)
6. Deathless (Swan Symphonies III Version)
7. Agape (Swan Symphonies III Version)
8. Hurt Again (Swan Symphonies III Version)
9. Amber (Swan Symphonies III Version)
10. We Were Young (Swan Symphonies III Version)
Tracklist Swan Symphonies III CD2:
1. Loreley (Swan Symphonies III Version)
2. Morgana (Swan Symphonies III Version)
3. Black Halo (Swan Symphonies III Version)
4. Cut Me Out (Swan Symphonies III Version)
5. In Silence (Swan Symphonies III Version)
6. Seven Days of Anavrin (Swan Symphonies III Version)
7. My Heart Is Black (Swan Symphonies III Version)
8. Letters To Home (Swan Symphonies III Version)
Tracklist Swan Songs Demos:
1. A Splintered Mind (Demo)
2. A One Ton Heart (Demo)
3. Dying On The Moon (Demo)
4. Zunya (Demo)
5. Unfeel (Demo)
6. Hurt Again (Demo)
7. Amber (Demo)
8. We Were Young (Demo)
Tracklist Opus X CD1:
1. Lament For The Condemned (Live In Hamburg 2019)
2. Morgana (Live In Hamburg 2019)
3. Prison (Live In Hamburg 2019)
4. Sex On Legs (Live In Hamburg 2019)
5. I.D.G.A.F. (Live In Hamburg 2019)
6. Die Tomorrow (Live In Hamburg 2019)
7. Black Lolita (Live In Hamburg 2019)
8. Dry The Rain (Live In Hamburg 2019)
9. One Day Everything Will Be Okay (Live In Hamburg 2019)
10. Credo (Live In Hamburg 2019)
Tracklist Opus X CD2:
1. Raining Stars (Live In Hamburg 2019)
2. Full Metal Whore (Live In Hamburg 2019)
3. Loreley (Live In Hamburg 2019)
4. Voodoo Doll (Live In Hamburg 2019)
5. Forevermore (Live In Hamburg 2019)
6. Blood For Blood (Live In Hamburg 2019)
7. Six Feet Underground (Live In Hamburg 2019)
8. La Bomba (Live In Hamburg 2019)
9. Trisma (Live In Hamburg 2019)
10. Drag Me To Hell (Live In Hamburg 2019)
Erlebe LORD OF THE LOST live bei der Ensemble Tour 2021:
mit Rain Diary
07.04.21 DE – Hamburg / Friedrich-Ebert-Halle
08.04.21 DE – Mainz / Kurfürstliches Schloss
09.04.21 DE – Wuppertal / Historische Stadthalle
10.04.21 DE – Munich / Alte Kongresshalle
11.04.21 DE – Berlin / Huxleys
Line-up:
The LORD OF THE LOST Ensemble 2020:
Chris Harms: Vocals, Violoncello, Semi Acoustic Guitar
π: Acoustic Guitar
Bengt Jaeschke: Acoustic Guitar
Class Grenayde: Acoustic Bass
Gared Dirge: Grand Piano
Corvin Bahn: Organ, Harpsichord, Celeste
Maline Zickow: 1st Violin
Felicitas Fischbein: 2nd Violin
Ida Luzie Phlipp: Viola
Miriam Göbel: Violoncello
Julia C. Pfänder: Contrabass
Niklas Kahl: Percussions
Daniel Möhrke: Percussions
Henrik Petschull: Percussions