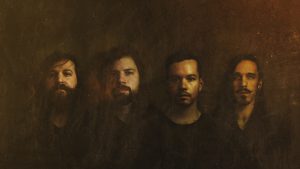 Man nehme, 4 Jungs aus North Carolina, Heavy Metal Musik, Scandinavische Einflüsse und eine Portion gemischte Musik, fertig ist das neue Album von Aether Realm, welches am 01.05.2020 via Napalm Records, mit dem Titel "Redneck Vikings from Hell" erscheint. Rückblickend wurde Æther Realm, oft stilisiert. Æther Realm, vor einem Jahrzehnt mit dem Lead-Sänger / Bassisten Vincent "Jake" Jones, Heinrich Arnold an den Gitarren / Vocals, Tyler Gresham am Schlagzeug und Donny Burbage an der Gitarre gegründet. Dann, innerhalb eines Jahres nach ihrer Gründung, kam die Odin Will Provide EP, gefolgt von ihrem Debüt in voller Länge, One Chosen by the Gods, im Jahr 2013 und Tarot im Jahr 2017.
Nun also kommt mit "Redneck Vikings from Hell" ihr erstes Album via Napalm Records auf dem Markt und beinhaltet 11 Songs. Alles beginnt mit dem gleichnamigen Titeltrack "Rednecks Viking from Hell", in dem mitschwingenden Riff, volkstümliche Ausdrücke und mit Banjo beladene Volksrythmen drin vorkommen. Beim ersten Mal hören hat es Anzeichen von Country Musik, aber wenn man es sich zwei, drei Mal angehört hat kommt man rein und stellt fest das dies gar nicht so schlecht klingt. Weiter geht es mit "Goodbye" und einer etwas leicht kontroversen Melodie bzw. härteren Rhythmus. Harte Drumms in perfektem Einklang runden den Song ab. In "Hunger" geht es dann wieder etwas schneller zur Sache, bevor mit "Guardian" eine Ballade an den Start geht, die durch ihre Klavierwerke in Verbindung mit dem Gesang von Vincent "Jake" Jones, bis ins Mark geht. Mit den Songs "One Hollow Word" und "She´s Back" werden wir wieder erweckt aus dem Raum von Schutz und Liebe und bekommen wieder harte Riffs, mitreißende Drums und verschiedene Gesangspassagen aufs Hirn gedrückt. "Slave to the Riff" ist vollgepackt mit quietschenden Tönen inmitten erstaunlicher Riff-Arbeit sowie stark hüpfenden Rhythmen. Im letzten Stück "Craft and the Creator" fällt auf das es über 11 Minuten geht und nur Instrumental besteht. Hier werden aber nochmals alle Facetten der Gitarren Helden aufgeboten, die sie beherrschen.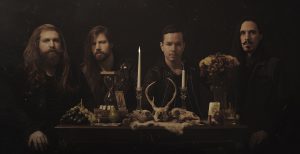 Was kann man Abschließend über dieses Album von Aethern Realm sagen? Mit "Redneck Vikings from Hell" ist den Jungs aus North Carolina ein Album gelungen welches zum teil schon bizarr ist aber doch auch sehr kraftvoll. Harte Riffs, lodernde Drums, und die Gesangsdarbietungen von Jones und Arnolds lassen das gesamte zu einem harmonischen Spiel erklingen. Ein Album was man mit 7,5 von 10 Sternen auszeichnen kann.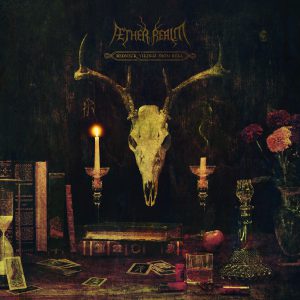 Titeltrack:
Redneck Vikings from Hell
Goodbye
Lean into the Wind
Hunger
Guardian
One Hollow Word
She´s Back
Slave to the Riff
Cycle
TMHC
Craft and the Creator