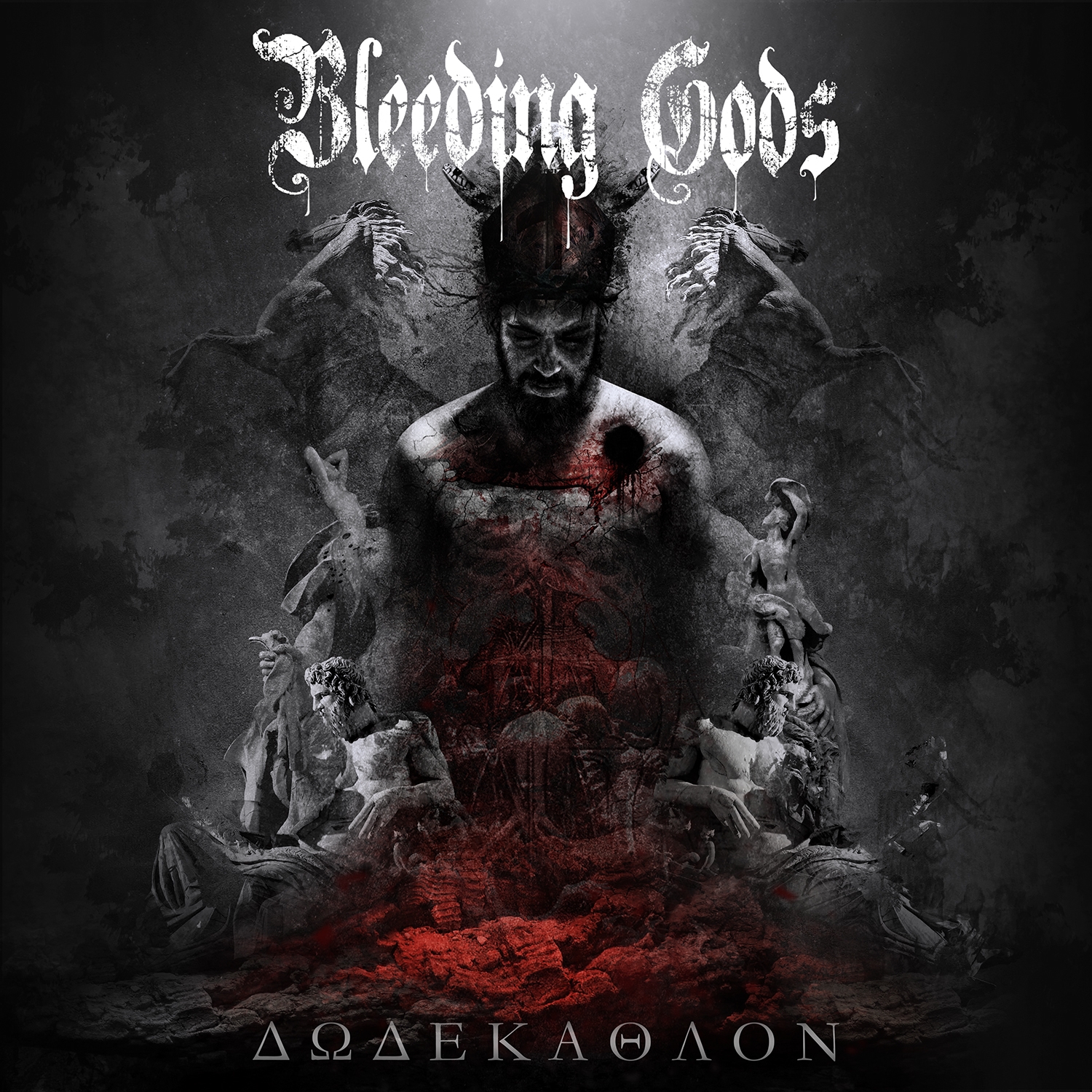 Der Albumtitel »Dodekathlon« bezieht sich auf den griechischen Mythos der zwölf Aufgaben von Hercules.
Nachdem Hera (Königin der Götter) Hercules in den Wahnsinn getrieben hatte, tötete er seinen Sohn, seine Tochter und auch seine Ehefrau Megara. Nach seiner Genesung bedauerte er seine Taten jedoch zutiefst. Er wurde von König Thespius gereinigt und reiste dann nach Delphi, um herauszufinden, wie er für seine Taten büßen konnte. Pythia, das Orakel von Delphi, riet ihm, nach Tiryns zu gehen und seinem Cousin König Eurystheus zwölf Jahre lang zu dienen, indem er alle Aufgaben ausführte, die Eurystheus ihm geben würde. Im Gegenzug würde er mit Unsterblichkeit belohnt werden.
Während dieser zwölf Jahre verlangte Eurystheus von Hercules, zwölf schwierige Aufgaben zu meistern. Jener dieser zwölf Aufgaben wurde ein Song gewidmet und so erzählt das Album mit insgesamt zwölf Tracks Hercules' gesamte Geschichte.
Tracks/Aufgaben:
Bloodguilt (Nemean Lion)
Multiple Decapitation (Lernaean Hydra)
Beloved Artemis (Ceryneian Hind)
From Feast To Beast (Erymanthian Boar)
Inhuman Humiliation (Augean Stables)
Birds Of Hate (Stymphalian Birds)
Savior Of Crete (Cretan Bull)
Tyrannical Blood (Mares Of Diomedes)
Seeds Of Distrust (Belt Of Hippolyta)
Tripled Anger (Cattle Of Geryon)
Hera's Orchard (Apples Of The Hesperides)
Hound Of Hell (Cerberus)
BLEEDING GODS gründete sich aus der Grundlage mehrerer holländischer Metal-Acts wie HOUWITSER, SUPREME PAIN, SINISTER und ALTAR.
Gegründet wurde BLEEDING GODS vom Gitarristen Ramon Ploeg, der im Jahre 2012 direkt nach seinem Austritt bei der holländischen Death Metal-Band HOUWITSER damit begann, ein Album zu schreiben, um seinen Traum einer eigenen Band zu erfüllen! Das Album enthielt ein paar Demo-Songs, die groovig, heavy, thrashig und zugleich klassisch waren. Um seinen Visionen zu folgen war es nach Beendigung der Vorproduktions-Demo an der Zeit, nach Mitgliedern für seine neue Band zu suchen, weshalb er zu einigen Metal-Kollegen Kontakt aufnahm, die er in den vergangenen Jahren auf Festivals, Clubshows und Tourneen getroffen hatte. All seine Kollegen, die sich ihm anschlossen, waren ursprünglich Mitglieder in (Technical) Death Metal-Bands. Gerade deshalb war es für alle Beteiligten eine spannende Herausforderung, mit BLEEDING GODS etwas ganz Neues und Eigenes zu schaffen!
Nach einigen Proben nahmen BLEEDING GODS im Jahre 2013 ihre 4-Track-Promo mit dem Titel »Blood Symphony« auf. Lyrisch handelte die Scheibe von alten Göttern und Geschichten wie die der Maya, des alten Ägyptens oder von griechischen Göttern. Durch ihre Vorproduktions-Demo hatten BLEEDING GODS bereits weltweit unterstützende Deals mit ENGL-Amps und Serpent King Guitars (SKG) erhalten, weshalb die Demo schon wenig später ausverkauft war.
2014 unterzeichneten BLEEDING GODS einen Vertrag mit Punishment 18 Records, um ihr Debütalbum »Shepherd Of Souls« zu veröffentlichen. Dieses konnte der Band schon bald weltweit positive Kritiken einheimsen – und das tut es noch heute!
2016/2017: Neue Besetzung, neue Songs, neues Konzept, neues Album!
Ein Jahr später dann die Wende: Neue Besetzung, neue Songs, neues Konzept, neues Album! BLEEDING GODS erneuerten ihr Line-Up und sind nun stärker als je zuvor! Nach ihrem Debüt »Shepherd Of Souls« wusste die Band genau, wer sie sein will, und gemeinsam überlegten sich Ramon Ploeg (Gitarre), Mark Huisman (Gesang), Rutger Van Noordenburg (Gitarre), Gea Mulder (Bass & Backing Vocals) und Daan Klemann (Schlagzeug) ein komplett neues Konzept.