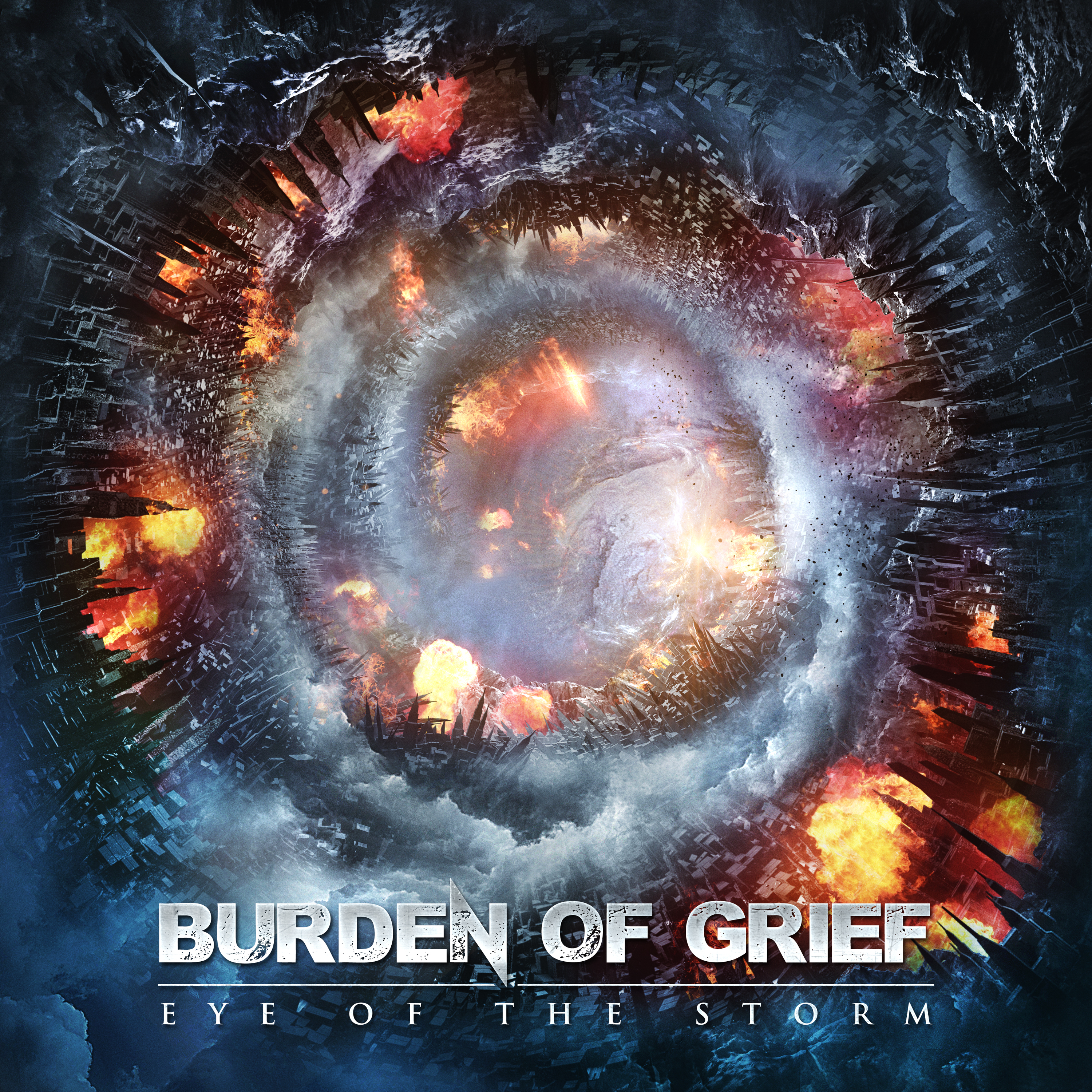 Eye Of The Storm
erhältlich ab 4. Mai 2018
1. Inception (Intro)
2. Eye Of The Storm
3. The Angel
4. Broken
5. Wolf Moon
6. Killing Spree
7. Breathe One's Last
8. A Dying Breed
9. Maze Of Absurdity
10. Zero Gravity
11. The Funeral Cortege
DISCOGRAFIE
2000 Haunting Requiems
2001 On Darker Trails
2004 Fields Of Salvation
2007 Death End Road
2009 Haunting Requiems (Re-Release)
2010 Follow The Flames
2014 Unchained
2018 Eye Of The Storm
LINE-UP
Mike Huhmann – Vocals
Philipp Hanfland – Gitarren
Johannes Rudolph – Gitarren
Florian Bauer – Bass
Sebastian Robrecht – Drums
ALBUM
• Das neue, 7. Album der Melodic Thrash/Death Metal Band BURDEN OF GRIEF!
• Produziert von BURDEN OF GRIEF, gemischt und gemastert von Kristian Kohlmannslehner im
Kohlekeller Studio (Crematory, Powerwolf, Cripper, Aborted etc.)
• Coverartwork von Jan Yrlund/Darkgrove Design (Manowar, Impaled Nazarene, Korpiklaani etc.)
• Auch erhältlich als limitierte Vinyl LP (limitiert auf 300 Stück).
LIVE FAKTEN
• Zahlreiche Shows im In- und Ausland (u.a. Türkei, Estland, Slowakei, Slowenien, Tschechien, Frankreich,
Schweiz, Niederlande), sowohl als Headliner als auch als Support u.a. von Arch Enemy, Morgoth,
Tankard, Rage, Grave Digger, Asphyx, Atrocity etc.
• Zahlreiche Festivalauftritte, u.a. beim Summer Breeze, Rock Harz, Metalcamp (SI), Metalfest,
Kaltenbach Open Air (AT), Hard Rock Laager (EE), Wave-Gotik-Treffen, Party.San Open Air,
Dong Open Air, Stonehenge Open Air (NL).
ALBUM INFO
Die Zeichen bei BURDEN OF GRIEF stehen auf Sturm, und das neue Album "Eye Of The Storm" ist brachial wie ein Hurrikan! Erneut hat sich die Band viel Zeit gelassen und 4 Jahre lang an diesem Album gearbeitet. Aber diese Zeit hat sich mehr als gelohnt, denn so ausgereift, abwechslungsreif und schlichtweg fett klangen BURDEN OF GRIEF nie zuvor!
Musikalisch hat es die Band geschafft, sich voll und ganz auf ihre Stärken zu konzentrieren, diese zu bündeln und in 10 Riffmonster zu packen, die vor Energie, Melodien, Grooves und Abwechslung fast zu bersten drohen! Dieses Album in eine Schublade zu packen, sei denen überlassen, die neben ihren Socken auch ihre Musik feinsäuberlich in Schubladen geordnet haben möchten.
In erster Linie kreist hier natürlich der Thrash-Hammer. Allerdings gibt es auf diesem Album so viele Elemente, die den klassischen Rahmen dieser Musikrichtung sprengen: Neben mörderischen Grooves, zerbrechlichen Akustikparts und klassischen Twin-Guitar Soli, wurde auch wieder der Einsatz einer Hammond-Orgel nicht gescheut.
Klangtechnisch veredelt wurde die Produktion von Kristian Kohlmannslehner in seinen Kohlekeller Studios. Und das Ergebnis ist ohne Zweifel die fetteste Produktion, mit der BURDEN OF GRIEF jemals aufwarten konnten!
BAND BIOGRAFIE
Gegründet im Jahr 1994, waren BURDEN OF GRIEF neben Night In Gales die Pioniere des Melodic Death Metals "made in Germany". Unter diesem Banner hat die Band 2 EPs in Eigenregie veröffentlicht, die neben vielen Fans auch Plattenfirmen hellhörig werden ließen. Andy Siry, A&R Manager von Nuclear Blast, erkannte das Potential der Band recht früh, und bot der Band einen Plattenvertag an, dessen erstes Ergebnis die Wiederveröffentlichung beider EPs unter dem Namen "Haunting Requiems" im Jahr 2000 auf seinem eigenen Label Grind Syndicate Media war. Bereits im selben Jahr folgten die ersten großen Festival- Auftritte u.a. beim Party.San Open Air und beim Wave-Gotik-Treffen. Die Band selbst hat sich aber in der Schublade "Melodic Death Metal" nie richtig wohlgefühlt, und bereits das 2. Album "On Darker Trails" bot viel mehr Thrash Metal Elemente, als es in der klassischen Göteborg-Schule üblich war/ist. Der Melodie-Faktor kommt dabei vielmehr durch die Vorliebe für klassische Metal-Bands wie
Iron Maiden und Judas Priest. Diesen Anspruch verfolgen BURDEN OF GRIEF bis heute über mittlerweile 7 Alben und hunderten Konzerten europaweit. Beständigkeit auf der einen Seite, weil die Band nie kurzlebigen Trends folgte, aber auch Fortschritt auf der anderen Seite, weil sie sich bis heute musikalisch immer noch extrem weiterentwickelt – das macht BURDEN OF GRIEF aus.
KONZERTTERMINE
05.05.2018 DE Kassel – Fiasko
Weitere Termine sind bereits in Planung.