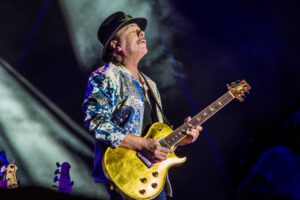 Carlos Santana, mehrfacher Grammy-Gewinner, Aufnahme in die Rock and Roll Hall of Fame und Allround-Gitarren-Allstar, beweist auf seinem wilden neuen Album Blessings and Miracles, dass er so aufgeregt und spirituell verbunden ist wie nie zuvor. Der Rekord soll am 15. Oktober 2021 auf dem BMG-Impressum erscheinen und zeigt, wie Carlos mit einer Nebenbesetzung von Weltklasse-Spielern, von denen einige zufällig Teil seiner Familie sind, unglaubliche Musik macht. Santana arbeitet hier mit schwergewichtigen Musikern und Produzenten zusammen, darunter Rob Thomas, Diane Warren, G-Eazy, Chris Stapleton, Steve Winwood, Chick Corea, Rick Rubin, Corey Glover, Kirk Hammett, Ally Brooke und Narada Michael Walden. Seine Frau Cindy Blackman Santana legt einiges von ihrem herausragenden Schlagzeug hin und verwöhnt die Zuhörer auch mit epischen Darbietungen seines Sohnes Salvador Santana (Keyboard und Gesang) und seiner Tochter Stella Santana (Gesang). Das Set ist eine der inspiriertesten Veröffentlichungen von Santanas langer Karriere und ist eine lange, Genre-durchschlagende Party.
Carlos Santana ist einer der wichtigsten und produktivsten Gitarristen in der Geschichte der Rockmusik. Santana mit Sitz in San Francisco leistete in den 1960er Jahren Pionierarbeit für einen innovativen Afro-Latin-Blues-Rock-Fusion-Sound, der noch nie zuvor gehört worden war, und hat seitdem sein Leben damit verbracht, ihn um die Welt zu bringen. Er hat zehn Grammy Awards, drei Latin Grammys, den Kennedy Center Honors Award, die Lifetime Achievement Honor der Billboard Latin Music Awards, den Billboard Century Award gewonnen und gilt als einer der besten und bekanntesten Gitarristen aller Zeiten. Er hat die Menge in Woodstock gerockt, zeitlose Tracks wie "Evil Ways", "Black Magic Woman" und "Smooth" aufgenommen und ein musikalisches Erbe geschaffen, das jeder, der sich für hervorragende Gitarrenmusik interessiert, in sich aufnehmen muss.
Segen und Wunder könnten durchaus als Zeichen für Santanas möglichen Status als Unsterblicher gewertet werden. Er besitzt absolut seinen eigenen Stil und Sound und ist im Laufe der Zeit ausdrucksvoller und fokussierter geworden. Ein Track wie das atemberaubende Instrumental "Santana Celebration" geht so hart wie die Santana Band der Anfangszeit. Angetrieben vom muskulösen Sound von Cindy Blackman Santanas Drumming, greift der Schnitt direkt Santanas innovativen psychedelischen Latin-Blues/Rock-Stil auf, der 1969 auf der Woodstock-Bühne explodierte. Seine Gitarrenarbeit ist furchtlos und solide und Carlos bleibt einer der wenigen Musiker, die kann innerhalb von drei Notizen identifiziert werden.
"Joy" versetzt Santana und Country-Gigant Chris Stapleton in einen gemischten Reggae-Kontext, der beide Männer auf dem Höhepunkt ihrer Musikalität zeigt. Santanas Gitarre und Stapletons Gesang bilden eine leuchtende Kombination, die sich mystisch und jenseitig anfühlt und Sie leicht mitreißen wird. "Move" vereint Carlos und den Matchbox 20-Sänger Rob Thomas, die Ende der 90er Jahre zusammen groß geworden sind, diesmal mit den zusätzlichen stimmlichen Fähigkeiten von American Authors. Der Track ist ein unbestreitbarer Knaller mit einem harten Refrain, multikulturellen Versen und einem süßen Gitarrenbreak. Es hat alle Hit-Einzelchromosomen, die es braucht, um ein weltweiter Hit zu werden, genau wie "Smooth" in den Tagen der Einwahl.
Jeder Song auf dem Album hat seine eigenen verführerischen Reize und die Highlights sind zahlreich. Steve Winwood schlägt sich durch eine völlige Neuerfindung des hymnenartigen Klassikers "A Whiter Shade of Pale", der die bekannte Ballade an einen völlig neuen Ort bringt. Latin Percussion haucht diesem alten Freund neues Leben ein und Winwood antwortet mit einer ebenso bewegenden Stimme wie es sie je gegeben hat. Santana macht seinen Rock mit Living Color-Sänger Corey Glover auf dem pumpenden Jam "Peace Power". Der hochoktanige Track wird wieder einmal von Cindy Blackman Santana am Schlagzeug getrieben und Glovers Vocals entsprechen Beat für Beat ihrer Intensität.
Carlos rockt noch härter auf dem metallischen "America For Sale". Er verbündet sich mit Metallica-Gitarrist Kirk Hammett und Death Angel Vocal-Smasher Marc Osegueda an diesem Psycho-Metal-Brutalizer mit politischem Thema, der eine Botschaft vermittelt, mit der Sie möglicherweise einverstanden sind oder nicht. Es ist nichts, wie Sie Santana in der Vergangenheit jemals gehört haben und zeigt, wie gut er sich in jede Umgebung einfügen kann, die ihm begegnet.
Blessings and Miracles wird für Santana-Fans ein starkes Hörvergnügen sein, das nicht nur funktioniert, sondern auf mehreren unterschiedlichen Ebenen erfolgreich ist. Die Art und Weise, wie Santana sich in jeder neuen Ära ständig neu erschafft, ohne seine Kerngröße zu verlieren, ist geradezu übernatürlich. Holen Sie sich diese Platte in Ihre Lautsprecher und fühlen Sie sich wieder zum Leben erweckt.
Santana, Steve Winwood – Whiter Shade of Pale – YouTube
Tracklist:Ghost of Future Pull / New Light
Santana Celebration
Rumbalero
Joy
Move
Whiter Shade of Pale
Break
She's Fire
Peace Power
America For Sale
Breathing Underwater
Mother Yes
Song for Cindy
Angel Choir / All Together
Ghost of Future Pull Part 2
Besetzung:
Gitarre – Carlos Santana