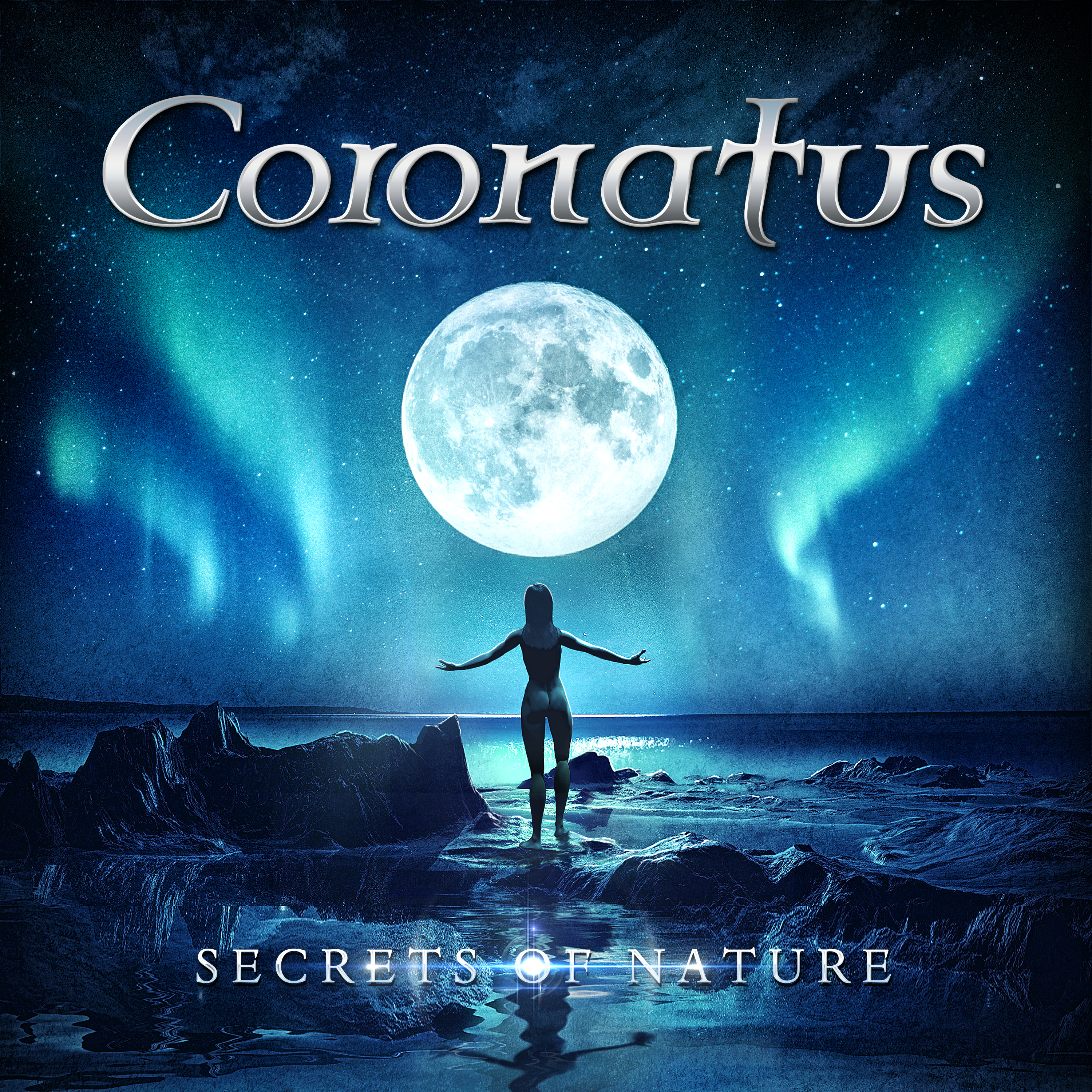 Trackliste: Coronatus – Secrets of Nature
1.Howling Wind
2. Mountain Sky
3. The Hunter
4. Sleigh Ride To Asgard
5. Die See
6. The Little People Of Iceland
7. Dance Of The Satyr
8. Tränen Des Himmels
9. Herr Mannelig
BAND BIOGRAFIE
1999 ursprünglich als Projekt von Mats Kurth und Georgios G. gegründet, veröffentlichten CORONATUS 2001 die Single "Von Engeln Nur" und traten 2003 erstmals als Band auf. Ein Jahr später folgten die ersten Gigs als Double Female-Fronted Metalband. Aufnahmen zum Debütalbum begannen 2006, im darauffolgenden Jahr unterschrieben CORONATUS bei Massacre Records und veröffentlichen ihr Debüt "Lux Noctis" im selben Jahr. Die Alben "Porta Obscura" (2008), "Fabula Magna" (2009), "Terra Incognita" (2011), "Recreatio Carminis" (2013) und "Cantus Lucidus" (2014) und "Raben Im Herz" (2015) folgten. Live spielten CORONATUS unter anderem Auftritte als Support von Within Temptation beim MFVF in Belgien, waren Support von Crematory, gingen 2011 auf Tour mit Haggard und spielten beim WGT in Leipzig (2012) oder dem Metal Frenzy Open Air (2014). Auch Auftritte in Ungarn und Transsylvanien sind unter den Live-Highlights der Bandgeschichte zu finden.
ALBUM INFO
Das 8. Studioalbum der Symphonic-/Gothic-Metal-Formation CORONATUS birgt mehrere Neuerungen: Es handelt sich zum 1. Mal um eine Art Konzeptalbum zum Thema Naturmystik. Insgesamt sind auf dem Album 9 Songs zu diesem Thema zu hören.
Der Albumtitel "Secrets Of Nature" impliziert bereits, dass man bei den Texten diesmal eher dem Englischen zugetan war: 6 der insgesamt 8 auf dem Album vorhandenen Eigenkompositionen bedienen sich dieser Sprache, was sicherlich der internationalen Fangemeinde entgegenkommen dürfte. Jedoch hat CORONATUS schon immer auch der Mehrsprachigkeit gefrönt, insbesondere natürlich dem Deutschen. Daher findet man hier auch die beiden Titel "Die See" und "Tränen Des Himmels". Abgerundet wird die Songauswahl mit einem Cover, einem Traditional aus der Mittelalterszene mit den schwedischen Original- Lyrics, "Herr Mannelig", in einer sehr individuellen Interpretation der Band. Alle Eigenkompositionen stammen diesmal von Bandgründer Mats Kurth, mit Ausnahme von "Dance Of The Satyr", welches aus der Feder seines Sohnes Max (17 Jahre alt) stammt. Der wachsende familiäre Einfluss zeigt sich auch durch die Mitwirkung seiner Frau Kristina Jülich, sie spielte auf dem Album erstmals die
Violinenparts ein. Auch musikalisch hat sich einiges verändert: Die meisten Songs enthalten deutlich mehr Chorstellen, als dies bei den Vorgängeralben der Fall war. Beim Songwriting wurde offensichtlich auch auf eine verstärkte Eingängigkeit geachtet, ohne aber ins Triviale abzudriften. Die hervorragenden Orchester-Arrangements aus der Feder von Dennis Schwachhofer sind, wie schon auf dem Vorgängeralbum "Raben Im Herz", auch bei dieser Produktion vertreten.
Die bisherige Doktrin der 2 verschiedenen Frauenstimmen, einer Rockstimme und einem klassischen Sopran, wurde ebenfalls erweitert. So gibt es auf dem Album doch hin und wieder auch Passagen mit männlichem Gesang aus der Kehle von Teddy Möhrke (Tales Of Nebelheim), z.B. bei "The Little People Of Iceland" und "The Hunter", zu hören. Die Sopran-Parts von Carmen Lorch wurden von Gaby Koss (exMassacre Records  Haggard, Cantus Lunaris) ergänzt, welche somit erstmalig auf einem CORONATUS Album zu hören ist.
Dagegen kennt man die Darbietungen der Rock-Voice-Parts von Mareike Makosch (Sister Zero, Illuminate) bereits aus der Vergangenheit der Band. Sie war bereits auf den Alben "Terra Incognita" sowie "Recreatio Carminis" mit von der Partie. Auch dieses Mal beinhaltet die Digipak-Version des Albums eine Bonus CD mit dem gesamten Album als instrumentale Versionen, welche neben dem Orchester- auch die Chorparts beinhaltet.