Meshiaak – Mask of all Misery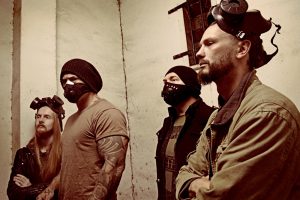 Als die Band MESHIAAK vor drei Jahren mit ihrem Debüt "Alliance Of Thieves" erstmals auf der Bühne erschien, dachten viele das die Band wohl aus Israel stammt, da sich der Name vom hebräischen Wort für Messias ableitet. Aber weit gefehlt, das Quartett stammt aus Australien.
Alles in Butter also? Nur beinahe, denn die Meshiaak-Maschinerie geriet vorübergehend ins Stocken, als Gründungsmitglied und Drummer Jon Dette ausstieg weil er die große Distanz zwischen seinem US-Wohnort San Diego und Australien als auf Dauer nicht praktikabel erachtete. Da sein vakanter Platz nicht kurzfristig nachbesetzt werden konnte, kam die für 2017 geplante erste Europatournee gemeinsam mit Machine Head nicht zustande. Jetzt gehen Meshiaak neu formiert nochmal über Los: Mit David Godfrey als frisch rekrutiertem Schlagzeuger an Bord und ihrem neuen Longplayer "Mask Of All Misery" im Kasten stellen die Aussies die Zeichen wieder auf Sturm. "Mask Of All Misery" erscheint am 15. November 2019 als CD, digital, sowie auf rotem Vinyl als LP bei der Mascot Label Group.
Die musikalische Ausrichtung blieb dabei natürlich dieselbe. MASHIAAK mischen modernen, druckvollen Metal mit Thrash-Elementen und erinnern dabei stellenweise an solche Bands wie etwa MACHINE HEAD, frühe BULLET FOR MY VALENTINE oder gemäßigte TRIVIUM. Zu den Highlights und Anspieltipps der zehn Tracks auf "Mask Of All Misery" gehören neben dem furiosen Titeltrack unter anderem das dramatisch-melodische Bury The Bodies sowie die Brecher City Of Ghosts, Face Of Stone und Tears That Burn The Son.
Sänger Danny Camilleri hat eine wunderbar wandlungsfähige Stimme und gibt jedem Song was er braucht, ob Trash Shoutings a´la Machine Head oder Melodicrock mäßig wie in dem absoluten Übersongs des Albums "Doves" Dieser Song hat das Zeug zu einem Metal Klassiker.
Für den passenden Sound, der ihren kompositorischen Abrissbirnen dann die richtige und immens wuchtige Wirkung verpasst, hat dieses Mal Gitarrist Dean Wells selbst gesorgt. MESHIAAK machen hier wirklich eine ganze Menge Spaß und sind für alle Freunde des modernen Metal eine echte Empfehlung.
Titel:
Miasma
Mask of it all
Bury the Bodies
City of Ghosts
Face of Stone
Tears that burn the Son
Doves
In the Final Hour
Adrena
Godless
Musiker
Danny Camilleri – Gitarre und Gesang
Dean Wells – Gitarre und Gesang
Andrew Cameron – Bass
David Godfrey – Schlagzeug