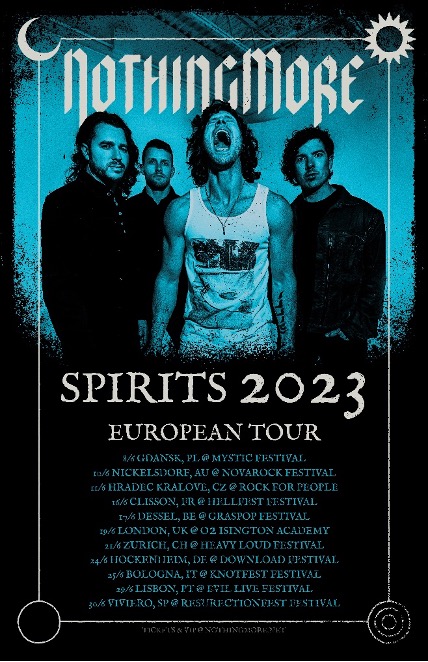 NOTHING MORE veröffentlichen neue Version von "Best Times" feat Lacey Sturm (Flyleaf) inkl. Musikvideo ihr Graphic Novel Debüt "Spirits Vol. 1" (Z2 Comics) kann ab sofort vorbestellt werden!
NOTHING MORE haben sich mit der Rock-Sängerin/Songwriterin Lacey Sturm (Flyleaf) zusammengetan und eine neue Version ihrer Single "BEST TIMES" aufgenommen. Der Song stammt ursprünglich aus ihrem 2022 erschienenen Album SPIRITS. "BEST TIMES (Feat. Lacey Sturm)" ist ab heute auf allen digitalen Plattformen erhältlich. Das dazugehörige Video gibt es HIER zu sehen.
Das Musikvideo zu "BEST TIMES (Feat. Lacey Sturm)", bei dem Michael Lombardi (The Retaliators, Papa Roach, The HU) Regie führte, zeigt die Beziehung eines Paares und wie die besten Zeiten des Lebens manchmal an uns vorbeiziehen, ohne dass wir sie wahrnehmen. Es erinnert uns daran, diese Momente zu schätzen.
"This song is a real special one," verrät NOTHING MORE Frontman JONNY HAWKINS. "It's definitely one of the most positive feel-good songs we've ever written and it obviously stands out on the album by being that ray of hope too. I didn't think it could get any better, but when we thought about featuring another singer and Lacey's name came up it was a no-brainer. She's been a shining light and is one of those singers that makes you feel and believe every word out of her mouth whether you agree with it or not. We knew her voice would take it over the top… and that's exactly what she did! We couldn't be more proud to have her collaborate with us on this and to get it out to the world for everyone to feel and embrace when you need a song to help get you through."
STURM kommentiert: "I connected with Jonny's story about his family struggles with his mother and sister. I love the painful beauty in any art that comes from wrestling with mental health and addiction. I've always looked for common ground with artists who deal with suicide prevention. My own struggle against self-destruction is also a struggle to not tear my loved ones apart. There is a perspective shift in this song.  Like a suffocating cloud, the heaviness of life turns to thankfulness and even joy over what matters most. Pain and loss can turn the lights on inside us, allowing us to see the good, all the 'Best Times,' we couldn't see before. I'm relieved to be reminded by this song to remember what matters most and find gratitude. I need it."
NOTHING MORE kommen diesen Sommer auch nach Europa, unter anderem nach Deutschland zum Download Festival, nach Österreich zum Nova Rock Festival zum Hellfest (Frankreich), zum KNOTFEST (Italien) und zum Graspop (Belgien). Auch eine Headlinershow in London, UK am 19. Juni in der O2 Islington Academy wurde vor Kurzem angekündigt. Alle kommenden Europa Shows und Tickets gibt es weiter unten.
NOTHING MORE haben sich außerdem mit VEEPS zusammengetan, um ihre fesselnde Live-Performance am Sonntag, den 9. April, einem virtuellen Publikum vorzustellen. Sie werden im Rahmen ihrer Headliner Show im Irving Plaza in NYC ein Livestream-Konzert veranstalten. Tickets für das Livestream-Event gibt es ab sofort HIER zu kaufen. Das Konzert ist Teil der "SPIRITS 2023" US-Tour, die am 31. März in Richmond, VA startet und bis zum Auftritt der Band beim Sonic Temple Festival in Columbus, OH, am 28. Mai geht, bei der sie im Vorprogramm von Crown The Empire und Thousand Below auftreten.
NOTHING MORE werden bei ihrer anstehenden Konzerten Exemplare ihrer Debüt-Graphic Novel "SPIRITS VOL.1" (Z2 Comics) dabeihaben. Die Graphic Novel wurde von Dan Watters (King Diamond's Abigail, Lucifer, Azrael) geschrieben und von Christian Rosado illustriert. In Anlehnung an die Themen ihres aktuellen Albums SPIRITS, folgt "SPIRTS VOL. 1" dem Leben von vier Individuen von 1952 bis heute und untersucht, wie die unerwartete Manifestation ihrer Spirit Types ihr Schicksal für einen größeren Zweck verändert und formt. Die Spirit Types wurden aus den Ergebnissen des bandeigenen Meta Persönlichkeitstests "SPIRITS TEST" gebildet, der zeitgleich mit dem SPIRITS Album veröffentlicht wurde. Ihre Graphic Novel kann HIER vorbestellt werden.
NOTHING MORE Europe Tour Dates:
6/8                  Gdansk, PL – Mystic Festival
6/10                Nickelsdorf, AT – Nova Rock 2023
6/11                Hradec Kralove, CZ – Rock for People
6/16                Clisson, FR – Hellfest 2023
6/17                Dessel, BE – Graspop Festival
6/19                London, UK – O2 Islington Academy
6/21                Wetzikon/Unter-wetzikon, CH – Heavy Load Festival Wetzikon 2023
6/24                Hockenheim, DE – Download Festival
6/25                Bologna, IT – KNOTFEST Italy 2023
6/29                Lisbon, PT – Evil Live Festival
6/30                Viveiro, ES – Resurrection Fest 2023
#
 with Crown The Empire & Thousand BelowStream/download 
SPIRITS
 now at: 
https://nothingmore.ffm.to/spirits
Take the SPIRITS TEST at https://spiritstest.com/ & share your result online using #SpiritsTest