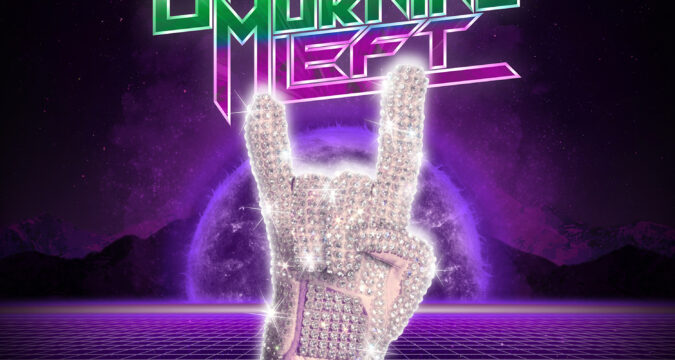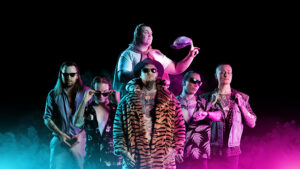 Die finnischen Metalcore-Exzentriker ONE MORNING LEFT beleben mit ihrem ganz eigenen Charme den legendären und ikonischen weißen Diamanthandschuh, in ihrer speziellen Version von Michael Jacksons 'Beat It' wieder.
Schaut euch 'Beat It' jetzt an
Streamen, downloaden – https://onemorningleft.lnk.to/beatit
"@onemorningleft ♥️ @michaeljackson
I have always loved the music of Michael Jackson. When he passed away I decided to some day make a cover-song of my favorite MJ-song.
Beat It also has a solo by @eddievanhalen, one of the most important guitarists to me and one of the most iconic guitarsolos ever.
Blast it or beat it! "
– Leevi Luoto (Gesang/Gitarre)
"HYPERACTIVE wirkt sehr viel eingängiger als die drei Vorgängerscheiben und wird damit eine breitere Zielgruppe ansprechen" – METAL HAMMER
"Hyperactive" geht sogleich in die Vollen und katapultiert einen in eine Welt, in der David Hasselhoff und ABBA mit Breakdowns und Geschrei fusionieren." – FUZE
"SPASS, PARTY, VOLL AUF DIE ZWÖLF!" – Morecore.de
Der finnische Metalcore-Act ONE MORNING LEFT ist zurück, mit einer wahrlichen Retrobombe!
Die Band veröffentlichte offiziell ihr brandneues Album »Hyperactive«, ab sofort erhältlich!
Das Album wird zum künstlerischen Höhepunkt von ONE MORNING LEFTs musikalischem "Blood Mountain": Epische Texte, getragen von himmlischen Vocal-Melodien und Harmonien mit heftigen, aggressiven und unverwechselbaren Vocals von Frontmann Mika Lahti, im Zusammenspiel mit atemberaubenden Keyboard-Leads, unglaublich schnellen Gitarren, meisterhaften Bass-Riffs und fieberhaften Drum-Parts.
Dpwnloadet, Streamt»HYPERACTIVE« jetzt: https://OneMorningLeft.lnk.to/hyperactive
ONE MORNING LEFT supporting ESKIMO CALLBOY
»
Hypa Hypa European Tour 2022
«07.01.22 DE-Munich, Zenith
08.01.22 CH-Pratteln, Z7
09.01.22 IT-Milan, Legend Club
11.01.22 AT-Vienna, Arena
12.01.22 HU-Budapest Barba Negra
14.01.22 DE-Ludwigsburg, MHPArena
15.01.22 DE-Cologne, Palladium
16.01.22 BE-Antwerp, Trix
18.01.22 NL-Amsterdam, Melkweg
19.01.22 UK-London, The Garage
20.01.22 FR-Paris, Boule Noire
21.01.22 DE-Offenbach, Stadthalle
22.01.22 DE-Leipzig, Haus Auensee
24.01.22 PL-Krakow, Kwadrat
25.01.22 CZ-Prague, MeetFactory
26.01.22 DE-Berlin, Columbiahalle
27.01.22 DE-Hamburg, edel-optics.de Arena
29.01.22 DE-Dresden, Schlachthof
30.01.22 DE-Rostock, Moya
01.02.22 DE-Kiel, Max (sold out)
02.02.22 DE-Hanover, Swiss Life Hall
03.02.22 DE-Saarbrücken, Garage
04.02.22 DE-Lindau, Club Vaudeville (sold out)
06.02.22 AT-Graz, PPC (sold out)
Tickets
Mit ihrem vierten Album beendet der finnische Metalcore-Act ONE MORNING LEFT eine fünfjährige Pause mit der Veröffentlichung neuen Materials. Auf »Hyperactive« schlägt die Gruppe ein ganz neues Kapitel ihrer Geschichte auf. Sie lässt sich von Retro-Musik für elektronische Spiele und Videospiele sowie dem Hardrock der 80er inspirieren und bleibt dabei ihren schwereren Wurzeln treu.
Änderungen finden nicht nur im Musikstil statt, sondern auch in der Besetzung. Von der Besetzung der "Metalcore Superstars" 2016 kehren Frontmann Mika Lahti, Sänger und Gitarrist Leevi Luoto und Schlagzeuger Niko Hyttinen zurück. Zusätzliche Feuerkraft bieten die neuen Gesichter Tuukka Ojansivu an der Gitarre und Miska Sipiläinen an der Bassgitarre, sowie die Rückkehr des Keyboarders Touko Keippilä aus der ursprünglichen »Panda <3 Penguin«-Aufstellung der Band.
Mit »Hyperactive«, das im Mai 2021 via Arising Empire veröffentlicht wird, möchte ONE MORNING LEFT seine wachsende globale Fangemeinde erweitern. Nach umfangreichen Erfahrungen mit Live-Auftritten in unzähligen Shows in Finnland, auf Tourneen auf dem europäischen Festland, in Russland und im Baltikum und sogar in Orten wie Island und Japan plant die Gruppe, ihre unterhaltsame und energiegeladene Live-Show in naher Zukunft wieder aufzunehmen.
"Join us on our quest to make the world a bit more epic!"
ONE MORNING LEFT wurde 2008 in Vaasa, Finnland, gegründet und ist bekannt für seine einzigartige Mischung aus Elektro-, Hardcore- und Metalcore-Einflüssen, sowie für ihre unterhaltsamen und energiegeladenen Live-Shows, in denen absolut alles passieren kann.
ONE MORNING LEFT hat umfangreiche Live-Erfahrungen gesammelt und unzählige Shows in Finnland, auf dem europäischen Festland, in Russland und im Baltikum mit Bands wie AMARANTHE, MACHINAE SUPREMACY, ADEPT, PROTEST THE HERO, FEAR OF DOMINATION, TURMION KÄTILÖT und WE BUTTER THE BREAD WITH BUTTER gespielt. Die Band hat auch die finnische Festivalsaison mit renommierten Festivals wie Tuska Open Air und Rockfest gefeiert.ONE MORNING LEFTs Debütalbum »The Bree-Teenz« (2011) erreichte Platz 30 in Finnlands offiziellen Album-Charts, gefolgt vom zweiten Album »Our Sceneration« auf Platz 45 im Jahr 2013.
ONE MORNING LEFT sind:
Mika Lahti | Lead Vocals
Leevi Luoto | Gitarre & Lead Vocals
Tuukka Ojansivu | Gitarre & Backing Vocals
Miska Sipiläinen | Bass & Backing Vocals
Touko Keippilä | Keyboards & Backing Vocals
Niko Hyttinen | Schlagzeug