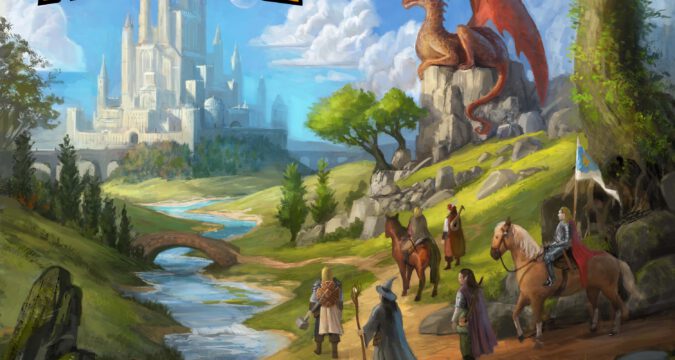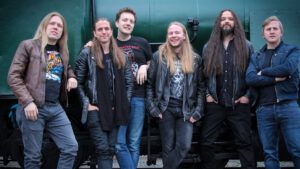 Die überwiegend düstere isländische Metalszene mit ihren hellen Klängen aufmischend, haben die Newcomer POWER PALADIN nun das zweite Level des Wegs hin zur Veröffentlichung ihres Debütalbums, »With The Magic Of Windfyre Steel« (VÖ: 07. Januar 2022 via Atomic Fire Records), erreicht: Heute präsentiert die Band nichts Geringeres als ein Musikvideo zum Song 'Kraven The Hunter', der einerseits die zweite Single jener Platte, andererseits aber auch den Titeltrack ihrer ab sofort erhältlichen, orangene 7″-Vinylsingle, deren B-Seite mit dem noch unveröffentlichten 'Creatures Of The Night' aufwartet, darstellt! Unter der Regie von Glen Mountford (TRUEview media), der bereits für das allererste Video der Band, 'Righteous Fury', verantwortlich war, entstanden, unterstreicht der Clip POWER PALADINs unbestreitbare Leidenschaft für Fantasiethemen und -literatur. Seht Euch diesen hier auf YouTube an: https://www.youtube.com/watch?v=xXTaMTNeCiA.
Die Kombo erläutert den Comicbuch-inspirierten Track: "Ein gewisser liebenswerter Held aus der Nachbarschaft reist in die mittelalterliche Welt der 626. Dimension, um deren Bewohner im Kampf gegen Morlun und seine böse Familie um Unterstützung zu bitten. Doch dieser scheint sich in ein schreckliches Monster verwandelt zu haben, das vom grausamen Kraven, dem Jäger, verfolgt wird – und Letzterer verwechselt unseren Helden auch noch mit jenem Monster. Nehmt Euch in Acht, werte Gläubige, denn Kraven schwingt das Schwert der Macht!"
»Kraven The Hunter« (orangene 7″-Vinylsingle) – Tracklist:
A-Seite: Kraven The Hunter (Single-Edit)
B-Seite: Creatures Of The Night (Single-Edit)
Sichert euch hier die erwähnte 7″ und bestellt »With The Magic Of Windfyre Steel« in verschiedenen Formaten (CD-Digipak, schwarzes und farbiges Vinyl) vor, merkt das Album auf Eurer favorisierten Streamingplattform vor oder sichert es Euch schon jetzt digital, um 'Kraven The Hunter' sowie 'Righteous Fury' sofort zu erhalten: https://music.atomicfire-records.com/windfyre.
ICYMI: Seht Euch hier das Band-Playthrough-Video zur ersten Single, 'Righteous Fury', an: https://www.youtube.com/watch?v=O4ymDKZ2MTI.
»With The Magic Of Windfyre Steel« – Tracklist:
01. Kraven The Hunter
02. Righteous Fury
03. Evermore
04. Dark Crystal
05. Way Of Kings
06. Ride The Distant Storm
07. Creatures Of The Night
08. Into The Forbidden Forest
09. There Can Be Only One
Von der Band selbst aufgenommen und produziert sowie von Haukur Hannes' Mix- (Mastertape Studios; u.a. AUÐN, DYNFARI) und Frank de Jongs Masterkünsten (Hal5 Studio; u.a. BLEEDING GODS) veredelt, sind die musikalischen Helden POWER PALADINs auf »With The Magic Of Windfyre Steel« unverkennbar. "IRON MAIDEN, DIO, HELLOWEEN: Die Liste der 80er-Jahre-Bands, die uns beeinflussen, ist definitiv nicht von der Hand zu weisen, obgleich wir deutlich enger mit der zweiten Power Metal-Welle verbandelt sind, da wir vor allem mit Bands wie EDGUY, RHAPSODY und HAMMERFALL aufgewachsen sind", führt der Sechser aus. Hinzu kommt sein Faible für Fantasyspiele und -bücher von Autoren wie Brandon Sanderson und Joe Abercrombie, das sich nicht nur in POWER PALADINs Texten, sondern zudem in James Childs (Astral Clock Tower Studios) abenteuerlichem Artwork widerspiegelt.
POWER PALADIN live:
17./18.12. IS Reykjavík – Andkristni