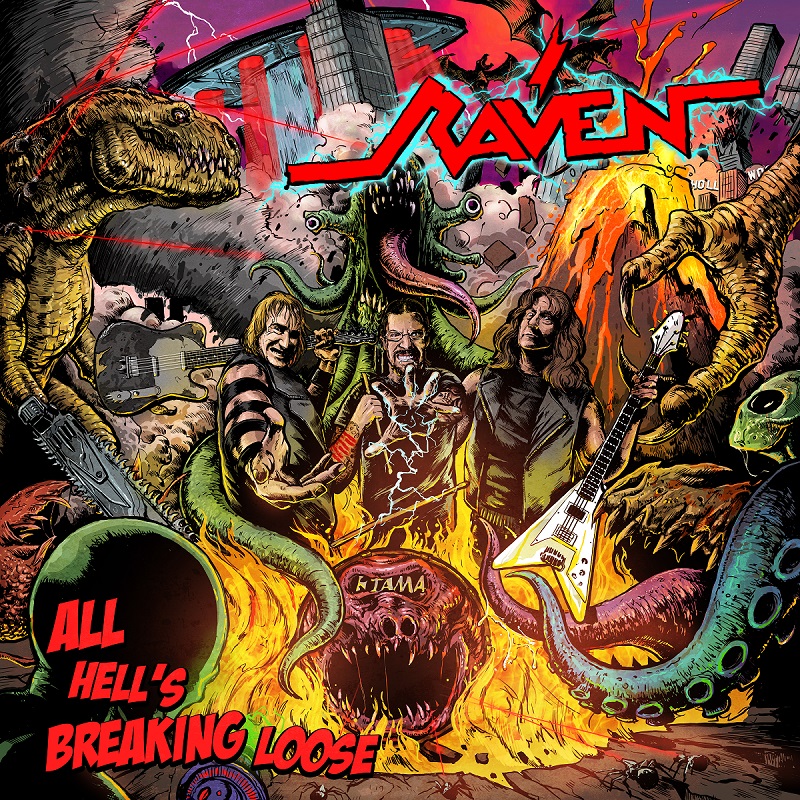 Die New Wave of British Heavy Metaller RAVEN veröffentlichen 'Surf The Tsunami' aus dem kommenden Album All Hell's Breaking Loose.
RAVEN's neues Video 'Surf The Tsunami' zeigt einmal mehr die resolute Energie, die diese Band mit sich bringt. Bereitet euch auf eine vehemente Attacke vor, wie das Schlagzeug von Heller euer Trommelfell zum Platzen bringt mit seinem wilden Spiel bevor die grandiosen Twister Riffs das volle Metal Chaos bringen.
Watch/Listen to 'Surf The Tsunami' (Video by Jay Shredder): https://youtu.be/IjHXssp4X9o
Pre-order All Hell's Breaking Loose: https://smarturl.it/AllHellsBreakingLoose
"Das zweite Video aus unserem neuen Album ist 'Surf The Tsunami' mit unserem eigenen 'Drum Tsunami' Mike Heller!"  freut sich Sänger und Co-Founder John Gallagher. "Es hat ein mörderisches Opening… killer riffs und wird zum 'Tsunami' im Mittelteil – es ist 100% Metal!!!"
Der Titel Track "All Hell's Breaking Loose" hat Twists und Turns mit Akzenten inmitten des Chaos während mit "Surf The Tsunami" dein Trommelfell unaufgefordert bearbeitet wird mit einem nervös-anmutenden Flurry bevor die Twister Riffs die Oberhand gewinnen. "Turn Of The Screw" schlägt zuerst mit Upbeats zu bevor es dann mit dem donnernden Chor nachhaut. "The Far Side" hat ein klassisches Metal Riff á la 2023; "Desperate Measures" ist eine reine 1981er gesättigte Erzählung von Not und Verzweiflung und falls du schon immer wissen wolltest, wie RAVEN an einer schweißtreibenden Nacht im Marquee 1983 war: "Edge of A Nightmare" ist das Portal zum Paradies genauso donnernd wie der Opener  "Medieval".
RAVEN liefert mit All Hell's Breaking Loose das Gefühl für jeden, der sich verlieren möchte im heilenden Gehör des supreme Heavy Metal, prächtig und schweißgebadet in Denim & Leather.
"Drei Männer mit starken, leidenschaftlichen Meinungen" erzählt Mark, "und wenn die zusammen kommen ist es, als ob Eisen auf Eisen knallt.'"
"Wir gehen hart mit uns ins Gericht" fügt John hinzu, "it had to be a killer, no filler'. Jeder einzelne Part des Songs muss Sinn ergeben und muss seinen Zweck erfüllen."
Und All Hell's Breaking Loose macht klar, dass RAVEN es ernst meint.
All Hell's Breaking Loose wird verfügbar sein in 12" Black Vinyl, 12" Limited Edition Green Vinyl, CD Digipak, Tape Cassette, allen digitalen Formaten und speziellen D2C bundles
Pre-order at this location

Track Listing:
Medieval
Surf The Tsunami
Turn Of The Screw
All Hell's Breaking Loose
The Far Side
Desperate Measures
Victory's Call
Edge Of A Nightmare
Invasion
Go For The Gold